But it's important to note that not all memory foam mattresses are created equally. Just because a mattress has memory foam materials doesn't mean it will automatically be the right one for you. Below, we've put together a memory foam mattress guide to help you evaluate how to choose a foam mattress and what features to look for so you can get restorative, restful sleep every single night.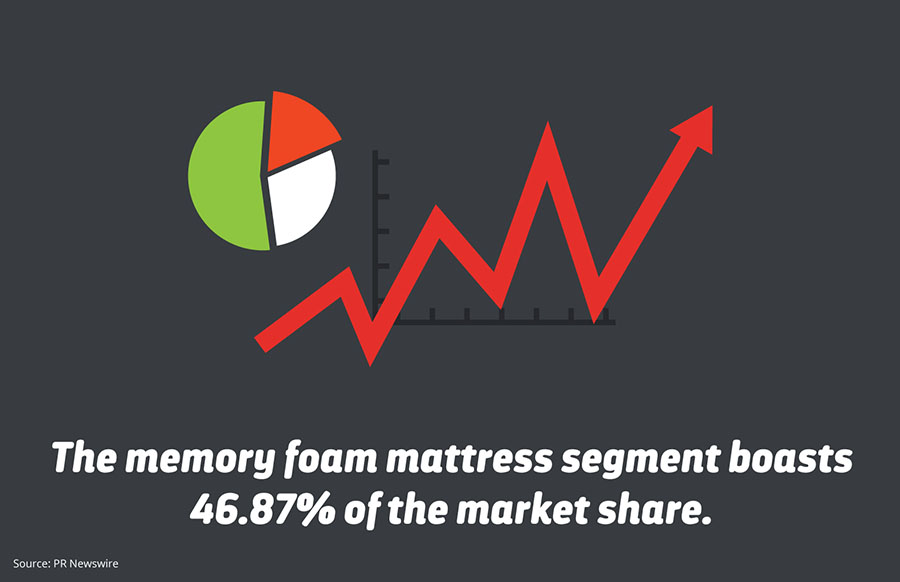 What is Memory Foam?
First thing's first: what the heck is memory foam, anyway? Well, memory foam was originally invented by NASA to help insulate pilots and passengers from the impact of crashes. Because memory foam is viscoelastic, the material is able to isolate motion and conform to the contours of the human body easily—making it ideal for protecting humans from impact forces.
It wasn't long before commercial companies realized the material's possibilities, leading memory foam mattresses to hit the market shortly thereafter. And later, of course, infomercials with someone bouncing on a bed with a full glass of undisturbed red wine on the mattress was born. But memory foam is more than just a material that invites you to recreate old infomercials—it has great features that can promote a better night of sleep. Below, we'll take a deep dive into the different memory foam types, density, and other essential memory foam mattress tips.
Memory Foam Types
Memory foam types have exploded since its initial invention in the '70s. It's important to get a basic understanding of the different types available so you can narrow your choices to the one that makes the most sense for you and your sleeping preferences.
Traditional Memory Foam
Traditional memory foam was created in the mid-1990s. It was designed to cradle the body, enhance circulation, and decrease the stress on your joints. Unfortunately, traditional memory foam materials are known for being a heat sink. That means if you tend to sleep hot, it's a good idea to avoid settling for a traditional memory foam mattress unless you want the feeling of waking up in the middle of Death Valley in July.
Open Cell Memory Foam
Open-cell memory foam has more air pockets, making it better at dispersing body heat when compared to traditional memory foam. In turn, your body can regulate your temperature more efficiently. This type of memory foam also responds more quickly to pressure, so that you won't sink in as much into the surface.
Gel Memory Foam
Gel memory foam is designed to relieve pressure points and more efficiently disperses heat. This type of memory foam is much better for hot sleepers who have a tough time staying cool at night.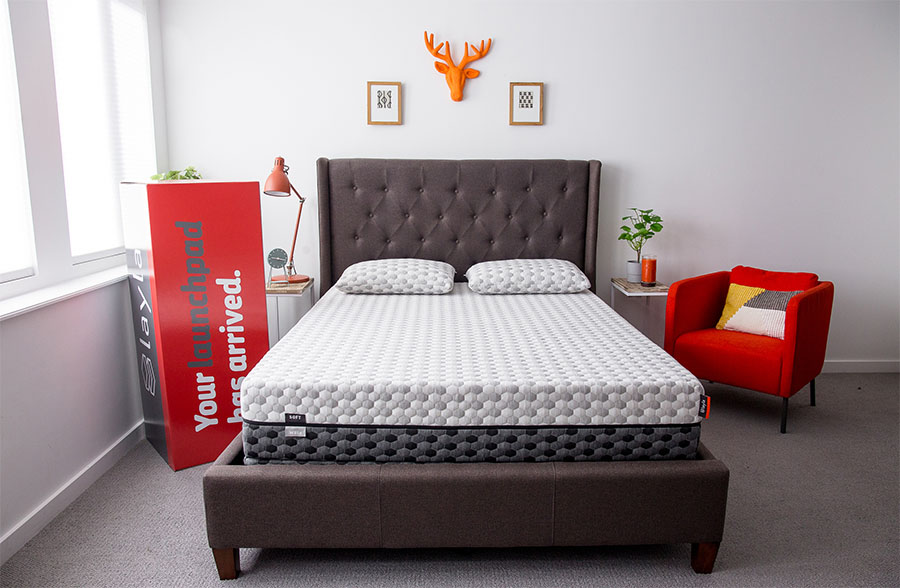 The Layla Difference
The Layla Memory Foam Mattress boasts materials decidedly different than other memory foam mattresses on the market. How so? Well, Layla's memory foam is infused with a copper gel that pulls excess heat away from your body. Copper is the second-most conductive element in the world—so those copper particles go to work each night to keep you cool and comfortable.
Copper is also naturally antiviral and antibacterial, so it fights off any germs that might make their way toward you and your mattress. After all, you don't want to share your bed with uninvited microbes and other unsavory bed companions.
And for support, copper gets stronger as it compresses, so you'll get the extra firmness where you need it – under your hips and shoulders. The copper-infused memory foam found in the Layla Mattress also helps to relieve pressure points and eases you into a contoured sleeping surface.
Memory Foam Density
When you're deciding what memory foam mattress to buy, one of the first choices you'll need to make is what density you want. Memory foam mattresses come in three different densities: low, medium, and high. Memory foam density is sometimes confused with firmness, but that's not an accurate take.
Density is how heavy something is in comparison to its size. For memory foam, the volume is considered one cubic foot. The more a cubic foot of memory foam weighs, the denser the mattress.
So, if memory foam density doesn't necessarily reflect the mattress's firmness level, what does the density mean in terms of user experience? Well, let's look at the major impacts of memory foam density.
What Does Mattress Density Affect
Density plays a significant role in your sleeping experience on a memory foam mattress. Check out how density affects these four key pillars: durability, motion transfer, body contouring, and foam response time.
Durability
If you want a mattress to last, it's a good idea to opt for a mattress that's denser. Memory foam mattresses that are low density are more likely to tear, and wear out faster than high and medium-density mattresses.
Motion Transfer
A higher density memory foam mattress is better at controlling motion transfer compared to low-density foam. That's because high-density memory foam is packed tight with material that limits the spread of motion to nearby particles. In contrast, a less tightly-packed, low-density memory foam means that any kind of motion will transfer more easily to other particles.
If you tend to adjust your sleeping position frequently while you sleep, or if your partner does, it's a good idea to opt for a high or medium-density memory foam mattress that will transfer less motion.
Body Contouring
For sleepers who want body contouring, both high-density and low-density memory foam materials offer that feature. Higher density foam will give you a tighter "hug," while lower density mattresses are squishier.
Foam Response Time
The foam response time is how long it takes for the foam to bounce back after being compressed. The more dense a memory foam mattress is, the slower the foam response time. Low-density foam mattresses have more air pockets, so they quickly bounce back to their standard shape.
A slower foam response time means that it might be less comfortable if you frequently readjust your position while sleeping at night.
Temperature and Weight
Memory foam mattresses that are denser tend to trap more heat and weigh more. However, the material of a memory foam mattress can have a big effect on how much heat is trapped. Copper-gel infused memory foam, for example, can easily regulate excess body heat.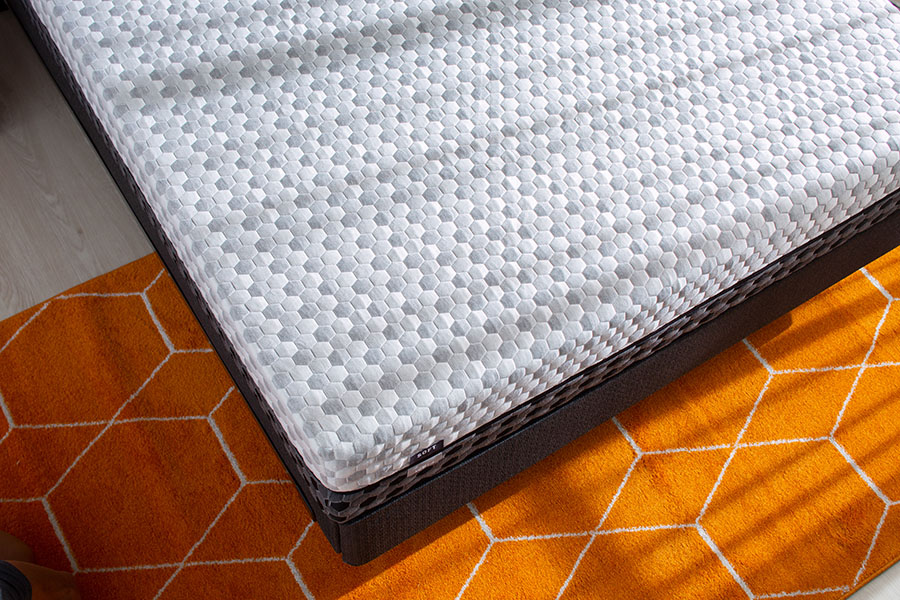 The Layla Difference
Layla's memory foam core is 2 pounds per cubic foot (PCF), the airflow layer comes in at 1.8 PCF, and the copper-infused memory foam layer is 3.5 PCF. In terms of sleeping experience, Layla mattresses offer high-quality, dense foams with copper to avoid the traditional memory foam issues of extra heat.
Layla boasts three types of foam that are all CertiPUR-US certified. This means that the foams are manufactured without heavy metals, without formaldehyde, and have low VOC (Volatile Organic Compound) emissions, so there are no funky off-gassing smells.
Memory Foam Thickness
Memory foam thicknesses range from around 6 inches to 14 inches. In most cases, thicker memory foam mattresses are softer compared to thin mattresses. But the base foam core is the main supportive foundation, so each extra layer of memory foam can and will add more softness.
If you want a softer sleeping experience, you can even add a mattress topper for a softer feel and more cradling.
The Layla Difference
Layla mattresses boast ten inches of foam and multiple layers of different kinds of foam for a supremely divine sleep experience. The outer layers of foam are high-density and infused with copper to pull extra heat away from your body. The other layers of foam help promote airflow and reduce motion transfer.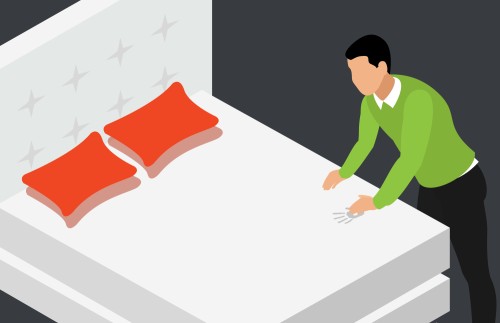 Memory Foam Firmness
The firmness of mattresses can make or break your sleeping experience. Unfortunately, the firmness level you decide on in a mattress store might not actually work out for you in real life after you've had a chance to sleep on it. So, what's the solution here? Layla Sleep® has the answer: flippable firmness.
The Layla Difference
Layla is unique among other similar memory foam mattresses on the market because it's basically a two-in-one mattress. Layla offers flippable firmness, so you can decide what sleeping surface makes sense for your needs. On the soft side of the Layla, you'll get a 4 out of 10 firmness level. And on the firm side, you'll get a firmness level of 7 out of 10.
You can try out both sides to see which one matches up with your preferences. For example, a heavier sleeper may want the firm side's additional support, while a lighter sleeper may prefer the soft side's huggy feeling.
How Long Will a Memory Foam Mattress Last?
Will your memory foam mattress stand up to the test of time? Well, it depends. Like many other things in life, "you get what you pay for" rings true when it comes to your mattress's durability. But that doesn't mean you have to spend an arm and a leg to get great sleep and a mattress that will last you years.
In general, a typical memory foam mattress will last seven to ten years. But like we mentioned earlier, higher density mattresses will always last longer than low-density ones.
Your mattress will also last longer if you take care of it and protect it. It's a good idea to know how to clean a memory foam mattress, for example—which isn't as complicated as it seems (we promise!). You should make cleaning your mattress a regular maintenance task, so you don't forget about it and regularly inspect its' wear and tear.
If you want to preserve the integrity of your mattress for the long haul, it's a smart strategy to invest in a mattress protector. Layla Sleep® offers mattress protectors that come in three levels of protection.
The Essential Mattress Protector is liquid-proof, silent, and features a dustmite barrier.
The Cooling Mattress Protector has those same features as the Essential version, plus extra padding and cooling fibers.
The Full Encasement Protector offers the highest protection level with full encasement of your mattress and bed bug shielding technology.
A mattress protector keeps your mattress in great shape, plus they're washable. The fitted corners of Layla's mattress protectors mean it's easy for you to put it on and take it off your mattress. And if you're worried about the mattress protectors of your childhood years that were made of noisy plastic—have no fear! Layla's versions are completely silent—you won't even notice it's there.
The Layla Difference
Unlike many similar mattresses, Layla offers a lifetime warranty should anything go wrong. The Layla Mattress Lifetime Warranty covers sagging of more than one inch, loss of shape, cracking of foam, and loss of mattress height.
In addition to that lifetime warranty, you'll also get 120 nights to try out the Layla Mattress. This gives you plenty of time to decide whether your Layla Mattress will be a permanent part of your bedroom (or not!).
Sleeping Positions
Your preferred sleeping position is another factor that comes into play when you're looking for a memory foam mattress. The way you sleep, along with other details like your weight, health, and age, impact what kind of sleeping surface is best for you.
Side
Side sleepers often find that they have pressure in their hips and shoulders. This is because a buildup of strain occurs in those areas of the body since they're heavier and tend to sink in. Although not every side sleeper is the same, many side sleepers prefer a softer mattress because it can reduce these major pressure points.
Memory foam for side sleepers should be a little softer for sleeping comfortably in this position. And with Layla's flippable firmness feature, you can always choose the firmer or softer side according to your preferences.
Back
Back sleepers need adequate support from their mattress for a healthy spine and proper alignment. If a mattress isn't adequately supportive, back sleepers may experience lower back pain.
Back sleepers may find that their best sleep comes from a memory mattress. Memory foam for back sleepers is ideal because it contours to a sleeper's unique body without putting more strain on pressure points. This mattress material offers the perfect mix of comfort and support.
Stomach
If you sleep on your stomach, memory foam can help deep compression areas like your shoulders and hips feel supported and fight off sagging that pulls your body out of alignment. Memory foam for stomach sleepers makes sense because it provides a way for these face-down sleepers to get truly comfortable without sleeping in a way that will result in next-day soreness.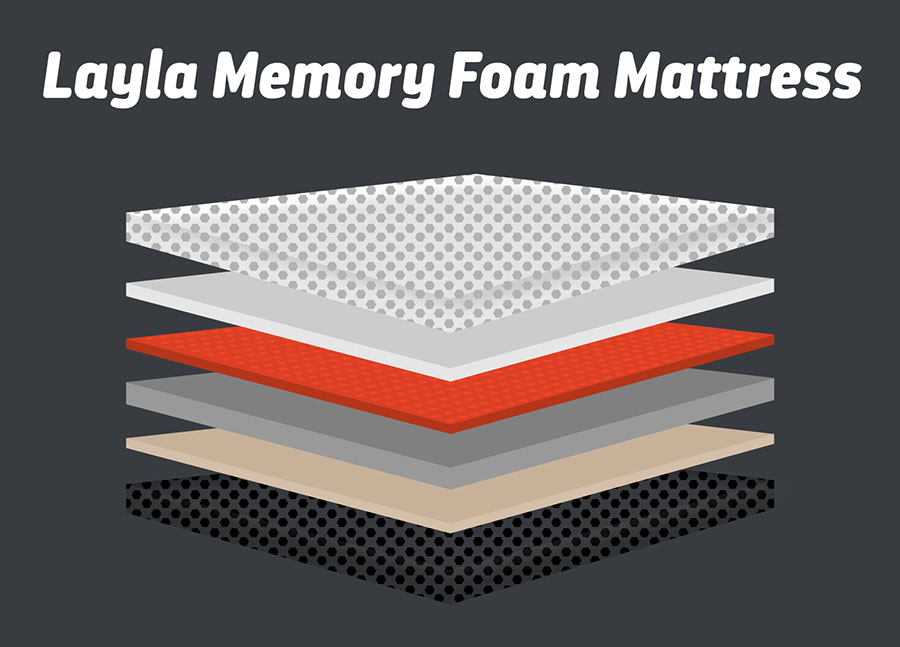 The Layla Memory Foam Mattress
Benefits
In case you can't tell from the information above, the mattresses available through Layla Sleep® are in a league of their own. Designed to provide all kinds of sleepers with the utmost in comfort, Layla's mattresses and sleep accessories offer quality materials built to last.
You can choose the Layla Hybrid Mattress, which combines new-age memory foam materials with the traditional innerspring support. And then there's the classic Layla Memory Foam Mattress, which offers four layers of memory foam layers and high-density, durable foam.
Awards
Don't just take our word for it that Layla's the best memory foam mattress out there. Just take a look at our accolades. Layla is rated the "Most Comfortable Memory Foam Mattress" by SleepFoundation.org. And, Layla is rated the "Best Affordable Memory Foam Mattress" by Forbes. This mattress is definitely a product you'll be writing home about.
Frequently Asked Questions: Memory Foam Mattresses
Do you still have a few remaining questions about memory foam mattresses? We've got your back! Below, we've assembled a list of helpful answers and information to common questions.
Do I need a mattress foundation or base?
It depends on what you plan to place your mattress on. If you have a platform bed, or a bed with slats, then you won't need a foundation. But if you have a traditional bed, you'll need a foundation. Luckily, the Layla Foundation works with any mattress—just make sure you have the right size!
What are the differences between the Layla Memory Foam Mattress and the Layla Hybrid?
Both the Layla Mattress and the Layla Hybrid are award-winning mattresses that will make anyone looking for a deep snooze very happy. The Layla Hybrid boasts all the features and benefits of the original Layla Mattress with additional features that include:
Dual-coil technology for added edge structure
An additional 3 inches in profile
Individually-wrapped springs
Two handles on each side of the mattress
Why is Layla better than other mattresses?
Layla isn't just any memory foam mattress. First, the main standout feature is the flippable firmness, which means sleepers can choose from a firmer or softer bed. And secondly, the copper gel-infused memory foam is specifically designed to give you a cleaner, cooler sleep that will support you while you dream all night long.