The upside of sleeping in an airport is that you avoid dealing with a hotel and ground transportation for the length of your layover. The downside is that you'll need to plan ahead if you're going to sleep in an airport by necessity or choice.
Is it snowing outside, and you just heard an announcement your flight is canceled? Do you have an 8-hour layover and you're exhausted? We've got your back. It's time to learn how to sleep in an airport so you feel ready to take on any adventure bright-eyed and bushy-tailed.
Can You Sleep Overnight in an Airport?
In most cases, yes. But you'll want to double-check before flying out that sleeping in the airport terminal is allowed.
Some airports do close overnight, which means you'll need to look for another option to get some rest. Many larger airports have hotels near them or even attached to them. Airports sometimes even offer a shuttle service to and from airport hotels for stranded travelers. Make sure you get clarity on what kind of airport you'll be spending the night in and what amenities are (or are not) available.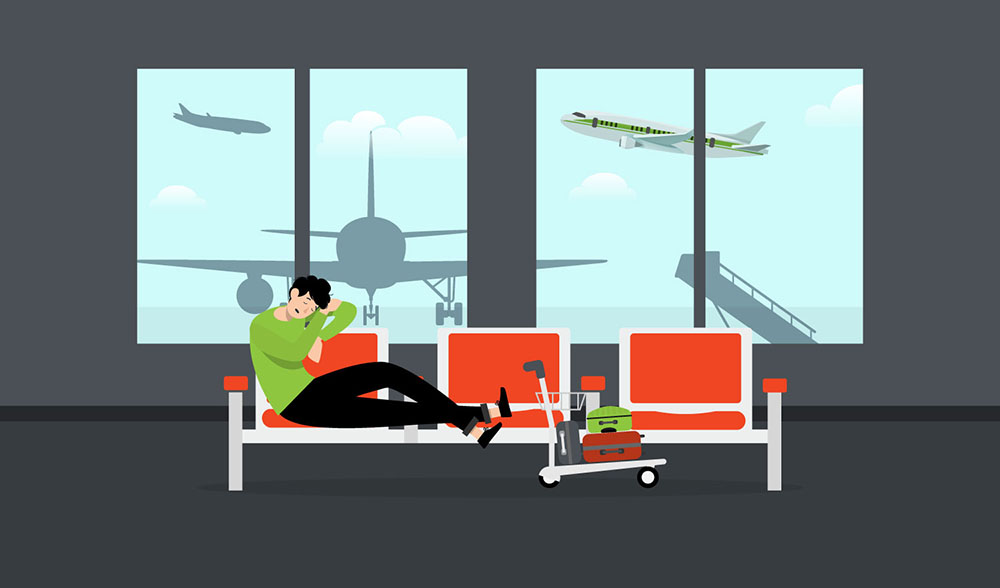 Sleeping in Airports: A Guide for the Common Traveler
Airport-sleeping has been a budgetary trick for backpackers trying to stretch their dollar while on low-cost trips around the world. But early flights, mistimed layovers, inclement weather, and even volcanic eruptions can leave you looking for the comfiest spot in the airport to crash for the night.
Whether it's a budget-minded decision or a desperate one, there are a few ways you can make your airport sleepover experience more bearable.
Tips for Sleeping in an Airport
Bring the right gear
Although there might be available seats or cots, you should prepare for the worst-case scenario of sleeping on the floor. You might want to bring a full-size memory foam Layla pillow from home, for example.
Memory foam pillows can help you regulate your temperature when you're sleeping in a freezing airport and relieve neck stiffness. It's a much better alternative than bunching up your jacket into an uncomfortable pillow that leaves you sore and restless through the night.
A weighted blanket for sleep is another great idea. You can use it to help fall asleep faster and vanquish any pent-up anxiety from traveling woes. Alternatively, you can use a weighted blanket to insulate yourself from the floor and create a barrier.
Figure out the terminal's hours
Larger airports are typically open all day, every day but smaller regional airports might close at night. Make sure you check the airport website or call the airport beforehand, especially if you expect delays or an overnight layover. If the terminals close early, you might be able to rest in the check-in or public baggage areas – just make sure you have your ticket and ID on you so you can show that you have a valid reason to be snoozing there.
Find a lounge or designated sleeping space
The best way to sleep in an airport is to seek out designated sleeping zones. There are a few airports that even have sleep pods or mini rooms for travelers looking for a quiet place to get a few hours of sleep.
If there's no designated sleeping area, rest in an area where others are already napping. Ideally, you'll choose a low-traffic zone where people are less likely to wake you and where you won't impede traffic.
Try not to go off into an isolated corner by yourself, you might look like an easy target to potential thieves.
Some airports have lounges that you can buy access to for the day. But it's important to note that sleeping isn't necessarily allowed in all of them – although some have resting areas with recliners and comfortable chairs to nap in.
Ask for a blanket or cot
Although not every airport has these on hand, many do. Ask an attendant if there are any cots and blankets available if you have a long layover.
Get food before places close
Airport restaurants and cafes typically close at midnight or sometimes earlier. Check to see whether restaurants will be open when you arrive. If not, plan ahead by packing snacks. In fact, even if the online information tells you something will be open, it's never a bad idea to pack a few granola bars with you in case the information is outdated or just plain wrong. You don't want to be tired and hungry, after all!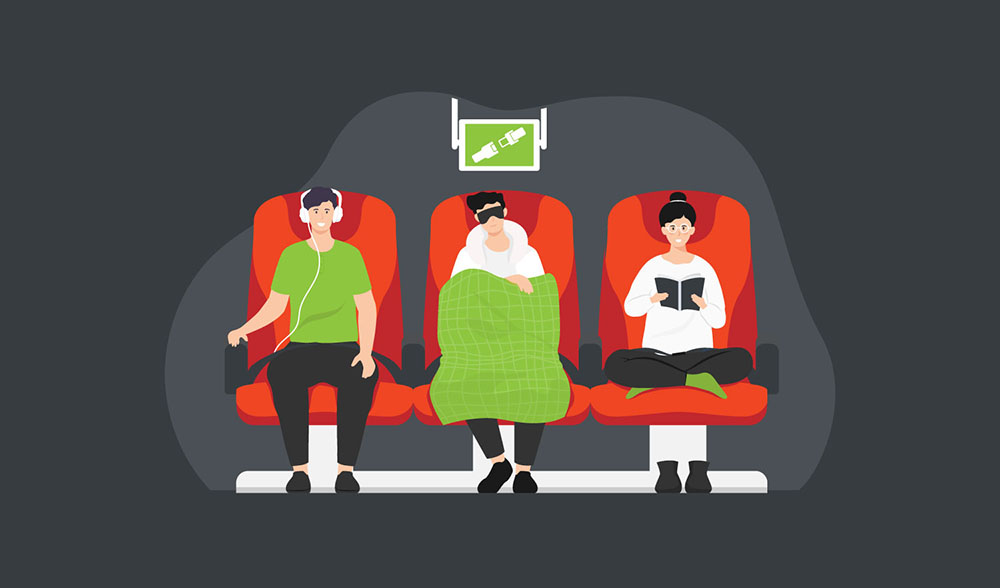 Strategize your baggage
If you're attempting to sleep in an airport, it's important to limit what you're carrying with you. Some airports offer short-term storage if you want to store a larger carry-on. This can give you peace-of-mind while you're asleep and it's a great option if you're traveling solo.
Keep your valuables, like your wallet and phone, on your person so that a passerby can't swipe it from you. And if your larger carry-on has to stay with you. Try wrapping a handle around your leg or arm, so you'll be alerted if anyone tries to move your luggage. Or use your bag as a pillow to kill two birds with one stone.
Bring earbuds, headphones, or ambient noise apps
Airports are loud. There are constant announcements, people milling about, and airplanes taking off and landing constantly. So, unless you're practiced in the art of falling asleep at a metal concert, it's in your best interest to find a way to lessen the noise. You can bring earplugs to get total quiet or simply use headphones to play comforting white noise or soft music.
It's important not to completely tune out what's happening around you; you should still be aware of your surroundings in the unlikely case of an emergency.
Bring an eye mask
Airports are very bright, and usually, the lights won't dim at night. To deal with this and get some shuteye, you can bring an eye mask to wear when you're ready to nap. A scarf can also serve the same purpose.
Wear comfortable clothing
Although you might be traveling for business, suits and other clothing with stiff fabric make for poor pajamas. If you know you'll be spending the night at the airport, it's important to be comfortable. Wear a couple of layers that you can peel off if you get too hot. Choose stretchy fabrics that allow you to move without any issues.
Set an alarm
Make sure you set an alarm before you let yourself drift off to sleep. Give yourself at least 30 minutes of wake-up time before your scheduled boarding time. And, if you've walked to a farther terminal to get some quiet, make sure you factor in the time it will take for you to get to your departing gate.
Consider taking some melatonin
If you're on a very long layover and you know you need to get a few hours of sleep to be fresh for your travels, consider taking a small amount of melatonin. A little bit of this sleep aid can help you doze off, even in the less-than-ideal conditions of an airport terminal.
Bring a small bag of toiletries to freshen up
After you've slept, you'll likely wake up needing to wash your face and rearrange your hair before heading to your final destination. Some airports might have showers or gyms with showers. But many more airports are only equipped with basic bathrooms. So, it's a good idea to bring some dry shampoo, a comb, facewash, deodorizing towelettes, a travel-sized toothbrush, toothpaste, and makeup essentials.
Sleeping in an Airport: Takeaways for Travelers
While it's probably not your first choice to sleep in an airport, there are times when it's unavoidable or makes sense. To make it the best experience possible, plan ahead, and bring all the gear you need for a comfortable night. Bring your own pillow and make sure you have a change of clothes and toiletries in your carry-on luggage. Research the airport you'll be sleeping in to explore any available amenities like 24-hour airport lounges, sleeping pods, and airport hotels. With these tips and the right gear, you can enjoy a better sleeping experience at the airport.