How Your Bedding Can Help Keep You Cool
While external factors, such as your room temperature, stress levels, and even health, can affect your ability to stay cool at night, your bedding also plays a large role in your overall comfort. Not only do comfortable sheets help you relax, but a thin comforter for summer can help keep your body cool, allowing you to fall asleep easier. Here are a few ways your bedding can help keep you cool:
Reduce night sweats: Summer bedding can reduce night sweats by regulating your body temperature to keep you cooler at night.
Regulate body temperature: Cooling bed sheets regulate body temperature to keep your core temperature cool in the summer.
Wick moisture: Some cool bedding is made with moisture-wicking fabrics that remove moisture like sweat from your skin and allow it to evaporate on the blanket.
Circulate air: Thin comforters for summer are breathable, allowing air to circulate around your body and through the blanket rather than trapping warm air between your body and the bedding.
While a lightweight comforter can keep you cool during the summer, a heavy comforter may make you warmer. Heavy comforters are ideal for winter because they contain heavier fill that traps heat to keep you warm in cold weather. Of course, thick comforters can be cooling, depending on the quality of materials and fabrics. In most cases, you'll want a thin comforter for summer to keep you cool throughout the night.
Change Your Bedding Through the Seasons
Changing your bedding through the seasons can improve your sleep quality by helping you regulate your body temperature. Opt for heavier comforters and fabrics that trap heat, like flannel and fleece, during cooler seasons like winter and early spring.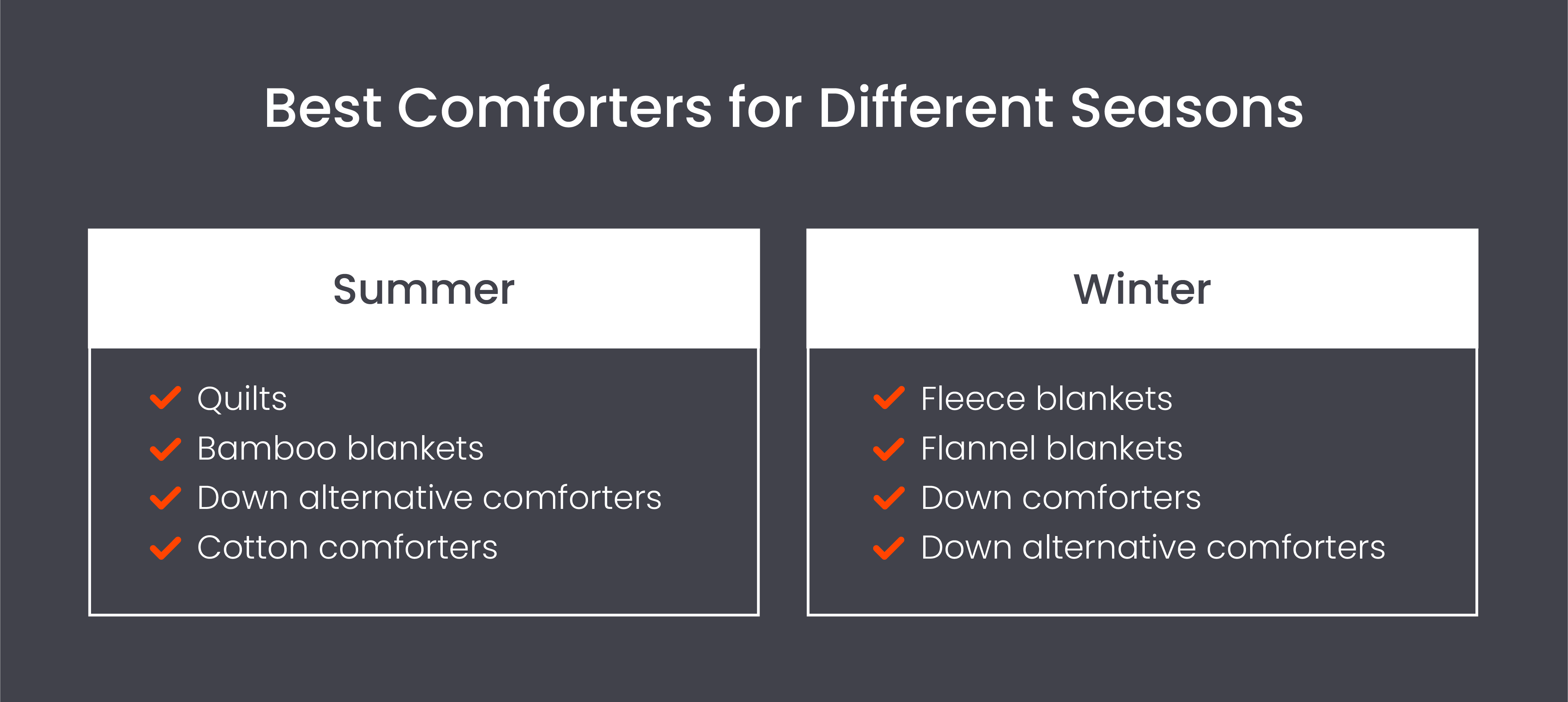 Meanwhile, choose lightweight fabrics like cotton, bamboo, or silk during the summer. Some materials offer temperature regulating properties that allow you to use your comforter year-round, depending on your preferences. You can also use layers for nights that are colder than others.
Best Fabrics for Lightweight Comforters
Lightweight comforters are available in many different fabrics and materials. What you choose may be a matter of preference, but each offers its own unique benefits. Here are the best fabrics for lightweight comforters for summer:

Cotton
Cotton is an affordable fabric that's breathable and lightweight. It's ideal for all seasons and is soft. Many lightweight comforters are made from cotton with cotton fill to offer ultimate breathability and comfort. Cotton comforters are also gentle on the skin, making them a great option for those with sensitive skin or those who want a soft material that won't irritate their skin.
Of course, when choosing cotton bedding, you must be aware of the different price points. The higher the thread count, the more expensive your comforter may be because a higher thread count means a softer outer material. Additionally, cotton is durable, making it a great option for those with kids and pets, and it's low maintenance and can be washed and dried in the machine.
Down alternative
Down alternative comforters are made from more sustainable and breathable materials like cotton, polyester, and synthetic materials. If you're looking for a lightweight comforter, look for something with cotton fill. For example, Layla's lightweight down alternative comforter is made from 100% cotton with down alternative fill for ultimate breathability and plush comfort.

Down alternative comforters are easy to maintain because they can be washed and dried in a machine as long as the care instructions allow for it. They're also naturally hypoallergenic and don't contain any potential allergens like goose feathers. Down alternative is not only a more sustainable and cruelty-free option, but it's less expensive because it doesn't contain feathers.
Bamboo
Bamboo is another popular option for summer bedding because it's one of the most breathable fabrics available. Bamboo also has moisture-wicking properties that wick away sweat from the skin to help you stay cool, comfortable, and dry. Cooling bamboo sheets take it a step further by giving you something soft to sleep on. However, you can also find bamboo comforters for a top blanket.
Bamboo also has hypoallergenic properties and is naturally resistant to dust, mold, and mildew because it allows moisture to evaporate quickly, rather than absorb it. It's also a durable fabric that won't pill. When looking for bamboo bedding, you'll come across some options that can be washed and dried in a machine on low heat. However, not all bamboo bedding can be washed in a machine. So when shopping for bamboo bedding, read the care instructions to ensure they're easy.
Linen
Linen is another breathable and lightweight fabric with moisture-wicking properties. Instead of absorbing sweat, it removes sweat from the skin, allowing it to evaporate. However, linen can feel rough or scratchy on the skin, depending on the brand and quality of the material, so do your research before purchasing linen bedding.
Linen is also naturally resistant to bacteria, making it an ideal choice for individuals who get night sweats. It also has temperature-regulating properties to keep you warm in the winter and cool in the summer to help you sleep comfortably, no matter the season.
Microfibers
Microfiber is one of the most affordable fabrics because it's synthetic. However, while many synthetic materials are heavy and warm, microfiber is lightweight and soft. The ultra-thin fibers in microfiber comforters may not be breathable enough for hot sleepers. Since there's a range of different qualities of microfiber comforters, durability and breathability will vary.
Microfiber comforters can also protect against allergens like dust, mold, dander, pollen, and mildew. It's also resistant to stains and incredibly durable, making it a great choice for children. Microfiber bedding also offers easy care that won't shrink in warm temperatures. Instead, you can throw microfiber sheets and comforters right into the washing machine and dryer.
What to Look For in a Thin Comforter for Summer
Consider your personal needs and preferences when looking for a thin comforter for summer. Some individuals are hot sleepers that experience night sweats, while others may get cold at night, depending on their air conditioning settings. For example, if you keep your room cool at night, you may want a heavier blanket to keep you warm. Whatever you decide, always ensure it's the right fit for you and those you share your bed with. Here's what to consider when looking for the best summer blanket:

Breathability
Breathability refers to a comforter's ability to allow air to pass through it easily, rather than trapping warm air. The best summer comforters are breathable to allow you to stay cool throughout the night. Breathable fabrics prevent night sweats because they can keep you cool and allow your warm body heat to pass through the blanket without resistance.
Moisture wicking
A moisture-wicking comforter removes sweat from the body and rapidly dries it on the fabric so your sweat won't be absorbed. Instead, it can prevent you from waking up in a pool of sweat.
Durability
Thin comforters might be thin, but that doesn't mean they can't be durable. Durability is crucial for summer comforters because you want to get as much use out of them as possible. If you buy a cheap comforter, it might pill or get destroyed by your washing machine and dryer. If you want to get the most bang for your buck, opt for durable sheets and comforters.
Hypoallergenic properties
Hypoallergenic summer comforters resist bacteria growth, which can occur due to night sweats and lead to sickness, allergies, or odors. Additionally, your comforter should never cause allergies due to the materials it's made out of. Therefore, if you're allergic to feathers, you should avoid a down comforter. Instead, choose comforters made from bamboo or cotton, the two most popular hypoallergenic fabrics.
Care instructions
You never want to choose a comforter that requires too much maintenance because most people will choose to avoid properly caring for their comforters. For example, if your comforter must be dry cleaned, you might not take it to a professional cleaner as often as you're supposed to. Additionally, if your comforter can't be dried in a machine, it can be difficult to care for during the cold winter months when it's impossible to dry laundry on a line. Easy care should mean that your comforter can be washed and dried in your machines at home without the need to take your blanket anywhere or dry it outside.
Stay Cool All Summer Long With Layla Sleep
Waking up in the middle of the night because you're uncomfortable due to the heat means another night of restless sleep. Your summer bedding can drastically improve your ability to fall asleep and stay asleep at night. However, you can take it further by investing in a cooling mattress or cooling pillow to ensure your entire body stays cool. Layla makes it easy for you to find the right mattress and bedding solutions to keep you cool and comfortable all summer long.