In this guide, we'll cover the different blanket materials available and identify the best materials for cold weather, making sure to highlight the benefits and drawbacks of each. We'll also discuss a few considerations to keep in mind as you choose a blanket for the winter. Keep reading to learn how to pick the right winter blanket for you, or use the links below to navigate the post.
What Are Different Types of Blanket Materials?
Blankets can be made out of all sorts of materials, which can significantly impact their cost, construction, and style. Below, you'll find a complete list of the different types of materials you can find in blankets: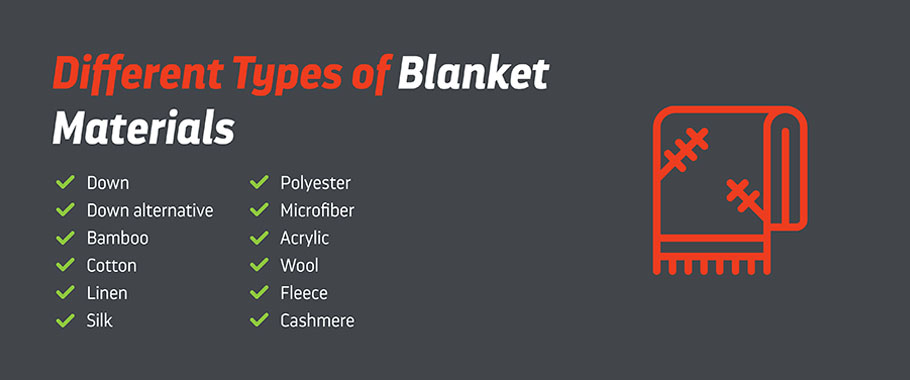 Down: Down fill comes from waterfowl, such as geese, ducks, and swan, and can help you stay warm during winter.
Down alternative: Get all of the warmth and softness of down without the animal-derived fill at a more affordable price.
Bamboo: Blankets made with bamboo are breathable, lightweight, and can help regulate your temperature.
Cotton: Cotton is one of the most common types of materials used in blankets since it's good for year-round use and it gets softer with every wash.
Linen: Linen is an all-natural material for blankets that's thick yet breathable, durable, soft, and designed for year-round use.
Polyester: A synthetic, affordable, and lasting blanket material that's very common.
Microfiber: Blankets made with microfiber are generally soft, plush, affordable, warm, and lightweight.
Acrylic: Acrylic is a synthetic material that's lightweight, inexpensive, durable, and feels like natural fabric.
Wool: Soft, breathable, moisture-wicking, and fire-resistant, wool is a versatile fabric that's heavy and great for frigid weather.
Fleece: As wool's synthetic cousin, fleece provides similar benefits to wool without the animal byproduct.
Cashmere: Soft, luxurious, and insulating, cashmere is a popular blanket material for the winter season.
Silk: Silk is a smooth, natural, and expensive material that provides lightweight warmth.
Ultimately, how warm a blanket keeps you during the winter depends on the materials it's made out of. Not all blanket materials will trap your body's heat the same. This is especially important to keep in mind as you search for the right winter blanket for your specific needs.
What Is the Best Material for a Winter Blanket?
The materials a blanket is made out of will determine how well your body's heat is retained within the blanket and if it keeps you warm or not when colder weather rolls around. That said, here are some of the best blanket materials for winter that can keep you nice and cozy, even in frigid temperatures.

Fleece
Fleece is a synthetic material that mirrors the look and feel of wool. This way, people allergic to wool and those with skin sensitivities can enjoy the best qualities of wool worry-free. It's also soft and contains moisture-wicking properties, meaning it pulls moisture caused by sweat away from your body and dries quickly. This allows you to remain at a comfortable temperature without being too cold or hot.
However, there are a few differences between fleece and wool. For one, it can be somewhat lighter, and it's not naturally fire-resistant or antimicrobial. However, it dries quicker than wool and it won't shrink when thrown in the washer and dryer.
Wool
Wool is a classic material for blankets. It's thick and heavy but not too stuffy, making it a versatile option for cold winter nights. Because of its moisture-wicking properties, you also don't have to worry about feeling wet due to sweat. Plus, wool is naturally fire-resistant, so you can snuggle up by the campfire or fireplace with an added layer of safety.
Despite the several advantages of wool, there are a few cons to keep in mind:
Scratchy: Wool is often not as soft as other blanket materials.
Difficult to dry: Its natural water-repelling properties make it challenging to dry.
Sourced from sheep: Since it's a byproduct of an animal, some people's skin may be too sensitive for wool, which can often lead to itchy skin and contact rashes.
Requires specialized care: Wool is a delicate material that requires specialized care. If not cared for correctly, it may shrink in the wash.
Besides fleece, merino wool is another alternative option. While merino wool is still gathered from sheep, the merino sheep produce thinner, non-itchy, and softer fibers. Blankets made with merino wool are often more expensive than traditional wool blankets.
Down
Down is one of the most popular materials because of its soft, lightweight, and breathable features. The warmth of a down comforter or blanket generally depends on the fill power, which is how much filling a piece of bedding has. Ideally, you want a high fill power during the winter.
It's often sourced from the undercoat of waterfowl, such as geese, ducks, and swans, so it may not be the best for those with allergies or who are looking for something ethically-made. To prevent damaging the delicate down, you'll also have to learn how to clean a down comforter.
Down Alternative
If you're looking for a cruelty-free substitute to down, a down alternative is an option. Down alternative often provides the same benefits as traditional down without the animal feathers. Plus, down alternative has several additional advantages not found in down. Let's take a look at a few of the differences of a down vs. down alternative comforter.
Affordable: Regular down is expensive, but affordable and high-quality down alternative comforters are available.
Easy to maintain: You don't have to worry about ruining your down alternative comforter in the wash.
Hypoallergenic: Down alternative is a synthetic material, so those with bird allergies can stay warm and cozy this winter without any reactions.
If you're looking for a comforter for winter that won't weigh you down, the Layla Sleep® Down Alternative Comforter is a great choice. It's made with 100% cotton and has a 10 oz. fill, ensuring you're kept snug all year round.
Cotton
Cotton is a common material for blankets that's soft, hypoallergenic, lightweight, and inexpensive. It provides plenty of breathability and will wick away moisture from your skin, allowing you to stay comfortable and dry. Blankets that are 100% cotton are great for year-round use, perfect for warm summer nights and chilly winter evenings. Cotton also holds up fairly well, so you don't have to worry about cotton blankets losing their shape or softness after multiple washes.
Keep in mind that there are different types of cotton, including Acala, Egyptian, and Pima, that'll impact the overall weight and warmth of the blanket.
Linen
Simple, soft, and elegant, linen is an all-natural blanket material that's hypoallergenic and seamlessly adapts to the temperature of your body, regardless of the time of year. With moisture-wicking capabilities, you'll stay snug even as you turn up the heater during a winter snowstorm. One pitfall is that linen tends to wrinkle easily, which isn't ideal if you're using the blanket for decorative purposes. However, if you can look past that, you'll have a great blanket in your hands.
Cashmere
If you're looking for a luxurious blanket, choose one that's made with cashmere. Cashmere is regarded as one of the most luxurious materials due to its many features. Qualities that make cashmere a suitable choice for winter include:
Hypoallergenic
Naturally fire-resistant
Greater insulation than wool
Soft
Won't wrinkle or lose it's shape over time
Those looking to avoid animal-derived blankets will have to skip out on the luxuries of cashmere since it's sourced from goats in China.
Weighted Blankets
Weighted blankets are heavy blankets filled with poly beads, metal pellets, or glass beads to create a soothing and comforting effect. Weighted blankets, such as the Layla Sleep Weighted Blanket, are a phenomenal choice in the winter because they offer extra warmth. Not only will they keep you warm, but they'll also provide several advantages that can impact your overall health.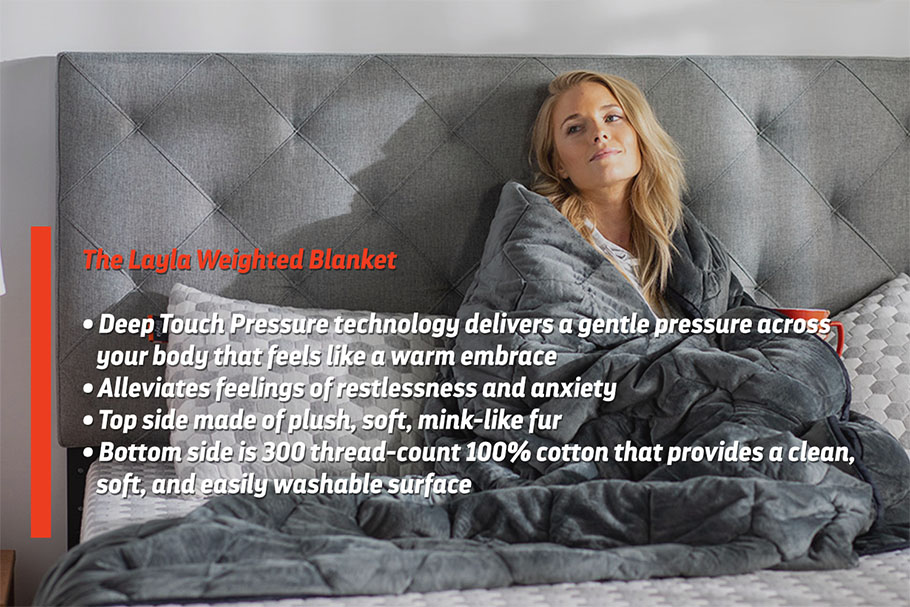 Some of the benefits of weighted blankets include:
Reducing anxious feelings
Easing symptoms of restless leg syndrome
Alleviating insomnia
How to Choose a Blanket for the Winter
With so many great options for blankets, how do you go about selecting the best one for you? Below, we've outlined a few of the qualities you should look for in a winter blanket.

Price: Some blankets are more expensive than others, so you'll have to take a look at your budget.
Temperature: Not all blankets will provide the same level of warmth. The temperature of a blanket will depend on the weight and fill. For more warmth, choose a blanket with a high fill power.
Style: Blankets are designed in all sorts of styles. From quilts vs. comforters, the decision will come down to personal preference.
Size: Will you be sharing the blanket with a significant other? Or do you need the blanket to fit on your couch? These are important considerations to keep in mind as you search for a blanket for winter. If you're seeking something large for your bed, check out our comforter buying guide instead.
Hypoallergenic: There are various materials that can trigger allergies. If this is the case, consider purchasing a hypoallergenic blanket.
Brand: Brands are not created equal. When shopping for a blanket, choose a trustworthy brand that's known for its high-quality products.
Materials: The best winter blanket material ultimately depends on your specific needs. For example, if you want to avoid bird feathers or sheep wool, opt for synthetic materials.
Conclusion: Choosing the Best Blanket Material for Winter
Although many types of materials can be used for blankets, the best blanket material for winter must be soft and insulating. Otherwise, you may get stuck with a blanket that doesn't provide much warmth. To choose the right blanket for you, begin by evaluating the fill power.
The Layla Weighted Blanket is a great choice for winter since it's designed with 100% cotton, has a 300 thread count, and is extremely plush, making it feel as if 100 puppies were snuggling you. If you're looking for a winter blanket that can be used in the summer as well, take a look at the Layla Down Alternative Comforter.