If you're like 74% of people and sleep on your side, the best mattress for side sleepers may erase the back pain that's been plaguing you. And we all know starting your day with a Soul Train audition in the shower is better than stumbling to the kitchen to microwave your heating pad.
Side sleeping encourages your spine to remain aligned and it can do wonders for your neck (assuming your pillow isn't as flat as a pancake). But not all side sleeping is identical.
Here is a breakdown of the different types of side sleepers and what you can do to improve your sleeping experience. Hint: getting your hands on the best mattress for side sleepers is just the beginning.
Types of Side Sleepers
Do you sleep with your arms under your head or at your sides? Do you cuddle up with a pillow or get too hot for extra support? Before you know how to improve your sleep, you need to figure out which type of sleeper you are (in other words, tag yourself: we're The Human Burrito).
The Lonely Spouse
If you cuddle up with your arms around a full body pillow, you fall into this category. We'd even crown you a Lonely Spouse sleeper if you cling to a regular sized pillow like it it's trying to break up with you.
Plenty of these sleepers aren't actually in bed alone. But it doesn't matter if your real partner is within reach, you like to put that body pillow in a Full Nelson before you go to dreamland. The best mattress for side sleepers of The Lonely Spouse variety is firm, offsetting the plush nature of the body pillow.
The Philosopher
Imagine the David statue by Michelangelo. The one you've seen on a million postcards. If you sleep how he stands, with his hands beneath his chin like he's deep in thought — you are The Philosopher. You always look like you're cooking up a plan, even when you're unconscious.
The best mattress for side sleepers who tuck their hands under their chin offers superb pressure relief. Your shoulder weighs heavy on the mattress when sleeping this way, so your mattress needs to compensate.
The Frankensleeper
It's your bed and you'll sprawl out if you want to. When you're a side sleeper, sprawling usually translates to widespread arms and the occasional rogue calf. With your arms outstretched like that, we'd say you look a lot like Frankenstein's monster. But pulling it off, obviously. The best mattress for side sleepers who lay with their arms out conforms to any and all weird sleeping positions.
The Human Burrito
The phrase "snug as a bug in a rug" has nothing on you. As you roll onto your side each night, you tuck the blankets behind you and under your legs. You're The Human Burrito.
With your arms down by your torso and your bedding cradling your core like it's a warm blend of rice and guac, you settle in for the night and don't move. The best mattress for side sleepers who lay straight (and rarely move) bounces back in the morning rather than sagging for good.
The Bambino
A great number of people who sleep on their side choose the fetal position. In fact, 40% of all sleepers say they prefer to roll into a ball before they doze off. This position is especially easy on your spine, and it feels natural because you've been snoozing this way since before you were born.
The best mattress for side sleepers who opt for the fetal position draws heat away from your body. It can get warm in bed when your legs are curled up against your body, and waking up to throw the covers off disturbs your sleep cycle.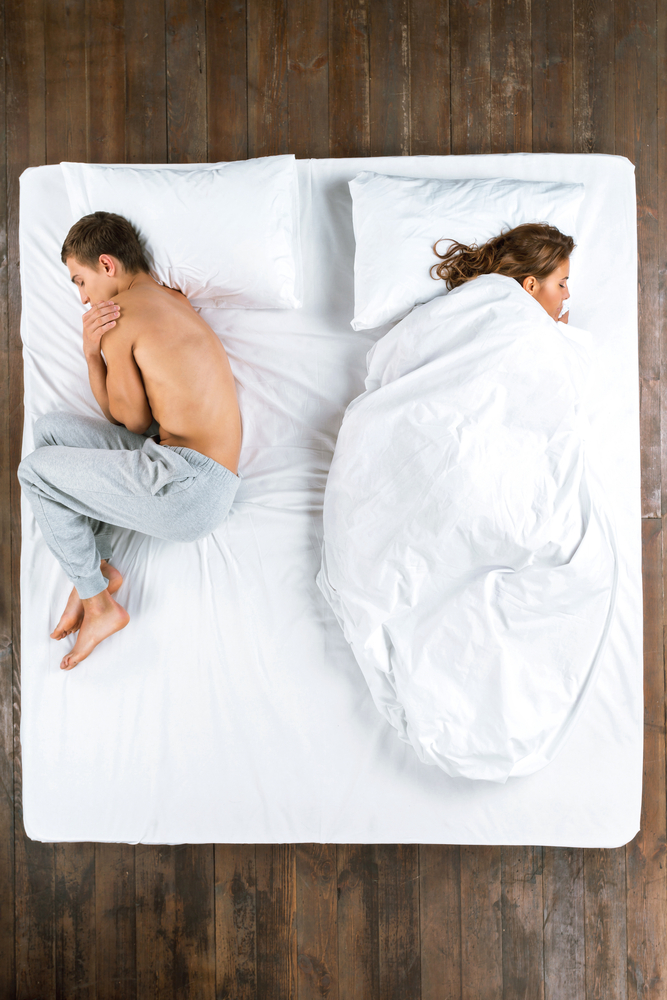 5 Secrets for Side Sleeping in Comfort
Now that you know which type of sleeper you are, it's time to get down to business. How can you improve your slumber experience? It starts with replacing bad bedding but remaining cozy as a side sleeper also means adjusting bad habits. Here are five secrets to successfully sleeping on your side.
Upgrade Your Pillow.

The

best mattress

money can buy is quickly sabotaged by a crummy pillow. Side sleepers need a pillow that rises to fill the space between the shoulder and ear.

If you have the

best mattress for side sleepers

and a pancake pillow — your neck will tell you about it in the morning. By that we mean it will whisper "Get me ibuprofen, or so help me I will activate migraine protocols."

A

quality pillow

does more than mold to your shape. It also draws heat away from your face, so you don't have to flip the pillow over in the middle of the night.

Put a Second Pillow Between Your Knees.

Why sleep with one pillow when you can snuggle in with two? Resting with a pillow between your knees aligns your hips and spine to eliminate lower back pain. If you have a herniated disc or general back pain, adding a second pillow to the mix is a simple way to give yourself more support.

Keep Your Arms Low.

You can't totally control what your body does while you're out cold (if you eat a plate of leftovers at midnight, just blame it on sleepwalking). But that doesn't mean you shouldn't try to train your body to sleep in a position that's better for your health.

Sleeping with your arms up, such as underneath your pillow, leads to morning pain. Your nerves and muscles could get pinched in this position:

morning

you

will curse the day

. Actively fall asleep with your arms at your side or in front of you to wake up happier.

Sleep on Your Left Side.

Sleeping on your side is not only comfortable — it can be good for your health. While our bodies are mostly symmetrical, they're not entirely so. It's better to sleep on your left for a few reasons.

Left-side sleeping helps

get rid of heartburn

for one. It can also aid in proper digestion and provide relief to people with intestinal issues. Best of all, if you're on the

best mattress for side sleepers

, the memory foam won't sag because you're always in the same position.

Stretch First Thing in the Morning.

Even if you're sleeping in an ideal position, you can still get achy sometimes. Start your day with a stretching routine. You don't have to go full downward dog to benefit from loosening your muscles. In combination with the best

mattress for side sleepers

, a solid stretch will prepare your muscles for the day.
Finding the Best Side Sleeping Bed
Let's get down to brass tacks. Most people are side sleepers and they're not sleeping on the best mattress for their needs. You're probably one of them.
Memory foam is the best mattress for side sleepers. We know about this sort of thing, and you can't find a better road to REM than layers of foam designed to hug your body and support pressure points. Here are some of the specific reasons you can't do better than a Layla Mattress:
Two firmness options. The Layla Mattress has different firmness quotients on either side. One side is firm, and the other is soft. You just flip it over to the side that tickles your fancy and feel your neck pain disappear.
Cooling copper. The Layla Mattress also has copper-infused insides. Copper draws heat away from your body like a magnet, then sends it to space (or something along those lines).
Staying cool means you can remain in your most pain-free position all night without getting hot. When you're warm, you toss and turn. When you toss and turn, you wake up sore.
Bounce-back support. Traditional mattresses start to sag, especially if you sleep in the same position every night. The best mattress for side sleepers, on the other hand, will bounce back every morning. Even if you curl up in the fetal position and concentrate your weight within one small area. That's not something you see every day.
Changing how you sleep can awaken you to all sorts of things. Maybe you'll have more energy in the office. Maybe you won't doze off while you're playing with your kids. Or maybe getting 8 solid hours of sleep means you can finally sign up for kickboxing. Having the best mattress for side sleepers practically makes you invincible. Layla Mattress is the best mattress for side sleeping, hands down. It can handle any side-sleeper's style, from The Frankensleeper to The Philosopher, and it keeps you cool all night long. While you're upgrading your bedding, consider getting a Layla Pillow to complete the memory foam experience.