There is no right answer to this question. Some people may prefer a box spring while others don't. Not only that, but the type of bed they have will let them know whether or not they need some sort of bed base or foundation. In this article, we'll discuss what a box spring is and whether or not you need one.
What Is a Box Spring?
A box spring is made out of wood and spring coils to provide your bed with a platform. Box springs can be used to add additional support to your mattress and keep your mattress off of the floor. The wood of the spring box should be a similar size and shape to your mattress. The coils reside in the middle of the box and are responsible for shock absorption. Box springs are one of the most common types of bed bases because they help keep your mattress off the floor, but there are other foundations available.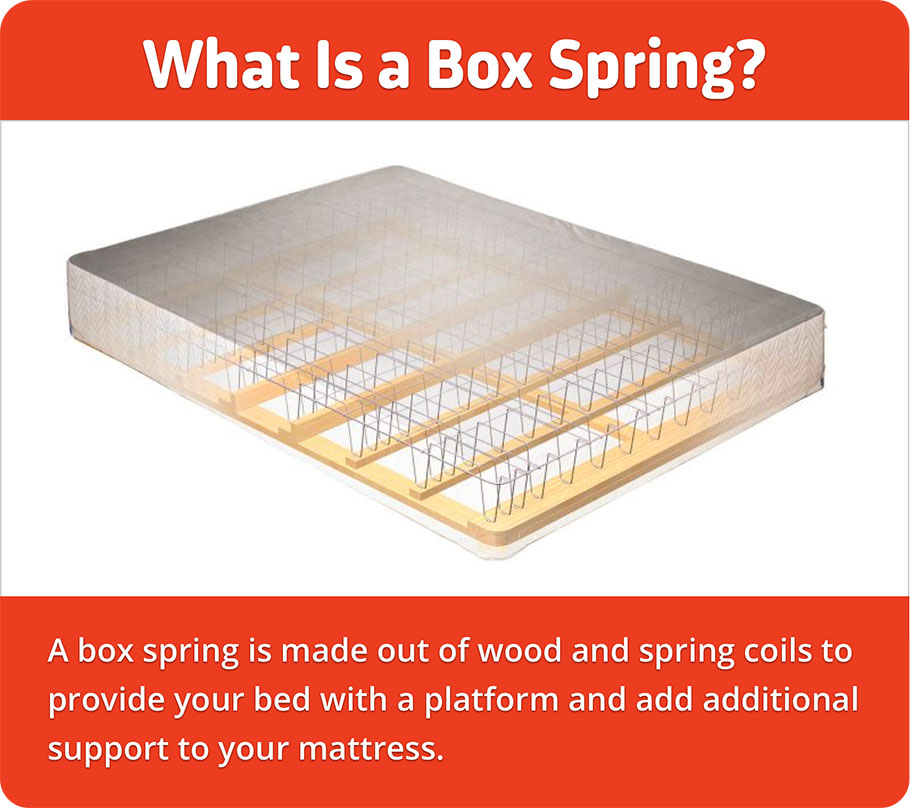 The good news is that there's nothing wrong with having a mattress without a box spring, but your mattress should have some support underneath it and not be placed directly on the floor.
What Are the Benefits of a Box Spring?
Box springs offer benefits over other types of bed frames and bases, including the floor. These benefits include: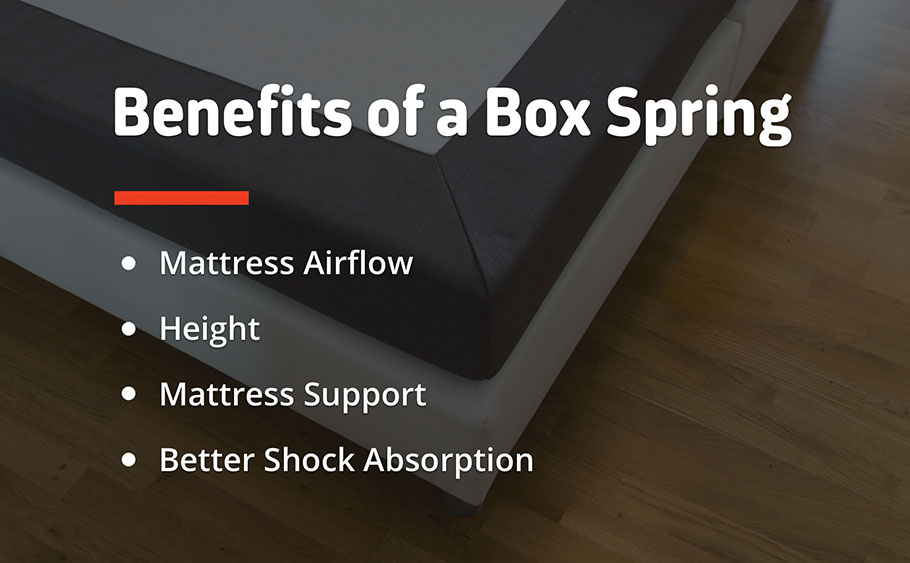 Mattress Airflow: Box springs are hollow, other than the springs within the box. Because of this hollowness, more air can flow around and through the mattress. Airflow can help keep your body cool at night, especially if you're using a cooling mattress to improve your quality of sleep. Airflow can be especially helpful for those who are hot sleepers and can also help prevent odors from getting trapped in your mattress.
Height: Some people prefer to have their mattresses low to the floor, while others prefer more height. If you're tall, have joint pain, or find standing up out of bed difficult, a box spring can help give your mattress more height. This means that you can easily slide out of bed without putting any pressure on your knees or joints.
Mattress Support: One of the most significant benefits of a box spring is that it offers support for your mattress, preventing a sagging mattress and increasing firmness. Other types of bed frames might not offer this same type of support, but many spring mattresses will require you to use one if you want to take advantage of the warranty. Ensure that you check your mattress warranty to determine whether or not your mattress requires a box spring or not.
Better Shock Absorption: Box springs can help absorb shock, which can help extend your mattress' life. For example, if you constantly toss and turn or jump on your bed, then your mattress should use some shock absorption to help it keep its correct form.
If you sleep on your mattress without a box spring, nothing can absorb shock, which means that your bed may get saggy or become uneven over time. These are some of the factors to consider when deciding whether or not to get a box spring.
When Do You Need a Box Spring?
Do you need a box spring with a bed frame? Maybe. Not every mattress requires a box spring, but there are some situations in which you should use a box spring with your mattress. The main reasons why you need a box spring are: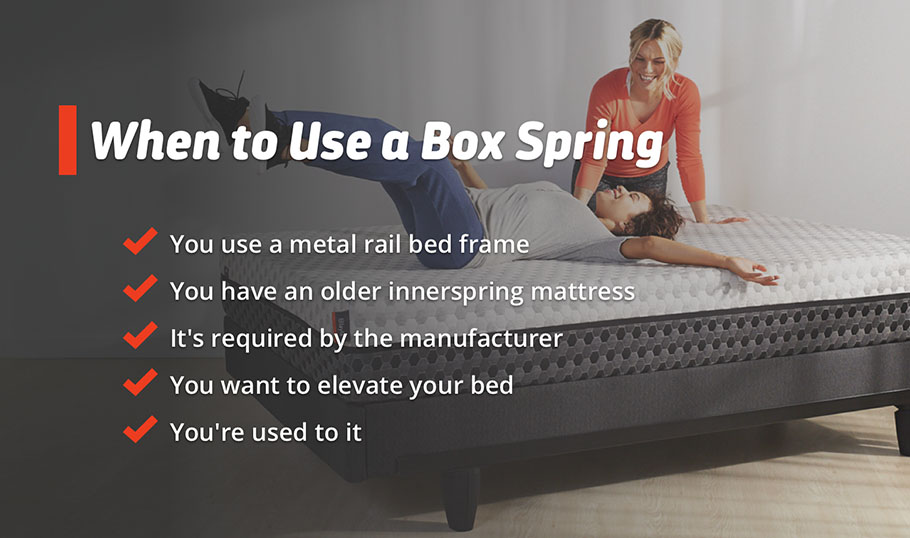 You use a metal rail bed frame: Metal rail bed frames are designed to be used with box springs and don't have center support, so a box spring needs to be used to provide your bed with foundational support.
You have an older innerspring mattress: Innerspring mattresses are designed to be used with box springs. Check the manufacturers ' recommendations if you're not sure whether your bed should be used with a box spring. You can find these either on the tag of the bed or online.
It's required by the manufacturer: If the manufacturer recommends a box spring, it means that the bed was designed to be used with a box spring to prevent sagging and other problems. If you don't use a box spring and something happens to your mattress, then your warranty may become void.
You want to elevate your bed: If you notice that getting out of bed is difficult and hard on the knees, then you may want to try a box spring that can help lift your bed up so that getting out of it is easier in the morning.
You're used to it: If you've used a box spring your entire life, then your body is likely used to the feeling of your mattress on top of a box spring. So when your body is used to a box spring, and you forgo one, you might not get the same level of sleep that you normally do.
If any of these factors apply to you, you may need a box spring. The last thing you want is to toss and turn all night because your mattress isn't properly supported.
When Don't You Need a Box Spring?
When asking yourself, "Does a mattress need a box spring?" the answer might be no. There are many times when you don't need a box spring, including: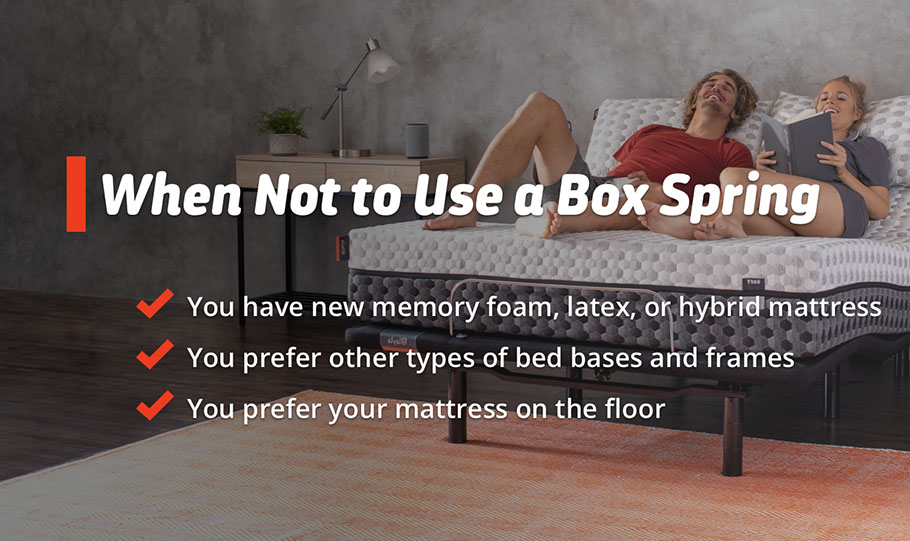 You have new memory foam, latex, or hybrid mattress. Newer mattresses made with foam or latex typically don't require a box spring, and instead might work better with different types of bases, such as a platform base or adjustable base.
You prefer other types of bed bases and frames: If you don't like the way a box spring looks or feels, consider another type of bed base or frame so that you can put your mattress higher up from the floor without sacrificing style.
You prefer your mattress on the floor. Many people, particularly young people, prefer to keep their mattresses on the floor. The floor can provide you with great support, but it doesn't allow for airflow, so sleeping on a mattress on the floor can get hot.
What's the Difference Between a Box Spring and a Foundation?
A box spring is not the same as other types of bed foundations. Many people say that anything that offers support to a mattress is a foundation. Box springs were originally designed with actual springs within the wooden frame. However, manufacturers now create lightweight boxsprings without the springs, which are called foundations. Essentially, a foundation is technically a box spring without the springs.

A foundation may also refer to any type of mattress support that has a solid frame or wooden slats to support and lift the mattress. Mattress foundations are ideal for a number of different types of mattresses. They may also provide better comfort if you prefer a firm bed. Unlike foundations, box springs can cause mattress sagginess where your body puts pressure on the mattress. Platforms can't be pushed down by your body because they're stronger than coils or hollow box springs.
What's the Difference Between a Box Spring and a Platform Bed?
A platform bed is the combination of a foundation and bed frame that lifts the mattress off the floor and offers support. Many platforms have wooden legs and storage solutions on the ground. Platform beds are often more expensive than box springs because of the additional support, height, and storage they offer.

Platform beds are considered low-profile frames and are available with a solid or slatted surface. They are made from solid wood with channels that promote airflow to cool the mattress. They typically have a smaller space between slats (if they have slats) to improve support.
Not only that, but platform beds come in a variety of styles, and some include head and footboards. They also support all types of mattresses, including memory foam and hybrid mattresses.
What to Use Instead of a Box Spring
A box spring can be a good affordable option if you want to provide your mattress with additional support and height. However, many people prefer different types of bed frames and bases as box springs can be bulky and not as modern or stylish. Here are some box spring alternatives:
Adjustable Bed Base: Adjustable bed bases allow you to lower or raise your bed base to the exact height that you want to help you avoid the fuss that comes with dealing with putting tons of pillows behind your back. For example, if you want to watch television in bed, you can raise the top of the bed to allow you to rest in an upright position. There are many benefits of adjustable beds, including convenience, reduced back pain, and more. Adjustable bed bases are ideal for people who enjoy reading or watching television in bed, but they can also be beneficial for the elderly who need to sleep upright or require additional help getting out of bed.
Platform Beds: Because platform beds work as both the bed frame and foundation, they are stable solutions that keep the mattress off the dirty floor. Platform beds are easily assembled and can support heavy mattresses because they are typically more sturdy than box springs. Many platform beds come with storage solutions, which is why they come at such a high price tag.
Foundations: Some foundations are designed to be used with frames, while others can be used on their own. Foundations are sturdy and may offer more firmness than other types of bed bases. Mattress foundations offer a modern, sleek solution for memory foam mattresses to help you keep your mattress off the floor without taking up too much space.
Bunkie Boards: Bunkie boards are slabs of wood that offer support to pull-out sofas that typically lack firmness and tend to sag. However, they can also be used on a broken box spring to help your bed stay in a neutral position and prevent sagging.
Floor: The floor is a flat, hard surface that offers the ultimate support, which can help alleviate pain and prevent your mattress from sagging. Before you put your mattress on the floor, consider its density and firmness. If your mattress isn't thick, you might not be getting enough softness, depending on your sleeping position. Not only that, but you should consider how easy it will be for you to get in and out of bed at night and in the morning. If you have knee pain, you should avoid putting your mattress on the floor.
The Bottom Line: Do You Need a Box Spring?
The quick answer to this question is maybe. Depending on the type of mattress you have, you might be required to use a box spring to help reduce the chances of sagginess and pain from sleeping on the wrong bed base. While your mattress should provide you with enough comfort, your bed base also plays a significant role in your comfort.
If you prefer to sleep on something firm, consider getting a box spring or platform that can improve airflow around your bed and offer your mattress the support it needs to support your body. Remember, all mattresses have a mattress adjustment period, so if your mattress doesn't feel comfortable immediately, you might not need to purchase a box spring yet.
At Layla Sleep, we have a great selection of bed frames and foundations to choose from to ensure you get a good night's rest night after night.