While a bed stands central in this setting, its frame, legs, and posts can sometimes be an eyesore, detracting from the cohesive look you're aiming for. If you have a metal bed frame, it can look even more out of place. While they're durable and sturdy, metal bed frames can look unfinished and show signs of wear over time. In some cases, covering them is your only option.
From DIY projects to innovative products, there are many ways to cover a metal bed frame to give your space that ambient vibe and cohesive look you need to view your bedroom as a sanctuary. Keep reading to learn how to hide bed frame legs to ensure a seamless blend in your bedroom's aesthetic.
Bed Skirts
Knowing how to hide metal bed frame legs can improve your room's aesthetic. The first product you'll find when learning how to hide bed frame legs is bed skirts. Also known as dust ruffles, bed skirts are functional and aesthetic. These pieces of decorative fabric are placed between the mattress and mattress base and flow down to the floor, concealing bed frames and anything you have hiding under your bed while acting as a metal bed frame cover.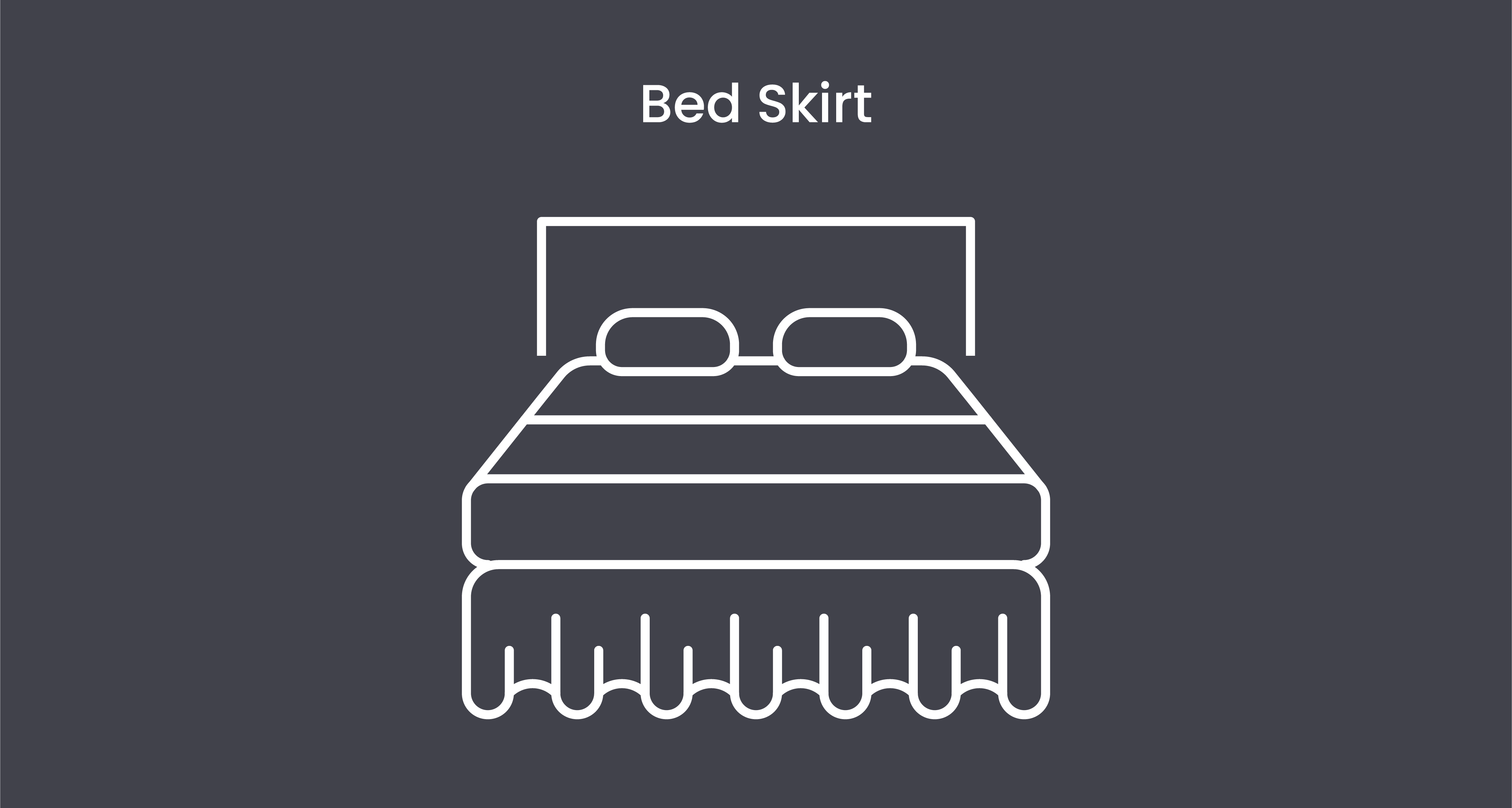 Bed skirts are available in a variety of designs and colors, so whether you prefer a basic or minimalist look or something bold, you can find one that matches your unique preferences.
When choosing a bed skirt, consider the length. Bed frames come in various sizes, so how far the top of your box spring is from the floor will influence how the bed skirt looks.
You should also aim to match your current bedroom aesthetics. For instance, if you use a more neutral color palette, keep your bed skirt a neutral color that complements your existing bedding. Adding contrast can also be effective as it gives your room a splash of color.
DIY Wooden Enclosures
If you prefer to get your hands dirty, use DIY wooden enclosures to hide your bed frame legs. These enclosures allow you to fully tailor your look to the rest of the bedroom. Once they're built, you can paint them any color you choose or leave them as is.
To build a wooden enclosure to cover bed frame legs, you should start with exact measurements. Measure your bed frame legs for individual boxes for each leg, or measure your entire bed frame to create a wooden box around the bed itself.
Next, you'll need to source your materials. You can visit your local hardware store or lumberyard to get pieces of plywood. Most places will offer to cut the wood for you, saving you the hassle, so we recommend getting them as true to size as possible.
Once you're back home, you can begin assembling your boxes using screws and a drill. You can complete the fourth wall of the box or leave it open, allowing you to remove them easily later. Then, you can begin adding the finishing touches, like paint or stain, depending on your current bedroom aesthetic.
Keep in mind that while this DIY project allows for more customizability, it's much more labor-intensive and requires the use of power tools.
Bed Frame Leg Covers
If you like the idea of simply covering metal bed frame legs, consider bed frame leg covers. These products cover metal bed frame legs by acting as sleeves you simply slide on each leg. Available in a variety of colors and designs, leg covers are easy to use and allow you to change your bed's appearance easily.
In addition to hiding bed frames, leg covers offer protection for wooden and laminate flooring. They also protect your toes if you stub them while making your bed or fluffing your pillows.
Think of bed frame leg covers like socks for your bed. Because they're designed for a snug fit, they'll remain in place without detracting from the rest of the room's aesthetic. However, depending on your preferences, you can also use these covers to turn your bed frame legs into statement pieces with bold colors and designs.
Macramé and Decorative Rope
Macramé is the knotting of rope to create a textile, such as a bed frame leg cover. By using macramé or decorative rope, you can conceal your bedframe and its legs just as easily as you could with a bed frame leg cover. The only difference is that you'll be creating it yourself.
This style of knotting can help you achieve a bohemian or coastal look, or you can use various color combinations to match your room's vibe. Additionally, macramé provides opportunities for personalization, allowing you to have a bed frame no one else has.
The patterns and designs you use can influence how you feel about the room, whether you choose simple designs or more elaborate patterns. They also introduce depth and texture, creating a cozier atmosphere in the entire room.
Blankets and Comforters
One of the easiest ways to conceal your bed frame and its legs is to buy a comforter or blanket larger than the mattress. Purchasing an oversized blanket that drapes off the edge and down to the floor can cover most, if not all, of your bed frame and its legs. Plus, having a larger blanket means sharing less with your partner or pet if you share a bed.
By creating a cascading effect, oversized blankets can make your bed look more inviting and cozy, and you'll thank us for this idea on chilly nights when you want to be cocooned in warmth.
The most significant benefit of using large blankets and comforters to cover your bed frame legs is that it's versatile. For instance, if you decide to redecorate your bedroom, all you'll have to do is purchase a new large blanket or duvet cover.
In addition, you can choose from an array of fabrics, patterns, and designs that elevate your existing bedroom aesthetic. The right bedding can set the tone, whether you're aiming for minimalist décor or something more vibrant.
Paint
Another easy way to cover your bed frame legs is to paint them. While this won't necessarily hide them, it can give your bed and room more character. Unlike other DIY projects to conceal metal bed frame legs, painting is something almost anyone can do correctly.
The first step is choosing the right paint. Look for paint that's metal-friendly with rust-prevention properties. For wood frames, look for wood-friendly paint. Then, prep the surface for the paint by sanding it to create a rough texture that improves adhesion.
Make sure your bed frame is clean before applying the paint since dirt and dust can affect the evenness of the paint. Once your first coat has fully dried, apply another to ensure it's even on all sides.
Painting offers limitless possibilities for personalization. You can complete your bed frame with a chic matte or glossy finish, incorporate patterns, or use a bold color around the entire frame. This small change can significantly impact the overall room, letting your bed frame become more of a statement piece.
Bed Canopy
Why not enhance the aesthetic appeal of your bedroom while covering bed frame legs? Adding a bed canopy draws attention toward the ceiling and off the floor, and they come in all sizes, allowing you to cover your bed down to the floor.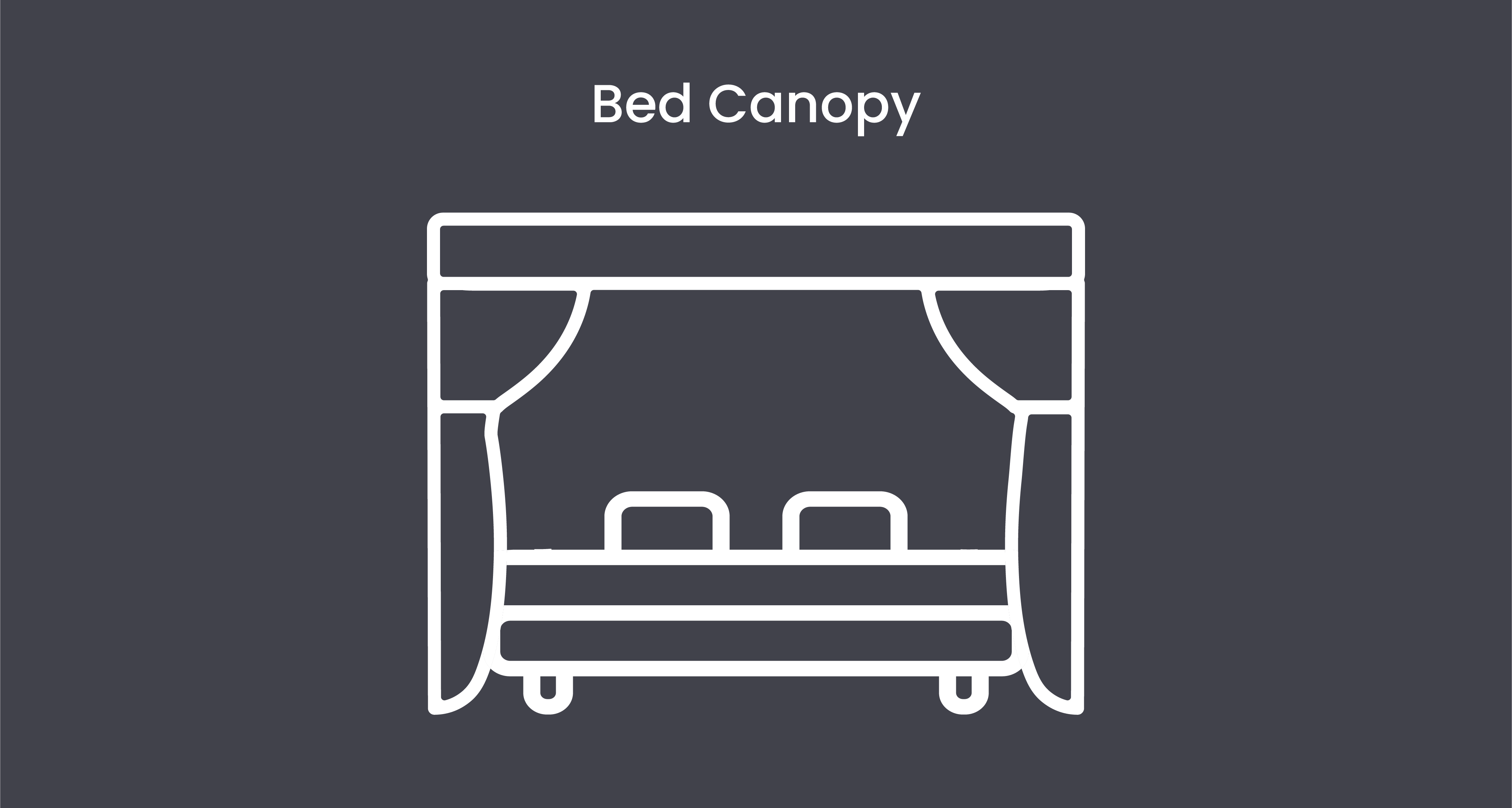 Bed canopies are essential bed drapings that suspend from the ceiling to surround the top of the bed and drape down the sides. While they conceal bed frames, they also draw the eye away from the floor and upward, acting as a focal point for the space.
Beyond their aesthetic charm, bed canopies make your bedroom feel more like a retreat and can define your private space. Installing one above your bed can also keep light from a window from affecting your sleep by providing you with a cover. Additionally, they add a second layer of personalization and privacy to your room, enhancing the experience of your sleeping environment.
Wrapping Up: How to Cover Bed Frame Legs
Every element of a bedroom contributes to its look and feel. Your bedroom should be a sanctuary — your own personal escape where you can go to get away from the rest of the world and relax. Unfortunately, you might have a bed frame that detracts from your room's aesthetics.
Covering bed frame legs can help, but so can investing in a quality bed frame that you don't have to change. We offer a range of aesthetic bed frames, bases, and foundations to ensure the heart of your bedroom provides comfort and seamlessly integrates into the rest of your décor. Each of our bed bases is designed to work with memory foam and hybrid mattresses to lift your bed off the floor and enhance the room. Shop our collection today.