No matter why you want to invest in a new comforter, there are many important factors to consider if you want the best one. Comforters come in different sizes and are made from different materials, plus you have to consider fill power. There are also little things that factor into how to choose a good comforter, such as style and ease of care. If you need help picking the perfect comforter for your bed, Layla Sleep® has an in-depth look at all the information you need to make a smart decision. Check out our comforter buying guide or click the links below to quickly navigate the guide.
Types of Comforters
To start, you'll need to choose a type of comforter. Bedspreads are typically the most popular budget option, while down has been a longtime favorite for luxury. Every type of comforter has its pros and cons, so choosing the right type of comforter is important if you want to improve sleep quality.
Down: When money isn't an obstacle, down comforters are often the most popular choice. Down comforters are made from down that's sourced from waterfowl like ducks and geese, which is extremely soft, lightweight, and breathable. However, down comforters are also the most expensive option, plus you have to take them in for professional cleaning on a regular basis and their sourcing practices are unethical.
Down Alternative: Down alternative is a more affordable, cruelty-free alternative to authentic down. The Layla Down Alternative Comforter provides down-like softness and breathability with a hexagon quilt pattern for a more even fill. With sewn-in loops, this comforter works on its own or with a duvet cover. Plus, the Layla comforter is a great solution if you're looking for a hypoallergenic option.
Quilts: Quilts are typically a bit thinner than comforters and bedspreads, which makes them a good option for warmer nights. However, you can also stack several quilts for winter nights, making them a good option if you're looking for something versatile.
Bedspreads: Bedspreads are typically the most affordable option, lacking the softness and breathability of a down or down alternative comforter. If you're looking for a simple comforter or one that comes in a set with sheets, pillowcases, and a bed skirt, you're probably in the market for a bedspread.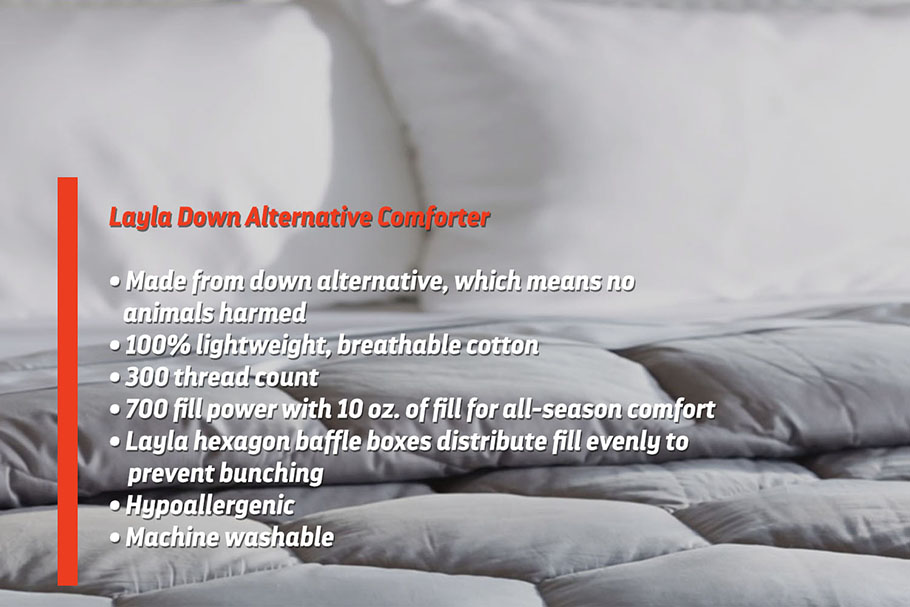 Comforter Materials
Choosing the right materials is another big part of how to buy a comforter. If you have allergies, finding hypoallergenic bedding options is an important part of getting good sleep. For hot sleepers, it's all about finding a comforter that's breathable and lightweight. The comforter material you choose has a big impact on your sleep quality, with the most common options being cotton, wool, silk, and bamboo.
Cotton: Cotton is the most common comforter material, offering a good compromise between the other fabric options. Since it's hypoallergenic, soft, and breathable, cotton is a popular choice for a lot of sleepers. Cotton is also fairly durable and easy to care for.
Wool: While most people consider wool bedding to be too hot, it actually does a good job of regulating your body temperature in every season. Wool is one of the longest-lasting bedding materials, plus it's natural. However, wool does require a bit more specialized care than cotton and other simple materials.
Silk: Known as one of the most luxurious bedding materials, silk can be a good choice for comforters. Despite the way it feels, silk does an excellent job of wicking away moisture, and its soft feel makes it a great material for sleeping. Again, however, silk requires a bit more care than other types of bedding and can be more expensive.
Bamboo: A great all-around choice, bamboo comforters offer lightweight breathability at affordable prices that makes them the perfect choice for hot sleepers. Bamboo is breathable and absorbent, so sweat isn't a problem. Plus, bamboo is a great choice if you're looking for hypoallergenic bedding.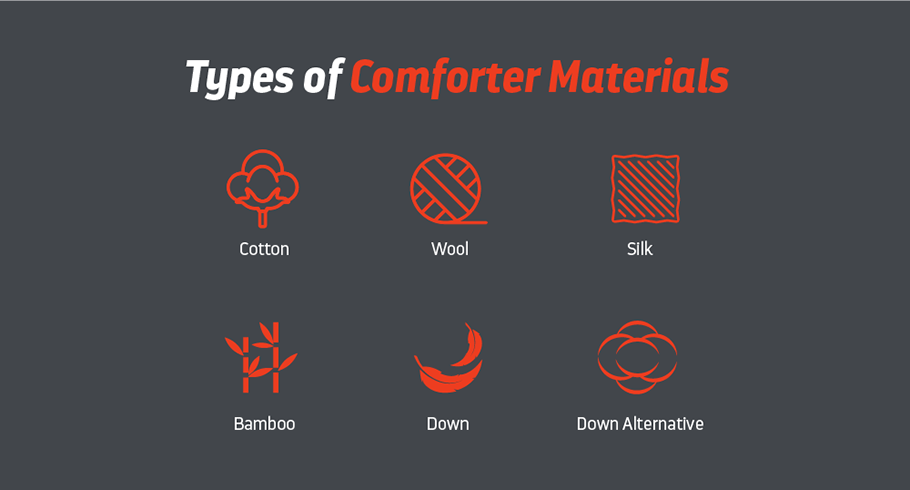 Comforter Fill Power
Materials only mean so much when it comes to comforters; when it comes to warmth and comfort, fill power is what's really important. The fill power of a comforter refers to how much filling is inside the comforter, with higher fill powers indicating more filling and a warmer blanket. You should also consider fill volume, which is the volume an ounce of a material like down or down alternative takes up. While you want a comforter with a high enough fill power and volume, simply opting for the highest fill power can leave you too hot and unable to sleep at night.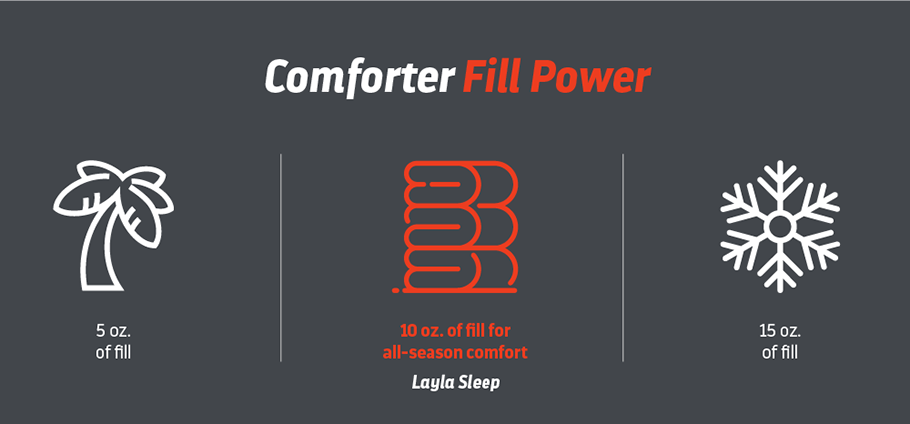 At Layla Sleep, we've worked hard to create the perfect cooling comforter. We know how important fill power and volume are to getting a good night's sleep, so we invest time into finding the ideal fill power for a down alternative comforter. In the end, we decided to design our Layla comforter with a fill power of 700 and a fill volume of 10 ounces, which we found to be perfect for both cold and warm months. By meeting right in the middle of a typical cold weather comforter and warm weather comforter, we found a fill power that keeps you cozy at night without making you overheat during the summer.
Comforter Sizes
When you crawl into bed to lie down at night, there's nothing like the feeling of being completely enveloped by your comforter as you drift off to sleep. Unfortunately, that feeling is ruined when your comforter isn't quite big enough and you end up with a foot or hand sticking out. If you're looking for tips on how to choose a good comforter, comforter size is something you have to consider.
One thing to consider when it comes to comforter sizes is that comforters are much bigger than the mattresses they're designed to fit. While most people opt for a comforter that's made for their mattress size, upgrading to a slightly larger comforter can be a good way to get some extra coverage. While cooling sheets are made to precise specs to fit your mattress size, you've got a bit of room to play around if you prefer a larger comforter.
Take a look at the chart below to find out which comforter size is best for your mattress: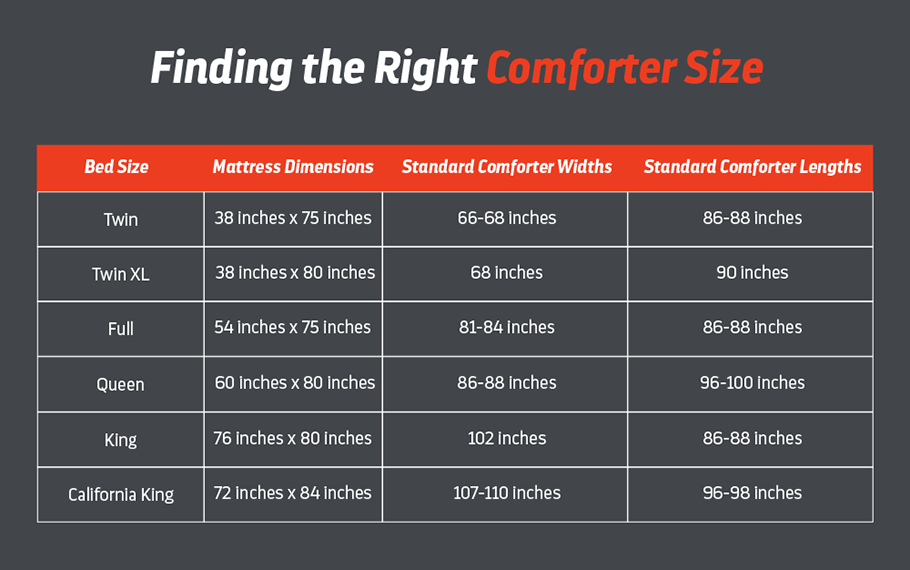 Comforter Thread Count
No down comforter buying guide is complete without discussing thread count and how it affects your comfort. Thread count is a tricky concept because while it can be a good way to measure how soft a comforter is, it's more nuanced than a number and a lot of manufacturers use high thread counts to trick buyers.
So, what is thread count exactly? Thread count refers to the number of threads that were woven together into one square inch of fabric. As more thread is woven in a crisscross pattern, it creates a more solid square inch of fabric, which feels softer to the touch and provides greater durability over time. Ideally, you want sheets and comforters with a thread count ranging from 200 to 400. Some brands make sheets with thread counts nearing and even exceeding 1,000, but there's a lot of debate about whether those numbers are accurate and actually mean anything.
The Layla hypoallergenic comforter is made with a thread count of 300 for excellent softness and durability. A true 300 thread count comforter is more than soft enough to help you sleep without driving up the price of the comforter by several hundred dollars. Plus, the Layla comforter is designed for durability that helps it maintain that soft feel, warmth, and breathability for years to come.
Comforter Care and Durability
Taking care of your bedding is just as important as choosing the right bedding in the first place. You should wash sheets, pillowcases, and comforters on a regular basis to keep them clean, following the manufacturer's instructions to make sure you're not doing any damage to your bedding. However, following these instructions is often where the difficulty lies.
Some comforter materials—down in particular—are very hard to care for. While down comforters don't get dirty particularly fast, most down comforters require professional cleaning when they do get dirty. That means you have to take your comforter to a professional dry cleaner, wait for them to clean it, then drive back to the cleaners to pick it up again. In some cases, you might have to find another comforter to sleep with for a night. Plus, all that professional cleaning can cost a fortune on top of the higher price of down.
The Layla 100% cotton comforter is made with down alternative instead of down, so it offers the same great comfort without the complicated care. When your Layla comforter gets dirty, all you have to do is throw it in the washer and transfer it over to the dryer afterward. Not only does this make cleaning simple, but it also saves you a lot of money on dry cleaning.
As far as difficulty of care goes, bamboo comforters are also a fairly simple option. Manufacturers may recommend washing in cold water or with certain detergents, but you can still use your washing machine. Silk should be washed by hand with a mild soap and lukewarm water, while cotton can typically be thrown in the washer and dryer.
Comforter Stitching
If you lay a comforter flat on your bed and look at it while standing up, you'll notice there's a pattern in the stitching. Some comforters feature a square pattern, while others have a sort of diamond pattern to them. While this stitching pattern may seem like a purely cosmetic feature, it actually affects the way the fill is distributed throughout the comforter, which determines how warm, lightweight, and breathable a comforter can be.

At Layla Sleep, we know how important the little details can be when it comes to bedding, so we worked to find the best comforter stitching solution. As a result, every Layla comforter is stitched using our patent-pending "baffle box" shape, which uses a hexagon pattern instead of the typical square pattern. This stitching is designed to keep the fill from bunching up into corners, keeping it evenly distributed so you stay warm and cozy all night long.
Duvet vs. No Duvet
If you want to add a little insulation to your comforter or protect it from dirt and spills, a duvet cover can be a good solution. Duvet covers go around your comforter, with the comforter secured on the inside to keep the cover in place. Not only does this help protect white comforters from stains, but it also adds a little extra warmth that can make a big difference during the winter.
One of the coolest parts about the Layla comforter is the fact that you can use it with or without a duvet cover. This breathable comforter is soft to the touch even without a duvet cover, and it's completely machine washable so you don't have to worry about getting it dirty. Still, we put loops in all four corners of the Layla comforter so you can securely attach a duvet cover if that's what you're into. At Layla Sleep, we believe in giving you the freedom to sleep the way you want to.
Cost
Comforters can get expensive fast, so knowing your budget and what determines the cost of a comforter is important. Just because you're paying more for a comforter doesn't mean you're getting better quality. It's important to consider things like thread count, comforter materials, and more. Some factors that affect the cost of a comforter include:
Comforter size
Material
Thread count
Brand
Country of origin
Amount of fill power
Need for a duvet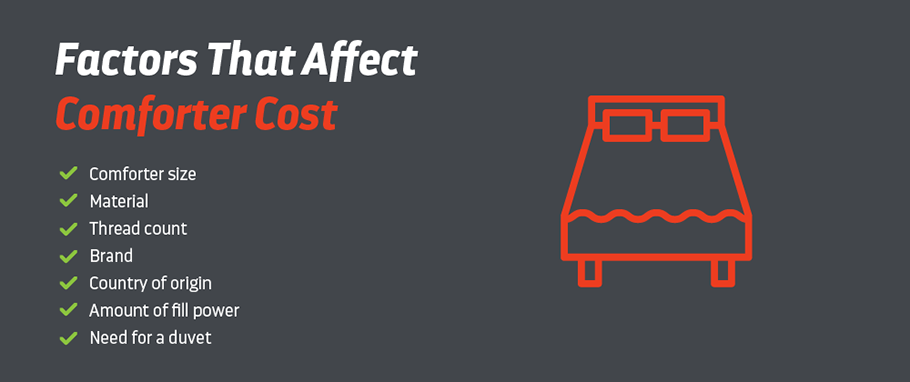 If you're looking for premium comfort on a budget, down alternative comforters are a great choice. Down alternative is significantly cheaper than down, plus it doesn't cost as much to care for. The Layla Sleep comforter isn't just a fraction of the price of high-end down comforters, but it also comes with a 120-night money-back guarantee. On top of that, you get a 5-year warranty that protects you in case something happens to your comforter. In addition to the actual quality of a comforter, money-back guarantees and warranties are also important factors to consider if you want to get more bang for your buck.
Comforter FAQs
What should I look for when buying a comforter?
When buying a comforter, it's important to consider factors such as size, material, thread count, fill power, and care instructions. You want a comforter that's comfortable, breathable, and made to last, but you don't want to spend a fortune upfront. In terms of getting the most value for your money and finding a comforter you can rely on for years, you should look for brands that offer good warranties like the Layla comforter. You can always go to a store that sells bedding and feel some of the comforters for yourself to get an idea of what you like.
What is the best type of comforter to buy?
As far as how to choose a good comforter goes, it all depends on your preferences. An expensive down comforter may be the best solution for you if you don't mind keeping up with dry cleaning, but a down alternative comforter is a better fit if you don't want to pay for dry cleaning or spend extra time on care. Because everybody is so different when it comes to comforters and bedding, it's best to try out some different materials and types of bedding before you buy.
What is the best thread count for a comforter?
In simple terms, a higher thread count means a softer comforter. However, it's important to keep in mind that thread counts are often exaggerated and a higher thread count doesn't always tell the whole story. In general, any comforter with a thread count of at least 200 or 300 will be comfortable enough. Just remember to look at comforter materials and check out reviews for comforters that claim to have a thread count above 1,000.
Wrapping Up: How to Choose a Good Comforter
A good comforter is one of the most important parts of your bed, so choosing the right one is important. If you want to find the best comforter, you can start by choosing a size and material that's right for you. When it comes to comfort and warmth, thread count and fill power are the two most important factors to consider. And of course, cost is a major factor when you're shopping on a budget. Our comforter buying guide can help you make the right decision for your needs. With the premium thread count and ingenious design of the Layla comforter, you can surround yourself in total comfort for a good night's sleep night after night.