Unfortunately, we can't answer that question for you because it depends on your preferences and those of your dog. Instead, we can tell you that all dogs appreciate having a comfortable place to take afternoon naps and avoid getting overheated sleeping in bed with their pet parents. When it comes to your dog, you want only the best for them, which means choosing the best dog bed. However, you don't want to choose a dog bed that will get destroyed or is difficult to wash. Keep reading to learn how to choose the best washable dog bed.
Qualities to Look for in a Washable Dog Bed
Choosing the best dog bed for your pup is an important decision because your dog will spend a lot of time napping or playing in their bed. Since your dog is a member of the family, you want to get them something comfortable and durable to ensure they'll have a quality bed no matter what they do in it. Of course, you also don't want cleaning the dog bed to be difficult because dog beds can get dirty and must be washed regularly. So instead, you need to choose a dog bed that's easy enough to wash with your own bedding. Here are the qualities to look for in a washable dog bed.

Materials
No matter which type of dog bed you choose, whether it's made of a memory foam mattress or hypoallergenic bedding, each material will have different washing instructions. For example, some dog beds cannot be machine washed without getting destroyed. Typically, it's best to get a dog bed with a cover that you can frequently wash without worrying about the bed itself.
Typically beds made from cotton and polyester are the easiest to clean. You can throw some dog beds right into the washing machine without ruining them. However, most quality dog beds will need more care. We recommend getting a dog bed cover or finding a bed with a removable cover to make cleaning your dog's bed as easy as possible. With a removable cover, you can throw the cover into the wash and not have to worry about making the dog bed lumpy or destroying it in the washer or dryer.
Durability
Dog beds need to be durable because your dog will do more than sleep in them. For example, most dogs instinctively dig at their beds to make them more comfortable, which means your dog will be using his or her nails on the material. Having a durable dog bed ensures it won't rip from wear and tear, especially from your dog's nails. Additionally, your dog might feel the need to move their bed around with their teeth, so it should be made of strong material that can withstand sharp objects, such as nails and teeth.
Not only will your dog's bed need to be able to withstand your dog, but it will need to stand up to the washing machine and dryer. Depending on how dirty your dog is, you should wash your dog's bed as often as you wash your own comforter or more frequently. While how often to wash a comforter also depends on your lifestyle habits, it's typically best to wash your comforter and your dog's bed at least once a month. But, of course, if your dog likes to get dirty, you might have to wash it more than that, so your dog's bed must be able to withstand regular wash cycles.
Brand
Different brands are known for different qualities. Sure, you can pick up a dog bed at any pet store or supermarket, but you can't ensure the quality of the materials. Brands known for high-quality pet beds, such as Layla, ensure you can machine wash your dog's bed without worrying about it ripping or the materials getting lumpy.
Price
Price should always be a factor to consider, even though your pup deserves the very best. However, cheap dog beds aren't made with durable or comfortable materials. If you buy the most affordable dog bed, your dog's nails or teeth might go right through it when they try to play in their bed. Additionally, buying cheap dog beds can actually be more expensive since you'll have to replace them every time your dog tears them up.
On the other hand, a quality dog bed is made with durable materials so you won't have to replace it regularly. Instead, these dog beds are designed to withstand your dog's claws and teeth to ensure not even the most playful dog can destroy their bed.
Size
You should always choose a dog bed based on your dog's size and preferred sleeping position. While many dogs may switch positions throughout their slumber, they typically sleep in one position more than another. For example, some dogs like to sleep in a curled-up donut shape, while others prefer to sprawl out with their bellies up. There are various shapes and sizes of beds out there, but it's always best to consider your dog's size to ensure they can have maximum comfort.
Additionally, large dog beds might need to be washed in a larger washer or dryer if it doesn't have a removable insert or cover. If you have a large dog and their dog bed won't fit in the washing machine, even if it is machine-washable, consider getting a cover or a dog bed with a removable insert to keep their bed clean without worrying about going to the dry cleaners.
Comfort
The whole point of getting your dog a dog bed is so they can be comfortable when they're not sleeping in bed with you. While there are many pros and cons of your dog sleeping in your bed, you should still provide them with their very own space where they can sleep without worrying about accidentally being pushed around at night.
Dog beds should be comfortable, so when looking for a washable dog bed, ensure it has enough cushioning to support their joints and bones. Typically, memory foam mattresses are best for supporting your dog's body while they sleep, especially if they have any painful illnesses, such as hip dysplasia. Additionally, your dog's bed must be neither too firm nor too soft, so try to find a bed that you can flip for more firmness or softness, depending on your dog's preferences.
How to Machine Wash a Washable Dog Bed
Machine washing a dog bed is the easiest way to clean your dog's bed. However, the bed should be machine-washable according to the label. Here's how you can machine wash a washable dog bed: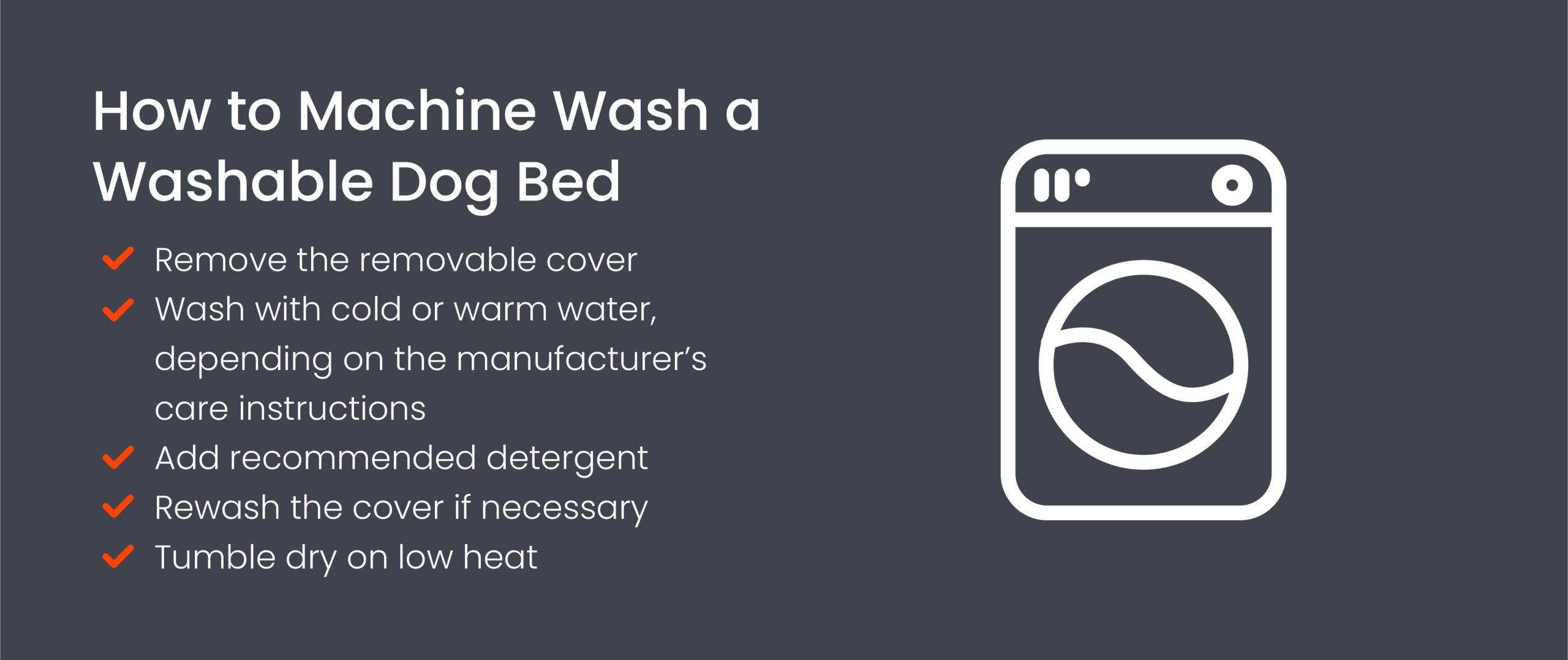 Remove the removable cover
Wash with cold or warm water, depending on the manufacturer's care instructions
Add recommended detergent
Rewash the cover if necessary
Tumble dry on low heat
How to Hand Wash a Washable Dog Bed
Some dog beds can only be washed by hand so their materials won't get ruined. For example, it's not recommended to put a memory foam mattress for your dog in the washing machine, even if it is small enough. Instead, you can wash your dog's bed by hand by following these instructions: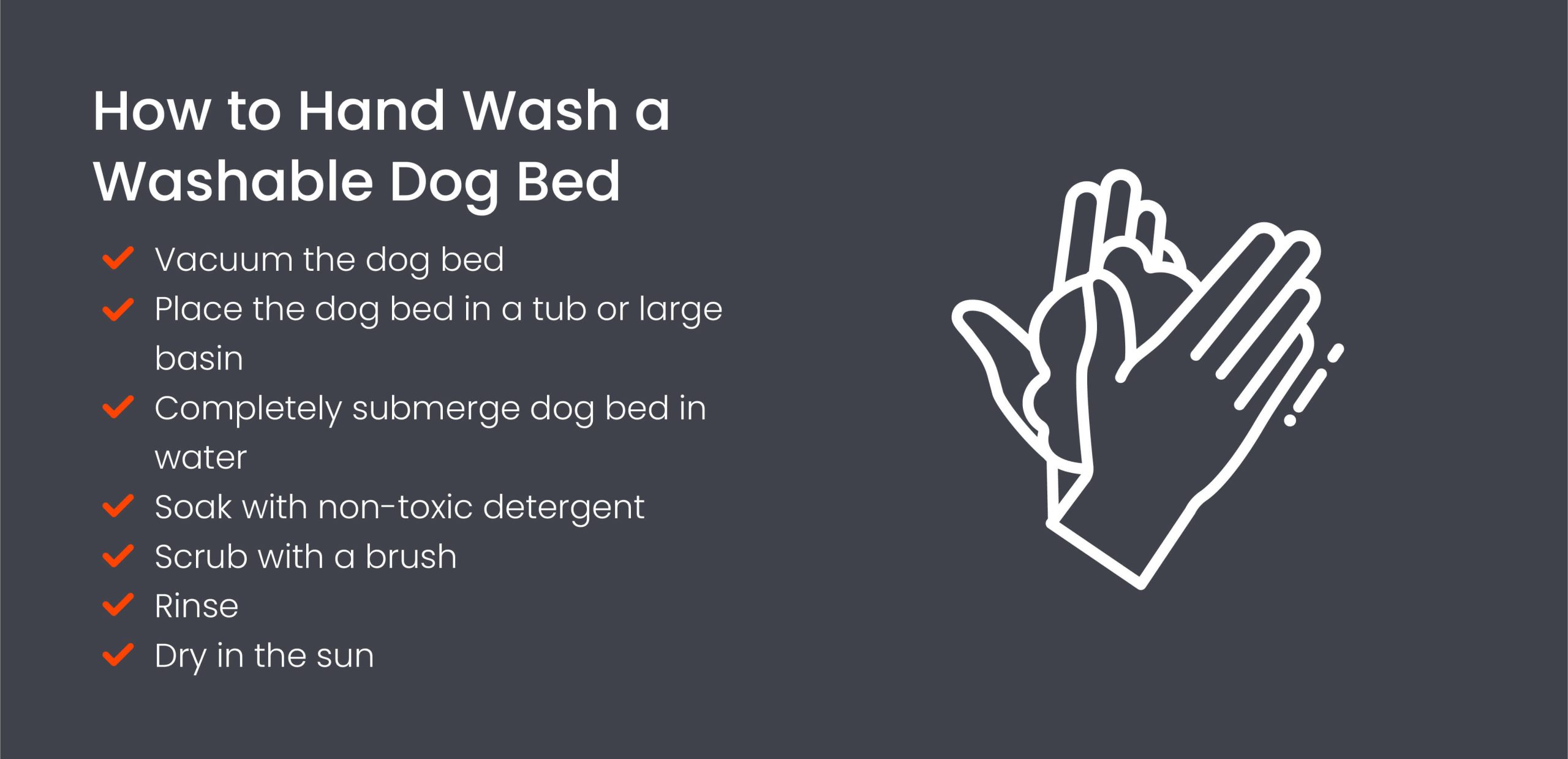 Vacuum the dog bed
Place the dog bed in a tub or large basin
Completely submerge the dog bed in water
Soak with non-toxic detergent
Scrub with a brush
Rinse
Dry in the sun
The Layla Pet Bed
The Layla memory foam pet bed can be flipped depending on whether your dog likes a firm or a soft bed. It's also machine-washable to ensure your pet can have a clean place to play, nap, and get the quality sleep they need. To clean the Layla Pet Bed, all you have to do is remove the bed cover and cushion cover and throw them in the wash with your other laundry. Of course, you should always cold wash and dry on low heat to ensure the materials don't shrink or lose their color.

The Layla Pet Bed is an ideal bed for dogs who enjoy any sleep position, and it's made with copper-infused memory foam to wick away moisture and keep it cool while reducing bacteria and odors.
Final Notes
Choosing a comfortable dog bed is important to ensure your pet's health, wellness, and happiness. While you may love sleeping next to Fido, they could always use a bed of their own to help them relax. When looking for the best washable dog bed, always consider the materials, durability, price, size, and washing instructions. While you can always wash a dog bed by hand, it's always best to choose a machine washable dog bed to make cleaning it as simple as possible.
The Layla Pet Bed is the best machine washable dog bed that will allow your pet to choose between a firm or soft side depending on their preferences. In addition, Layla makes ensuring your dog has a clean place to sleep easy; with a machine-washable bed cover and cushion cover, you can pop your dog's bed into the washing machine with the rest of your laundry.