A mattress with a price that's "too good to be true" means that it may deteriorate faster, forcing you to invest in another mattress sooner than if you had chosen a quality mattress in the first place. A badly constructed but inexpensive mattress may also exacerbate health issues like neck, head, or joint pain.
Below, we've put together a cost guide so you can decide what price point best fits into your existing budget plus other considerations you should make before choosing a new mattress.
How Much Does a Mattress Cost?
The price of a mattress really depends on what kind of mattress you want to buy and whether it's low-end, high-end, or somewhere in between. The size of the mattress will also factor into the cost. As you might imagine, a king-sized mattress is going to cost you more than a twin-sized mattress.
Below, we've provided some basic mattress cost averages based on their price range and type of material.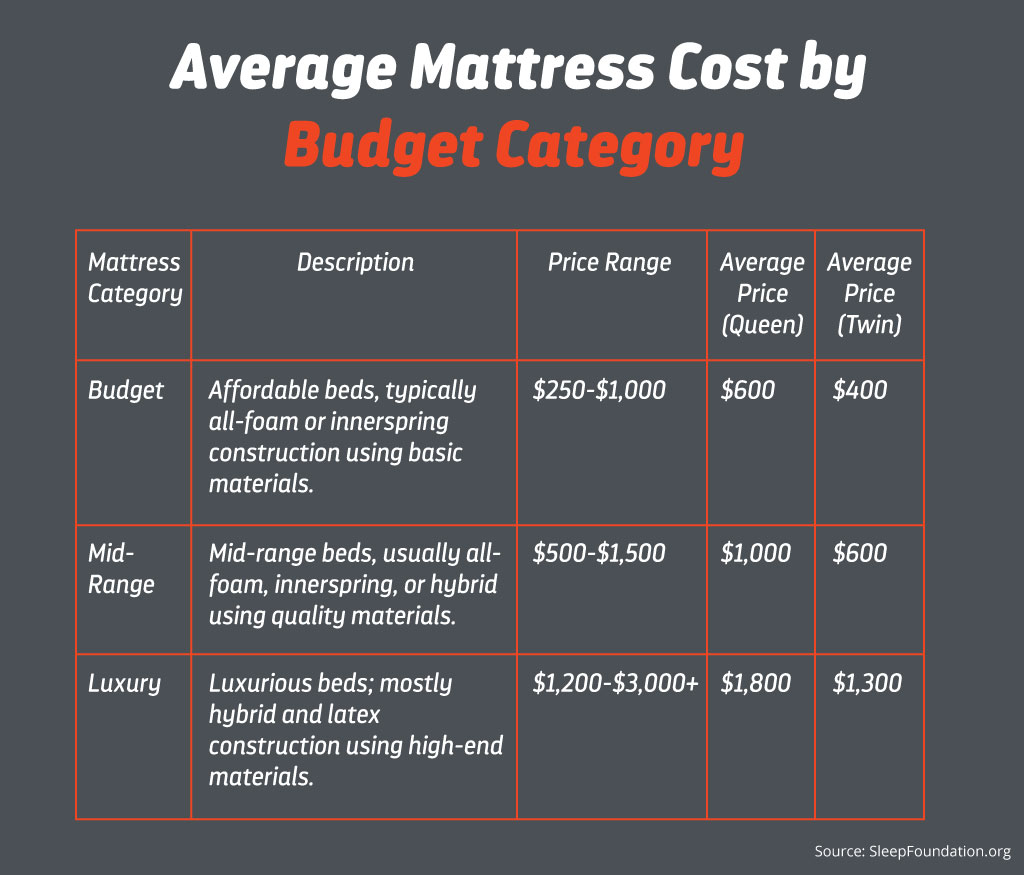 Types of Mattresses
As we mentioned earlier, the type of mattress you choose is going to influence the final price you pay. Traditional innerspring mattresses, hybrid mattresses, and memory foam mattresses will make up the majority of mattress types you'll run into while shopping.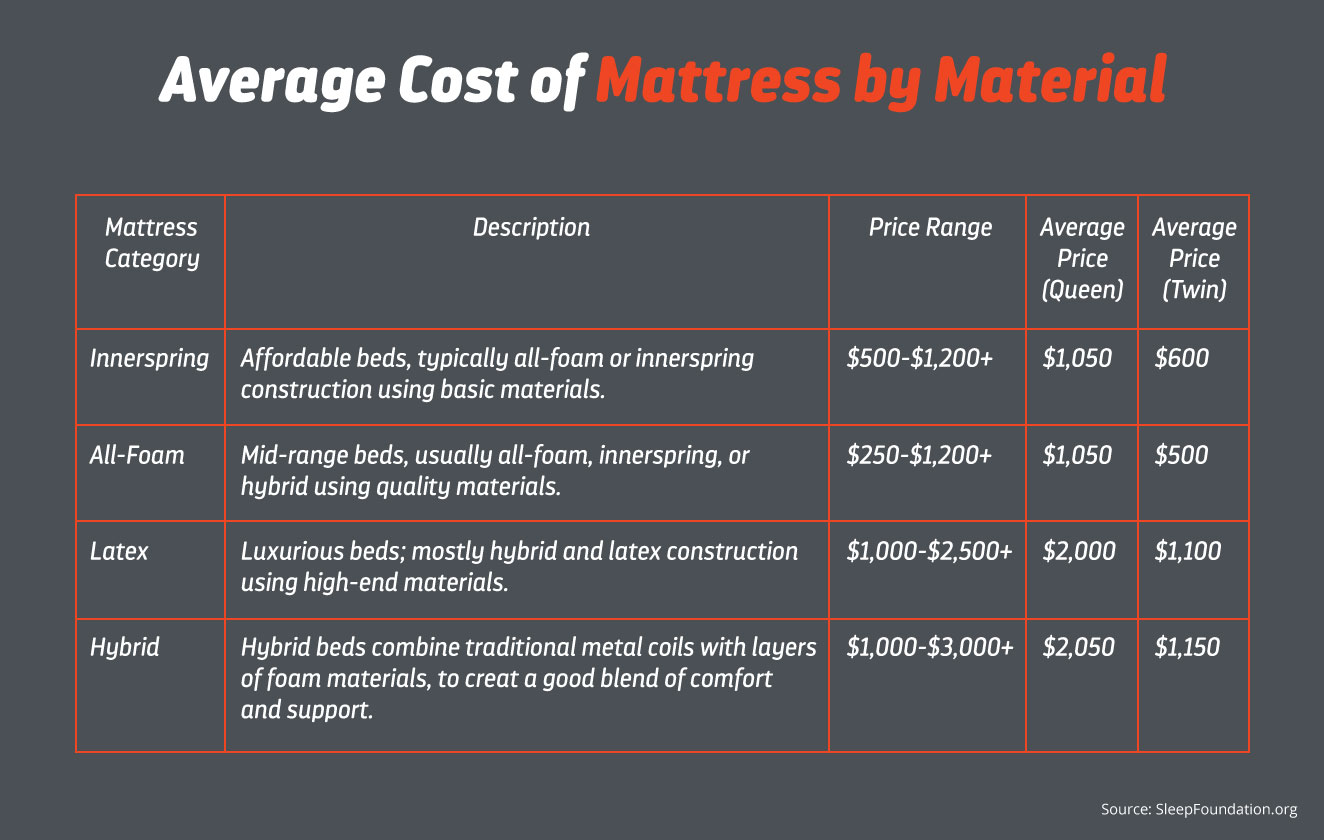 Cost of a Memory Foam Mattress
A memory foam mattress can be low end or high end. It's usually made of several different layers of foam. Cheap foam mattresses can be uncomfortable despite being soft to the touch because they lack supportive qualities and may act as a heat sink.
Premium quality memory foam mattresses, on the other hand, are constructed with cooling materials that also encourage airflow. Prices for memory foam mattresses can be low to high.
Cost of a Hybrid Mattress
A hybrid mattress is a mix of memory foam materials along with springs you'd find in a traditional innerspring mattress. High-quality hybrid mattresses deliver the innerspring support with contouring softness from the memory foam. Prices are usually in the mid to high-end range because of their more involved manufacturing process and the greater variety of materials.
Cost of a Spring Mattress
A spring mattress will often be the cheapest option if you're looking for a new mattress without draining your bank account. Unfortunately, a traditional spring mattress has quite a few drawbacks. These mattresses tend to transfer motion easily, are considerably heavier, and can harbor allergens.
Factors That Influence Mattress Pricing
Curious about what actually affects a mattress price beyond the type of mattress? Here are the main characteristics that determine the final price point.
Size
Whether you buy a twin, queen, king, or go big with a California king, the size you choose is going to impact the price of your mattress. A larger mattress means more material, more weight, and more labor involved in manufacturing. In contrast, a smaller mattress has a smaller manufacturing footprint. So, the price follows size.
Memory Foam Density
If you choose a mattress with memory foam in it, you'll want to pay attention to its density. Mattress memory foam density refers to how heavy it is compared to its size. The more a cubic foot of memory foam weighs, the denser it is. It's important to note that a denser mattress doesn't mean it's firmer.
High-density foams can still be soft to the touch while providing supportive qualities. In general, the more dense a mattress is, the more expensive it will be because they require more material and are the longest-lasting.
Below is a quick summary of the different mattress density ratings:
Low density: 3 or fewer pounds per cubic foot.
Medium density: 4 to 5 pounds per cubic foot.
High density: 6 pounds per cubic foot or more.
Quality
The durability and longevity of your mattress should be a major part of your buying decision. Besides researching or reading up on the materials and construction of the mattress, you should also take the time to look into customer reviews.
Other Mattress Buying Considerations
Mattress Shipping or Setup Costs
Although Layla Sleep offers free shipping to the lower 48 contiguous states, not all companies do. Because shipping is calculated with weight and size, those costs can add up quickly.
Warranty
Some warranties have costs associated with them. For example, you might have to pay return shipping costs if you make a warranty claim on your mattress. It's important to read the fine print to understand the real cost of your mattress.
Layla Sleep offers a 10-year warranty on the Layla Hybrid Mattress and a lifetime warranty on the classic Layla Memory Foam Mattress.
Returns
When you buy a new mattress, there's a chance it might not be the right choice. It's important to buy a mattress from a reputable company that allows you to test out the mattress before a commitment. Layla offers free returns, so you never have to worry about a return or restocking fee that other companies might charge.
Financing
If you want a high-quality mattress, but you're worried about paying a big chunk of money upfront, some companies offer financing options.
Want to get a new mattress with zero money down and no interest financing with no late fees? Then it's time to replace your mattress with a Layla Sleep model.
Takeaways: Finding Your Perfect Mattress
You don't have to give away your first-born to afford a great mattress that helps you get restful, restorative sleep. Today, consumers have a wide array of reasonably-priced mattresses designed with new-age technologies to accommodate all types of sleeping positions and preferences.
Layla Sleep offers great prices when it comes to mattresses, especially if you prefer to pay off your investment over time. Plus, you won't have to compromise on comfort in exchange for affordability. With Layla, you can get a new mattress designed to help you get your best sleep every single night.