After scouring the internet while pillow shopping, you'll likely notice there are endless options to choose from, making you wonder how to buy pillows for your bed that actually work. A pillow's primary function is to keep your head and neck supported throughout the night, so you don't wake up feeling groggy and irritable. If you're lying awake asking yourself, "what pillow should I buy?" don't fret. To ensure you find the pillow of your dreams, we'll take you through this guide on how to choose the best pillow. For a full understanding of how to buy a pillow, read from start to finish. Or navigate to a section of your choice using the links below.
Decide Your Pillow Budget
There are several things to know before buying a pillow, along with a few questions you should ask yourself. First and foremost, you need to decide how much money you want to spend on your new pillows. By setting a budget, you'll be able to start your search off with pillows within your range. The last thing you want is to find your dream pillow and realize it'll put a hole in your wallet. However, it's worth saying that you get what you pay for. When it comes to bedding, it's always worth investing in high-quality materials, especially because sleep plays such an important role in your life.
As you search for pillows, you can find inexpensive ones for just a few dollars or luxury pillows that enter the hundred dollar range. While this may seem alarming, high-quality pillows often have numerous benefits, such as cooling capabilities, varying firmness levels, and premier comfort. If you can't afford multiple expensive pillows, you might want to consider buying one or two to sleep on, while using inexpensive pillows as decoration to fill up the rest of your bed.
What Is the Right Size Pillow?
If you're wondering how to buy bed pillows that fit properly, you're going to have to keep your mattress size in mind. Mattresses come in multiple sizes, such as twin, full, queen, and king. What many consumers don't know is that bed pillows also come in different sizes. For twin and full beds, a standard pillow will work fine. However, for queen- and king-sized mattresses, you'll need queen- and king-sized pillows, respectively.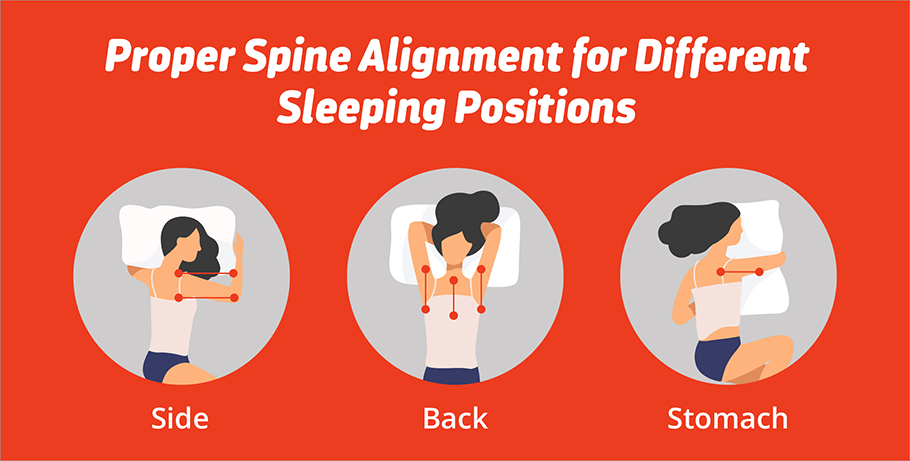 However, these sizing rules aren't set in stone. At the end of the day, the size of your pillows is up to your personal preference. For example, some sleepers may enjoy a larger pillow to cuddle up with at night. In this case, they can pair a queen-sized pillow with their full-size mattress if that means they will sleep better at night. You can also stack multiple pillows on your bed if you prefer to have something to lean on. For those looking for a real-world example, most hotels tend to use four king-size pillows on their queen-size mattresses.
Do You Prefer Soft or Firm Pillows?
Now comes one of the more complicated questions you should ask yourself when pillow shopping—how firm or soft should my pillows be? This is one of the most important questions when learning how to buy a good bed pillow. Pillow firmness is all up to personal preference, which means you'll need to think about what you find most comfortable. Do you like slowly sinking into your pillow the moment you hit the hay? Or do you prefer the feeling of strong support under your head and neck throughout the night?
The fill of a pillow will determine its firmness. The lighter the fill, the softer the pillow will be, while the tighter the fill, the more firm the pillow will be. In addition to firmness, you'll also want to look at a pillow's loft. A pillow's loft refers to its height, so a pillow with a lower loft will be thinner, while one with a higher loft will be thicker. When you think about sleeping at night, do you prefer your head to be raised high above your mattress, or do you favor your head being closer? Asking yourself this question can help you determine what pillow loft will be most comfortable to you.
You'll also want to test a pillow's fluffiness. One tip to test how fluffy a pillow is, is to fold it in half and give it a big hug. A pillow might not be the right choice if it doesn't regain its shape or unfold by itself once you let go of your embrace.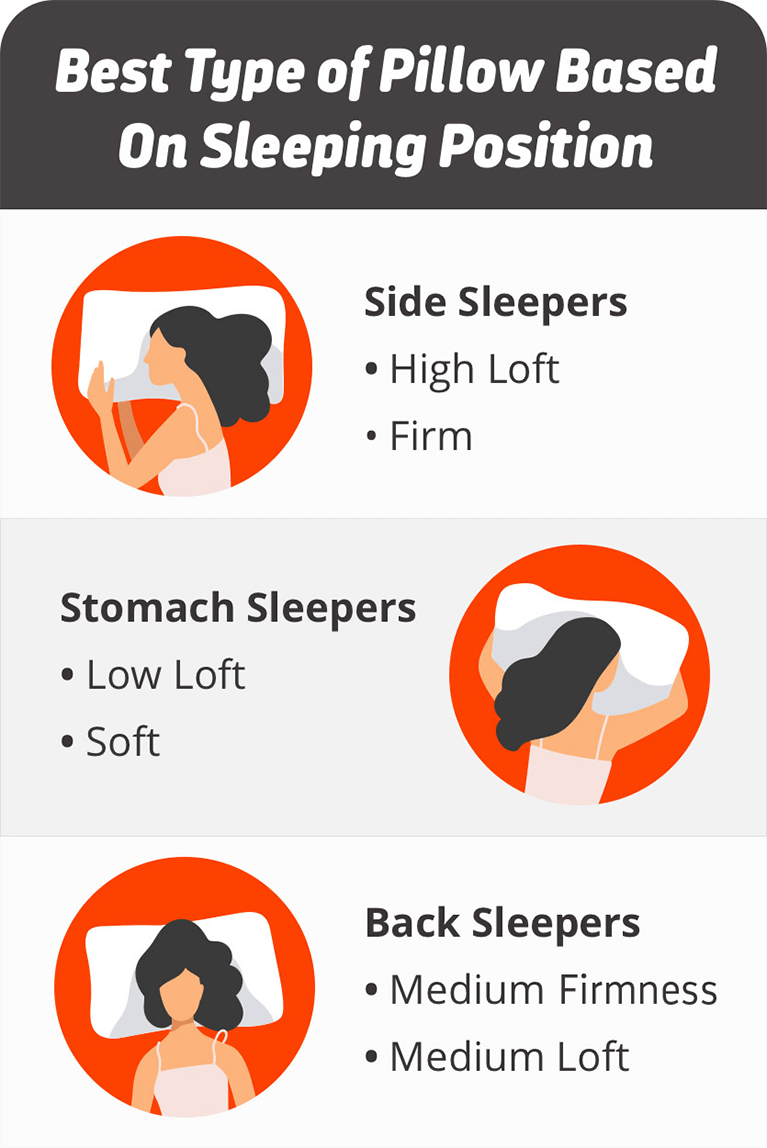 Think About Your Sleeping Position
When shopping for a mattress, you should always keep your sleeping position in mind. The same goes for pillow shopping. Depending on your sleeping position, you're going to need a pillow that supports your head, neck, shoulders, and back. It'll also have to be comfortable and supportive, so you can sleep throughout the night without waking up with a crick in your neck.
According to Good Housekeeping, to find the right pillow for your sleeping position, keep this rule of thumb in mind: when laying down, your neck shouldn't be tilted in any direction. Here's how to select a bed pillow based on the different types of sleeping positions, as stated by Good Housekeeping:
Side Sleepers: For those who sleep on their side, a thicker pillow with more loft will be best. This is because it will keep a side sleeper's ears in line with their shoulders to prevent their neck from tilting in an uncomfortable direction.
Back Sleepers: Those who prefer to sleep on their back will benefit from a pillow with a medium loft, as it will keep their neck aligned without pushing their head forward.
Stomach Sleepers: Those who favor sleeping on their stomach should opt for a pillow with a thin loft. Thinner pillows will ensure a stomach sleeper's neck stays in a neutral position.
Indecisive sleepers: For sleepers who toss and turn throughout the night, a plush pillow is ideal. This is because the filling in the pillow can be moved in different positions as they switch between side, back, and stomach sleeping.
As you browse in-store or online, it's important to remember that different sleeping positions require different pillows to support a healthy posture. By taking your time to find the right pillow, you'll ensure it doesn't end up being a pain in the neck.
Decide What Fill Is Right for You
Another important factor to consider when figuring out how to buy a pillow is deciding what fill is right for you. Today, pillows can be constructed with a variety of different fills, with each having its own set of benefits and drawbacks. Below are some of the most common pillow fills you'll come across:
Cotton: Cotton is one of the most traditional pillow fillings on the market today due to its affordability and easy production. Cotton pillows are soft and malleable, produce no odors, are toxin-free, and breathable. However, cotton can be prone to lumping, and newer synthetic materials have surpassed the comfortability of cotton pillows.
Down: Another traditional pillow material is down. Down filling is the undercoating of a bird's feathers and has the ability to hold loft much longer than other types of pillow materials. Down is also light and durable, making it a popular choice. However, down retains heat, which isn't ideal for hot sleepers, and some might find the harvesting of down as unethical and inhumane.
Feathers: Those who want to experience the comfort of down without paying the sticker price can choose feather pillows. Feather pillows are known for comfort and affordability. However, over time, feather pillows can lose loft rather quickly, can emit a foul odor, are difficult to clean, and are viewed as inhumane by some.
Down Alternative: Sleepers looking for down comfort while taking an ethical route can choose down alternative. Down alternative mimics the feel of real down but is much cheaper and easier to clean. However, down alternative still retains heat, is prone to clumping, and doesn't hold its shape well.
Polyester fiberfill: Poly-fill is a popular synthetic pillow material that is extremely cheap, easy to clean, and lightweight. However, poly-fill pillows are made with a wide range of harmful chemicals that are damaging to the environment, clump easily, aren't breathable, and have a short lifespan.
Shredded Memory Foam: Memory foam is one of the most popular pillow materials, and for good reason. Memory foam is a type of polyurethane and has the ability to match the contours of your body and maintain shape. Memory foam can also come with different firmness levels and offers great neck, head, and shoulder support. Some downsides of memory foam include its price and potential off-gassing.
Shredded Latex: Latex is a natural material harvested from rubber plants. When producers turn rubber sap into latex, it creates a supportive, malleable, and breathable pillow that's also eco-friendly. The main drawback of latex is that a percentage of the population has a latex allergy. Latex pillows also tend to be expensive, can have an odor, and might be too soft for some sleepers.
Microbeads: Microbeads are small particles that are sometimes used to fill pillows. Microbead filling is breathable and extremely moldable, which helps increase their comfort. However, microbeads aren't environmentally-friendly, can lose their shape rather quickly, and can emit a chemical odor.
Kapok: Sleepers looking for an all-natural pillow filling will enjoy Kapok. Kapok filling comes from the seeds of the Kapok tree and serves as a great alternative to down and polyester filling. Kapok is soft, toxin-free, and environmentally-friendly, but doesn't always hold its shape well and can be prone to lumping.
Wool: Wool is a very versatile material and has been used for thousands of years. When it comes to pillows, wool is very breathable, typically toxin-free, and comfortable. However, wool has a tough time holding its shape, can have foul odors and can be viewed as unethical by some sleepers.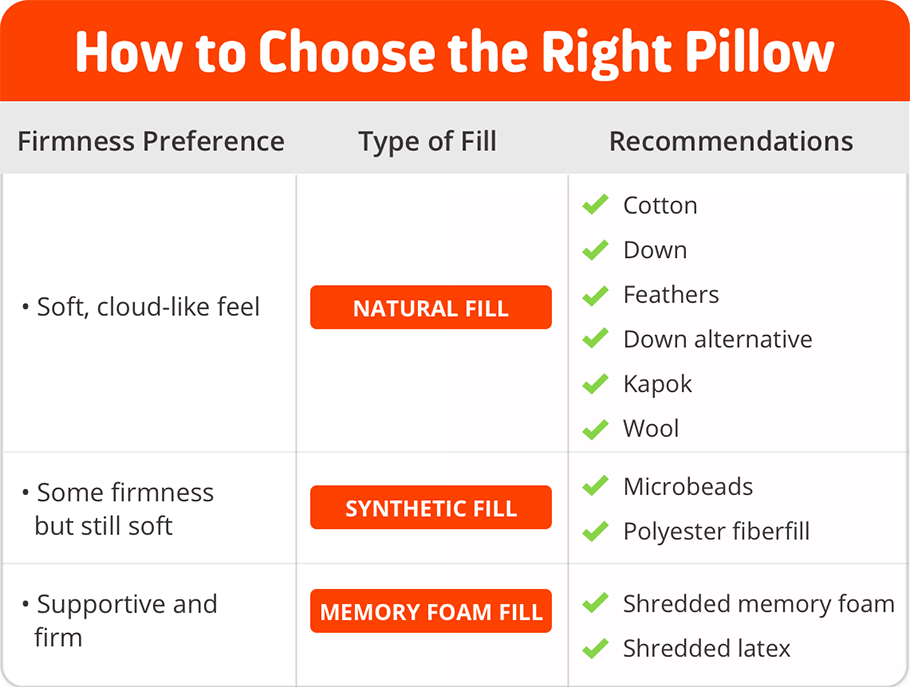 As you can tell, there are numerous types of fillings you can choose from when pillow shopping. To narrow down your choices, think about your budget, whether you want a synthetic or eco-friendly filling, and the softness. Considering these factors can make finding the right filling much easier.
Do You Have Allergies?
After spending countless hours looking for the perfect pillow, you don't want to wake up in the middle of the night from a scratchy throat, sneezing, or coughing due to an allergy. There are several pillow fillings that can cause some sleepers to have allergic reactions. Some fillings that can cause allergies include:
If you know you have an allergy to one of these fillings, it's best to steer clear. However, you might not be aware of any allergies, and if you experience some sort of reaction after buying a new pillow, it's best to discontinue use and go to a doctor. Synthetic materials are typically hypoallergenic and are much easier to clean, making them a great option for most sleepers.
Layla Kapok Pillow
As you now know, Kapok is a natural material that comes from the seeds of a Kapok tree. At Layla, our Kapok pillow is a unique mix of Kapok fibers and reactive memory foam fill that offers the best of both worlds. The Kapok fibers create an unbelievable softness, while the memory foam properties allow the pillow to conform to you and hold its shape throughout the night. Even better, the Kapok pillow is outfitted with a breathable polyester/viscose blend and CuTEC® performance fibers to keep this pillow clean and cool.
Once your head hits this pillow after a long day, you'll drift away into a deep, blissful sleep. Airier and softer than wool and cotton with a longer lifespan, the Kapok pillow, mixed with premium, open-cell memory foam, will deliver unbeatable comfort night after night. As a cherry on top, there's no need to flip this pillow to enjoy the cool side. The CuTEC® fibers create a cool, breathable surface that can even reduce odor, improve hygiene, and remove dead skin cells.
As a final note, you'll notice your Kapok pillow might be overstuffed during your Layla pillow unboxing. This is so you can get the most comfortable loft to help you sleep peacefully at night. For sleepers preferring a tall pillow, feel free to keep all your Kapok filling inside your pillow. However, if you prefer a flatter surface, simply unzip the cover, remove the fill, and adjust the pillow loft to your desired height. This way, you can have proper spine alignment that's essential in getting deep REM sleep. As for sizing, you can choose between a Standard/Queen (20″ x 28″) or a King (20″ x 36″) Kapok pillow.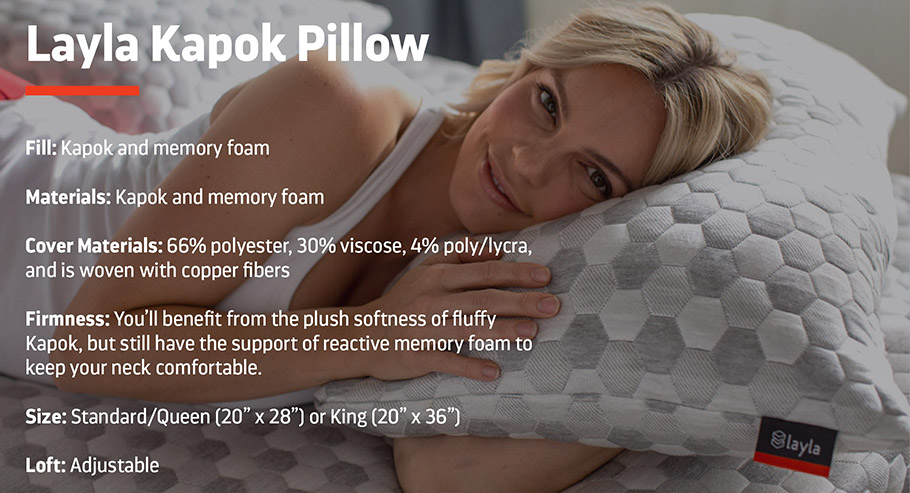 Fill: Kapok and memory foam
Materials: Kapok and memory foam
Cover Materials: 66% polyester, 30% viscose, 4% poly/lycra, and is woven with copper fibers
Firmness: You'll benefit from the plush softness of fluffy Kapok but still have the support of reactive memory foam to keep your neck comfortable.
Size: Standard/Queen (20″ x 28″) or King (20″ x 36″)
Loft: Adjustable
Layla Shredded Memory Foam Pillow
Next in line comes the Layla pillow. Our shredded memory foam pillow molds to your liking, maintains its shape, and keeps you cool all night long. The unique blend of open-cell memory foam and poly fiberfill makes this pillow extremely malleable, so you can shape the pillow to your desire so it can stay that way while you catch some Zzz's. This unique blend also allows for liberal airflow, so body heat moves away from your body, keeping you cool rather than in a puddle of night sweats.
As for the cover, a woven polyester fabric with hexagonal stitching is soft to the touch, breathable, and a dream come true. When it comes to cleaning, we make laundry easy. Simply unzip the cover and pop it in the wash. An inner sleeve keeps the memory foam fill in place while you get your cover fresh and clean.
Similar to our Kapok pillow, you'll also notice your memory foam pillow to be a bit overstuffed upon arrival. This is so you can adjust the loft to enjoy proper spine alignment to reach every stage of sleep. All you have to do is unzip the cover and the inner lining and adjust the amount of fill to your liking. You can also benefit from two different sizes to match your preferences and bed size: Standard/Queen (20″ x 28″) and King (20″ x 36″).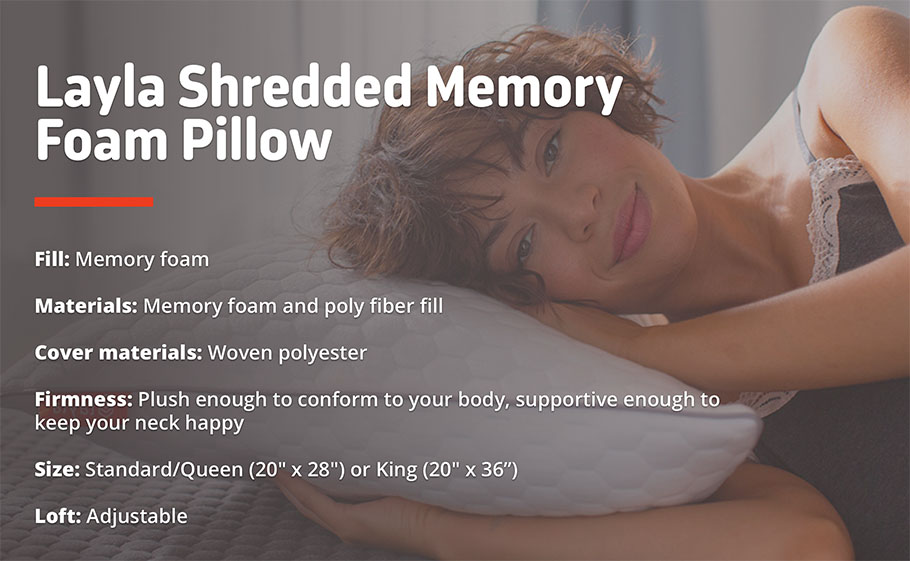 Fill: Memory foam
Materials: Memory foam and poly fiberfill
Cover Materials: Woven polyester
Firmness: Plush enough to conform to your body, supportive enough to keep your neck happy
Size: Standard/Queen (20″ x 28″) or King (20″ x 36″)
Loft: Adjustable
For more information on any of our pillows, refer to our FAQs or contact us at 855.358.1676 or support@laylasleep.com.