To help you narrow down your choices, we've created this queen vs. king size bed guide. Throughout, you'll find the main differences between a queen bed vs. king bed, along with the pros and cons of each type of mattress. Let's take a look at both mattress types to help you find a bed you'll look forward to jumping into every night.
King vs. Queen Mattress: What's the Difference
The king vs. queen bed dilemma has been a major conversation for many adults looking to furnish their bedrooms. A mattress is not only the focal point of a room but serves an integral role in your overall health and wellbeing. So, which bed size will rule your castle—a king or a queen?
The main difference between a queen vs. king mattress is size. Both queen and king size mattresses are 80 inches in length. However, the main difference lies in their widths—a queen mattress is 60 inches wide, while a king mattress is 76 inches wide.
When it comes to choosing the right mattress, it's important to keep your sleeping habits in mind. Mattress Advisor states parents who cosleep with their children, couples who toss and turn throughout the night, and heavyweight couples will benefit from a king mattress.
A king mattress suits these groups of people because the extra 16 inches a king size mattress has over a queen allows all sleepers to be comfortable. For example, if you and your partner share a smaller bed and one of you tends to be a bed hog, the other could have trouble finding a comfortable sleeping position. This can lead to poor quality sleep and other problems down the line. It's also important to note that the extra room comes with a higher sticker price, meaning a king size mattress will typically cost more than a queen size mattress.
On the other hand, queen size mattresses are often perfect for individuals who sleep alone, those who sleep with their pets, couples who don't toss and turn, and lightweight or average-weight couples. In most cases, a queen size mattress works for most sleepers, as it offers enough room to stretch out without taking up as much space within your bedroom. Queen beds also work well for those who might not have the luxury of having a master bedroom, and their smaller size means a smaller sticker price.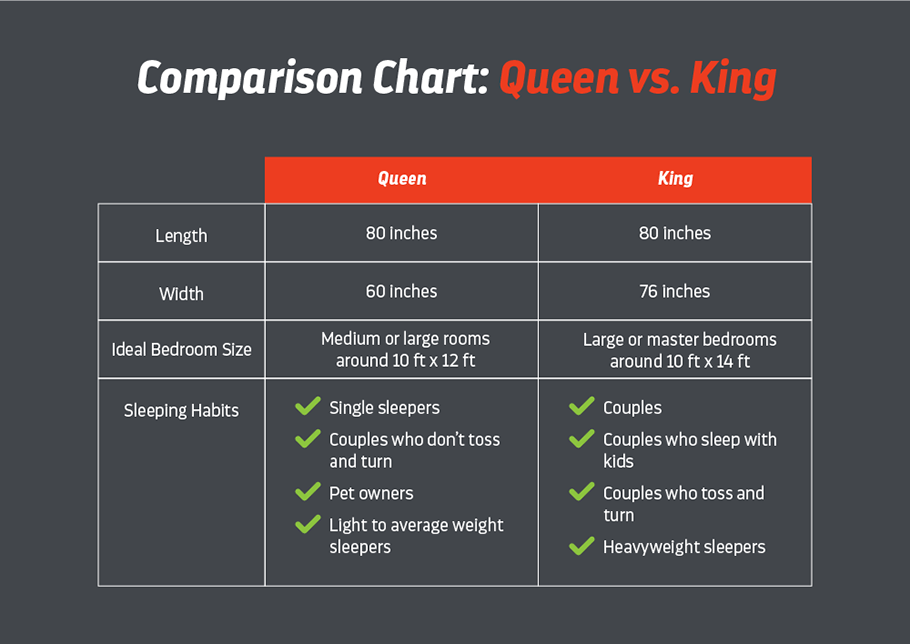 As you shop for a new mattress for your bedroom, keeping these differences in mind can help. The most significant factor to consider is how much space you'll need for you, along with anyone who might be sharing a bed with you, to ensure a night of deep, quality sleep.
Pros and Cons of a King Mattress
King mattresses are often a perfect option for couples and parents who cosleep with their children. Of the standard bed sizes (twin, full, queen, and king), king size mattresses are the largest, providing ample room for tossing and turning, pets, and children. If you're considering buying a king size mattress, take a look at these pros and cons:
Pros of a King Mattress
Space: King size beds are one of the largest bed types to choose from, which is ideal for sleepers who love to sprawl out, and for couples who need the extra room to sleep comfortably. King mattresses are also great for larger bedrooms, such as master bedrooms, as they're able to fill in the space nicely.
Room for tossing and turning: Not everyone sleeps like a rock—some sleepers are more like jellyfish moving back and forth. If you or your partner is prone to tossing and turning, a king size mattress will provide enough room to move about at night while not disrupting the other sleeper.
Room for children and pets: Some parents cosleep with their infants and children, which means they'll need room for two adults and a fast-growing child. King size beds are spacious enough to accommodate the needs of all sleepers, so everyone in the house wakes up on the right side of the bed, including Fido and other furry friends.
Supports heavyweight sleepers: Larger-bodied sleepers can have peace of mind knowing a king size mattress can keep them supported throughout the night.
Plenty of accessories to choose from: King size beds are one of the most popular types of mattresses on the market. This means finding bedding accessories is a walk in the park, whether you're looking to buy cooling sheets, mattress pads, duvet covers, or comforters.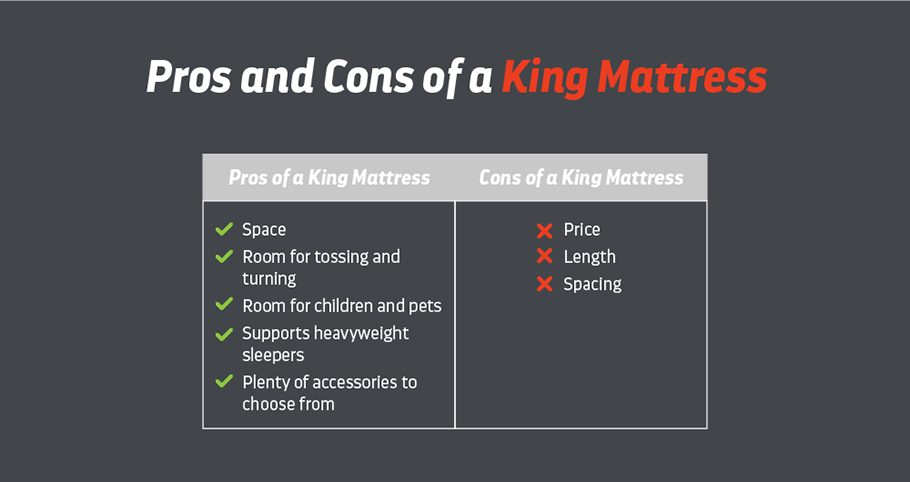 Cons of a King Mattress
Price: In most cases, king size beds are more expensive than other mattress types. This is because king beds require more materials and longer production time. This also means that most king size bedding accessories will often come with a higher price tag. One way to cut down on costs is learning how to make a king mattress using twin mattresses using our how-to guide.
Length: While king size beds offer plenty of width, they might not be long enough for taller individuals. However, taller sleepers do have more room on a king size bed to sleep diagonally to ensure they're fully on the mattress. If you're in dire need of more leg room, the Sleep Foundation recommends sizing up to a California king size mattress, which is 84 inches in length.
Spacing: Because king size mattresses are over a foot wider than queen size mattresses, spacing can become an issue, especially if you have a smaller bedroom.
Pros and Cons of a Queen Mattress
Just like king mattresses, queen mattresses come with their own set of pros and cons to consider. Overall, queen size mattresses are smaller than king beds but still provide ample room for couples who don't toss and turn or sleepers who might want to snuggle up with their furry companion.
Pros of a Queen Mattress
Adequate space: Overall, queen size mattresses are the most popular type of mattress. This is because they provide enough space for most sleepers to get a good night's rest and fit comfortably in typical bedroom sizes.
Price: Compared to king size beds, queen mattresses are more affordable because they use fewer materials. This makes them a popular option for those looking to save money while still having enough room to be comfortable at night.
Room for most couples: Queen mattresses offer plenty of room for most couples, especially if they don't toss and turn throughout the night. Queen beds are a step up from full size beds, and are suitable for most sleeping positions.
Room for pets: For individuals with a dog, cat, or other special animals, a queen size bed offers enough space for everyone to catch some quality Zzz's.
Plenty of accessories to choose from: Because queen size mattresses are the most popular mattress size, they have the most accessories to choose from when looking to dress up your mattress. This means you can find plenty of sheets, comforters, mattress protectors, and other items when browsing in-store or online.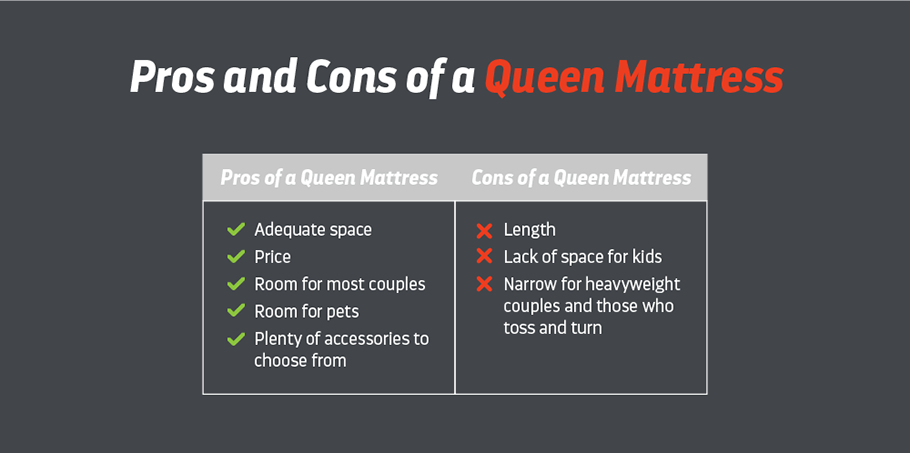 Cons of a Queen Mattress
Length: Similar to king size mattresses, queen mattresses might be too short for some sleepers, especially if they're over 6'4". In this case, a California king mattress might be the best option to ensure the monster under the bed doesn't grab your toes.
Lack of space for kids: If you're a parent whose child needs to sleep with you, a queen size mattress might leave you at the foot of the bed. Queen mattresses are more than a foot narrower than king mattresses, which means fitting two adults and a child comfortably might not be possible.
Narrow for heavyweight couples and those who toss and turn: If you're a larger-bodied couple or sleep with someone who tosses and turns throughout the night, you might end up on the floor. If this is the case, it might be worth sizing up to a king mattress.
Which Size is Right for You?
You've reviewed the pros and cons of a king vs. queen mattress, so which size is right for you? The best way to make your decision is to keep two things in mind: how much room you and a partner will need to sleep comfortably and the size of your room. You can also refer to our mattress size guide for a better understanding of each type of mattress.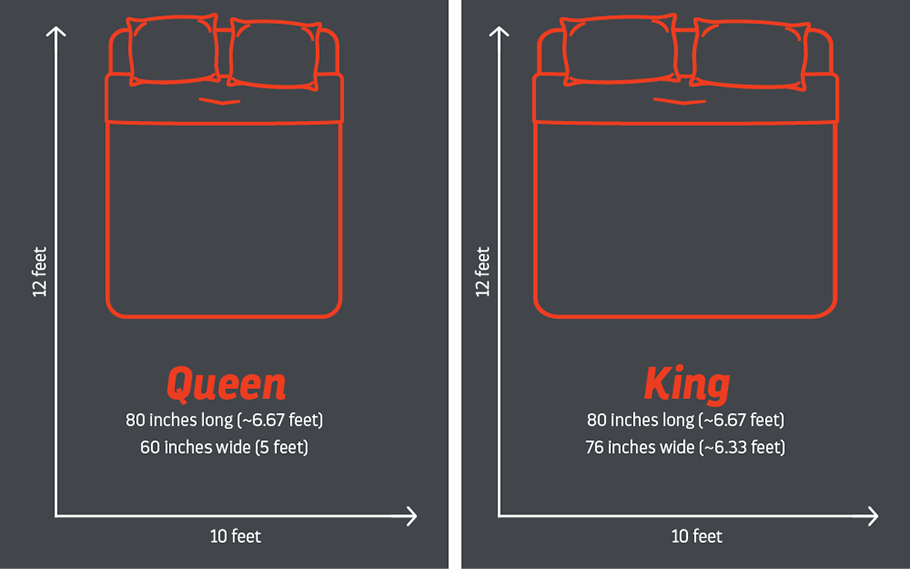 The first factor to consider is how much room you'll need to sleep comfortably if you're sleeping with a partner or co-sleeping with a child. To get a good sleep night after night, you don't want to be knocking heads with your bed mate. If you toss and turn, are larger-bodied, or sleep with an infant or child, a king size mattress might be right for you. If you sleep alone, are average weight, or sleep with a partner who doesn't toss and turn, a queen size bed should suffice.
The second factor is your room size. While you might think a king size bed will fit in your bedroom at first, it's important to consider other bedroom furniture, such as nightstands, a dresser, TV, chairs, and other items—according to Sleep Advisor, you should have at least two feet on the three sides of your room. You don't want to bump into furniture in the middle of the night when you visit the bathroom, or feel completely cramped in your sleeping sanctuary.
Summary
When you find the right-sized mattress, you'll finally understand the importance of good sleep. Sleeping on the wrong-sized bed can leave you feeling tired, groggy, and not your best self the next morning. With king and queen beds being the two most popular bed sizes, deciding between the two can be a challenge. At the end of the day, think about your sleeping patterns and whether you toss and turn, the sleeping patterns of your partner, and the size of your room. At Layla Sleep, our king and queen size memory foam and hybrid mattresses are sure to bring much-needed relief to your sleeping situation.