Throughout this post, we'll go over the different types of king beds, including the regular, California, Texas, Wyoming, and Alaskan king mattress. Read through the post to learn about each type of king size bed to get an idea of which one is best for your space and sleeping preference, or use the links below to jump to the different types of king beds.
Different Types of King Beds
At Layla Sleep® we know your bed has a big impact on how well you sleep at night. A good mattress should feel comfortable in terms of firmness and support, but size is another important factor to consider. You need a mattress that's long enough for your height but one that's also wide enough for you and your partner to sprawl out. The last thing you want is an undersized mattress that leaves you tossing and turning and trying to find space all night.
The thing is, most people don't know a whole lot about the different sizes of beds, especially when it comes to king-sized beds. Regular kings and California kings are the most popular choices, but there are several other types of king beds some might not know about, including Alaskan, Texas, and Wyoming king beds. Choosing the right king bed is all about what you want in a bed. Some types of king size beds are longer but a bit more narrow, while others are shorter but much wider. Comparing king beds helps you get a better understanding of the size differences, so you can choose a bed that fits your body and your bedroom.
Types of King-Sized Mattresses
California kings and regular kings may be the most popular types of king beds, but there are others as well. So, how many types of king beds are there? In addition to regular and California king mattress sizes, there are also Texas king mattresses, Wyoming king mattresses, and Alaskan king mattresses.
Here's what you need to know about the different types of king-sized mattresses and how to find the best size for your needs.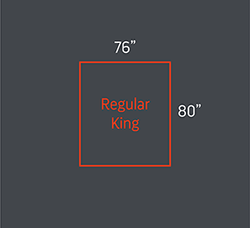 1. Regular King Mattress
Of all the different types of king beds, the regular king is the most popular. Regular king mattresses are significantly wider than queen mattresses, clocking in at 76 inches wide, but they're actually the same length at 80 inches. If you and your partner can't seem to find enough room on your queen mattress, upgrading to a king is a smart choice. You can even push two twin beds together to make a king. As you decide whether to go with a regular king size mattress, take note of the considerations below:
Size: 76 inches x 80 inches
Benefits: King-sized mattresses are significantly wider than queens, adding an extra 16 inches of width. Since regular kings are the most common, just about every mattress is available in this size. It also means there are plenty of more accessories to choose from, including duvets, comforters, and sheets.
Drawbacks: While regular kings are wider than queens, they're not any longer. If your feet tend to hang off the end of your bed on a queen, a regular king won't help you. King mattresses are also tough to fit in smaller rooms.
Price range: King mattresses range from around $600 to more than $3,000, depending on factors such as brand and materials, meaning there are plenty of options if you're on a budget.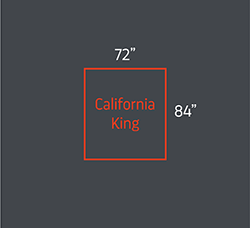 2. California King Mattress
If a queen mattress is long enough for your height, a king mattress is a great upgrade. If you're taller and your feet tend to hang off the end of a queen or regular king bed, a California king offers some of the increased width of a regular king with a little extra length as well.
Size: 72 inches x 84 inches
Benefits: California king mattresses are 4 inches longer than a queen and 12 inches wider. While a California king isn't quite as wide as a regular king, it's a good compromise if you need more length.
Drawbacks: California kings aren't quite as wide as regular kings, which means they don't work for everybody. It can also be harder to shop for California king mattresses and find a spot for them in your bedroom, which is something to keep in mind.
Price range: A California king mattress typically costs between $600 and $3,000, making it another popular choice for shoppers on a budget.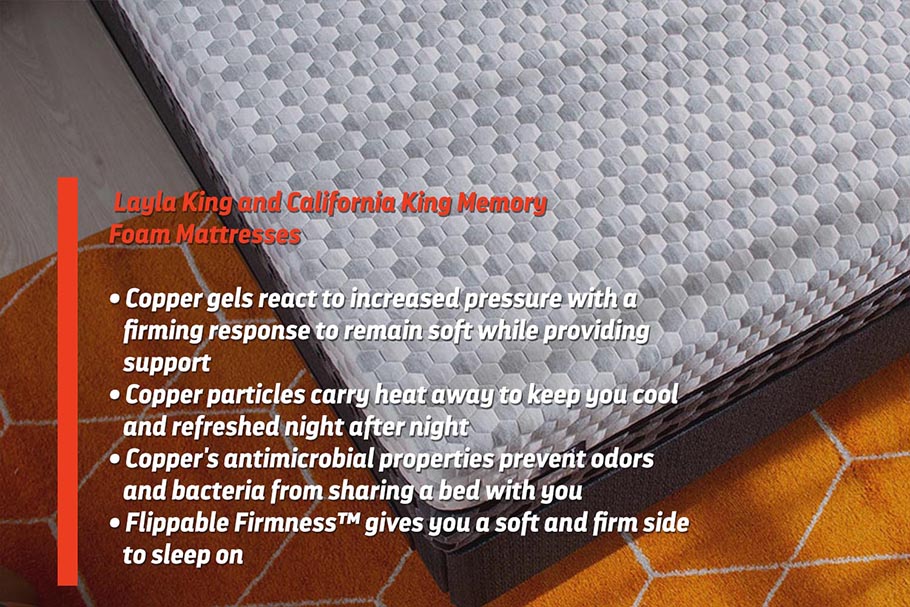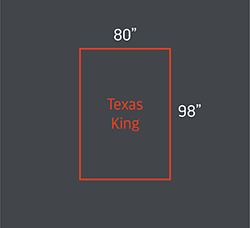 3. Texas King Mattress
As the saying goes, "Everything is bigger in Texas." The Texas king mattress is no exception, coming in as the second-largest oversized mattress you can find. At 80 inches wide and 98 inches long, a Texas king is big enough for just about anyone.
Size: 80 inches x 98 inches
Benefits: A Texas king is a whopping 18 inches longer than a California king, giving you plenty of room to stretch out. With an added 4 inches of width as well, Texas kings are wide enough for two adults and tall enough to accommodate most people.
Drawbacks: A 98-inch length makes it hard to find a spot for Texas kings in many bedrooms. Length-wise, your bed will take up just over 8 feet of space in your bedroom.
Price range: Texas king mattresses can cost between $2,000 and $4,000 or more because they're less common and larger, meaning they might not fit everyone's budget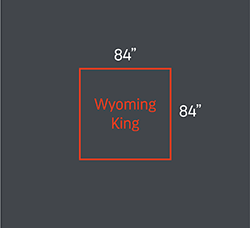 4. Wyoming King Mattress
If you like the additional length of a California king but need something wider, Wyoming king mattresses are a solid choice. A Wyoming king is 84 inches wide and 84 inches long, which means it matches the length of a California king while adding a foot in width.
Size: 84 inches x 84 inches
Benefits: Wyoming kings are a good modest upgrade from a regular king or California king. If a California king isn't wide enough for you, the extra foot of space offered by a Wyoming king should be enough.
Drawbacks: Because Wyoming kings are both wide and long, it's important to make sure you have space in your bedroom. Even a Texas king is a little smaller in terms of width, so they can be easier to fit in some bedrooms.
Price range: A Wyoming king mattress costs about $1,800 on the lower end, with some priced at more than $3,000.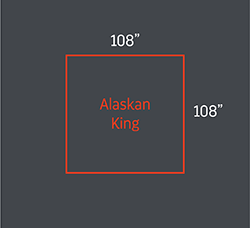 5. Alaskan King Mattress
When you want the biggest and best mattress, there's no beating an Alaskan king. Alaskan king mattresses are absolutely massive at 108 inches in both directions, which means you've got enough space to sleep several people. These mattresses are especially popular for families who co-sleep with multiple children or allow their furry friends to cuddle up beside them at night.
Size: 108 inches x 108 inches
Benefits: Alaskan kings are the biggest type of king bed on the market, offering more space than you'll probably ever need to sleep comfortably. If you have kids or pets who like to climb in bed with you, Alaskan kings are a great way to make sure you always have enough room.
Drawbacks: If you want to put an Alaskan king in your bedroom, you'll need 9 feet of space in both directions. Alaskan kings are also considerably more expensive, plus they can be hard to find.
Price range: Alaskan king mattresses are the most expensive option, typically priced between $3,000 and $5,000. If money and space aren't obstacles, Alaskan kings are a great choice.
Compare King-Sized Mattresses
Shopping around and comparing options is important when you're buying a mattress. You need to make sure you choose a mattress that's big enough for you, but you also need to measure your room to make sure it fits. If you're considering investing in an oversized mattress for your bedroom, take a look at the chart below to see a size comparison and recommended room sizes for each mattress size. You can head over to our mattress size guide to find out even more about different mattress sizes and how to make an informed decision.
The most common mistake when buying a mattress is not thinking about how much extra space you need in your room. Your room can be large enough to fit a bed, but that bed might be inches away from touching the wall on both sides. That's fine for some people, but you might want to have a nightstand on either side of your bed. Maybe your mattress is so big that you can't fit a TV in your room anymore. Before you spend thousands of dollars on a nice oversized mattress, measure your room to make sure you can fit your bed and everything else you want in your room.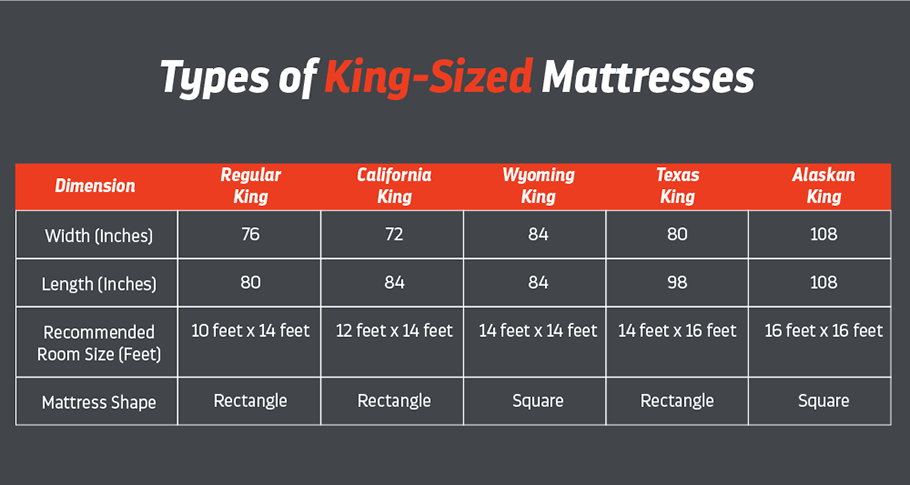 Mattress quality is also a big factor when you're looking for the best mattress. It's important to consider things like mattress material, firmness, and other features that affect comfort and support. Layla king size mattresses are made with copper foam instead of regular foam, which means it provides the support where you need it most while maintaining a soft, huggy feel. This copper foam also stays cooler throughout the night, so you can sleep soundly even when it's hot. Plus, copper is antimicrobial, which helps keep your mattress clean. If allergies are an issue, you'll love the hypoallergenic design of Layla king mattresses.
Final Notes
There are numerous factors to consider when shopping for a bed, but the size of your mattress should be one of your first considerations. Make sure you measure your bedroom before you buy a mattress, leaving a little extra room for your dresser, nightstands, and other furniture. It's also important to compare mattress features to find an option that best fits your sleeping position and preferences. If you need help finding the best mattress for your bedroom, our mattress buying guide has all the information you need to help you find a mattress you'll be happy with for many years to come.