Even though a new mattress's cost can be alarming at first, just like buying a car, there is a best time to buy a mattress. From seasonal sales to holidays, we'll go over the best time to buy a new mattress, along with other helpful information that can prove useful during your mattress-buying experience.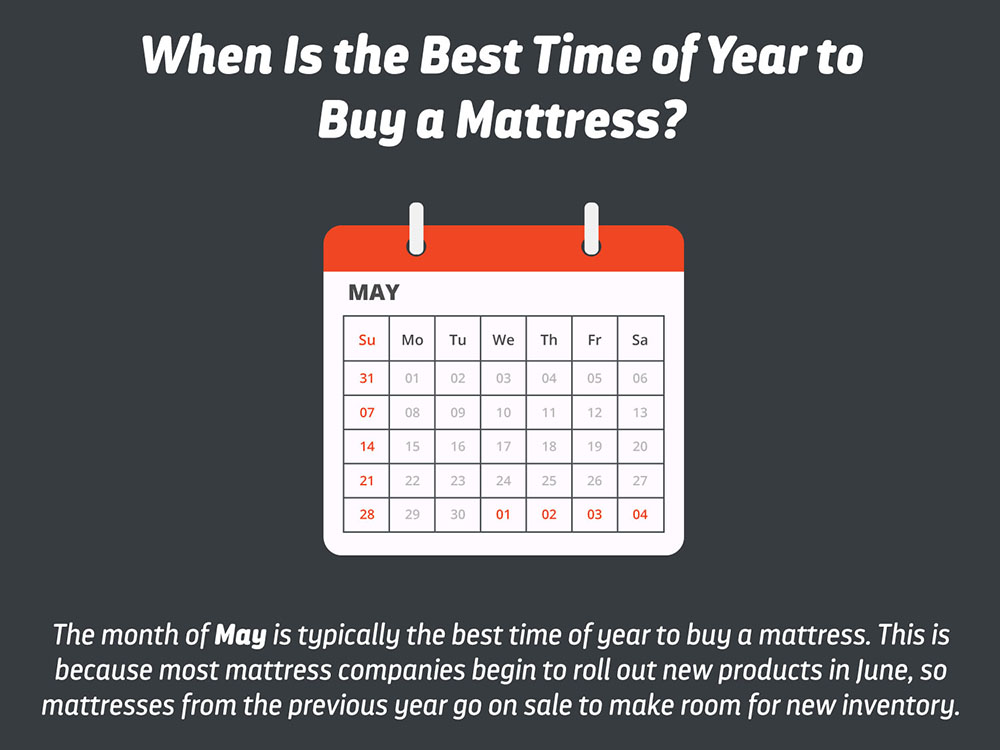 Best Time of Year to Buy a New Mattress
As with most goods, the price of a mattress can change at different times throughout the year. While there isn't a specific date on the calendar where mattresses are at their lowest price, there are several moments where you can save big.
So, when is the best time to buy a mattress? May. May is considered one of the best times to buy a mattress because most mattress companies begin to roll out new products in June, so mattresses from the previous year go on sale to make room for new inventory. Additionally, Memorial Day falls in May, which is one of the best holidays to buy a mattress. So, if you can wait for the May flowers to bloom, you can buy a comfortable mattress for a fraction of the cost.
But what if you can't wait for May to roll around? Don't fret. There are plenty of other times throughout the year where you can keep more money in your pocket when buying a new bed. Below, we'll go over seasonality trends, the best holidays to buy a mattress, and the best time to buy a mattress on sale, so you can score big on a mattress deal.
Best Season to Buy a New Mattress
Seasons come and go, and so do mattress sales. Of the four seasons to land a sweet mattress deal, two reign supreme: late winter and early spring. Late winter and the early spring are the best seasons to buy a new mattress because many mattress companies begin to phase out their previous models for new ones. March, April, and May often see many showrooms bringing in new full-priced models. This means previous models will be discounted in order to clear their inventory. If you notice there aren't many mattresses for sale, ask an employee when their new models will arrive. This way, you can anticipate the mattress company to go out with the old and in with the new.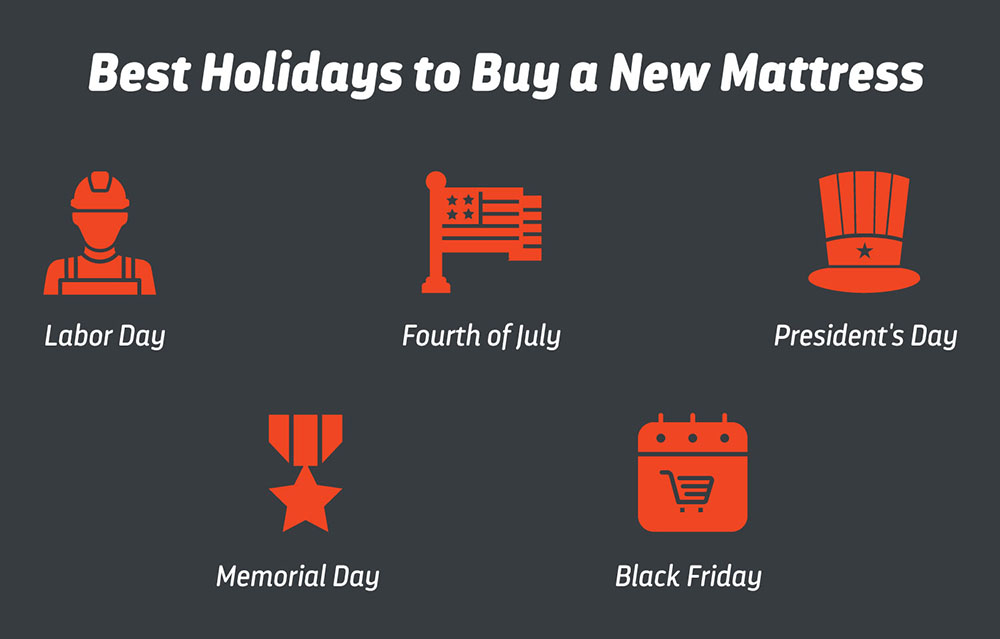 Best Holidays to Buy a New Mattress
There are many things to celebrate on a holiday, one being mattress sales. Throughout the year, we see many retailers and businesses using holiday sales to bring in new and existing customers to sell their products and services. The mattress industry does the same. Take a look at some of the best holidays to buy a mattress below:
Labor Day: Reward your hard work by buying a mattress on Labor Day. Many mattress retailers start their mattress sale the Friday of Labor Day weekend and end on Labor Day, which is the first Monday in September. You might even find great deals on bed bases and frames, pillows, and bedding.
Fourth of July: The entire week of July 4th often has some of the best mattress bargains. Whether you're shopping online or in-person, Independence Day is an excellent time to find a mattress at a fraction of the cost.
President's Day: Three day weekends are an excellent time to catch some much-needed shuteye. Give your body the rest it deserves by looking for a mattress deal during President's Day weekend. President's Day often has great mattress deals because many taxpayers receive their tax return, have an extra day off from work, and aren't required to get gifts for anyone else, so they can treat themselves. Mattress companies have jumped on this opportunity by offering mattresses at a discounted rate.
Memorial Day: Memorial Day is one of the best holidays to buy a mattress? Why? Because it falls right in the sweet spot: in the month of May. On Memorial Day, mattress retailers mark down their products to bring in new customers, clear out old inventory, and put a larger portion of mattresses on sale.
Black Friday: We all know Black Friday is synonymous with rock-bottom prices and amazing deals. Once you're done eating your Thanksgiving Day turkey, head out to your local mattress store or go online and look for too-good-to-be-true deals. In most cases, mattress retailers will slash prices anywhere between 10 and 30 percent.
While most holidays are meant for celebrating with friends and families, it can be a good time to celebrate nights of blissful sleep with a new mattress. Whether you're on the market for a memory foam, innerspring, or hybrid mattress, you can find one at a reasonable price on any of these listed holidays.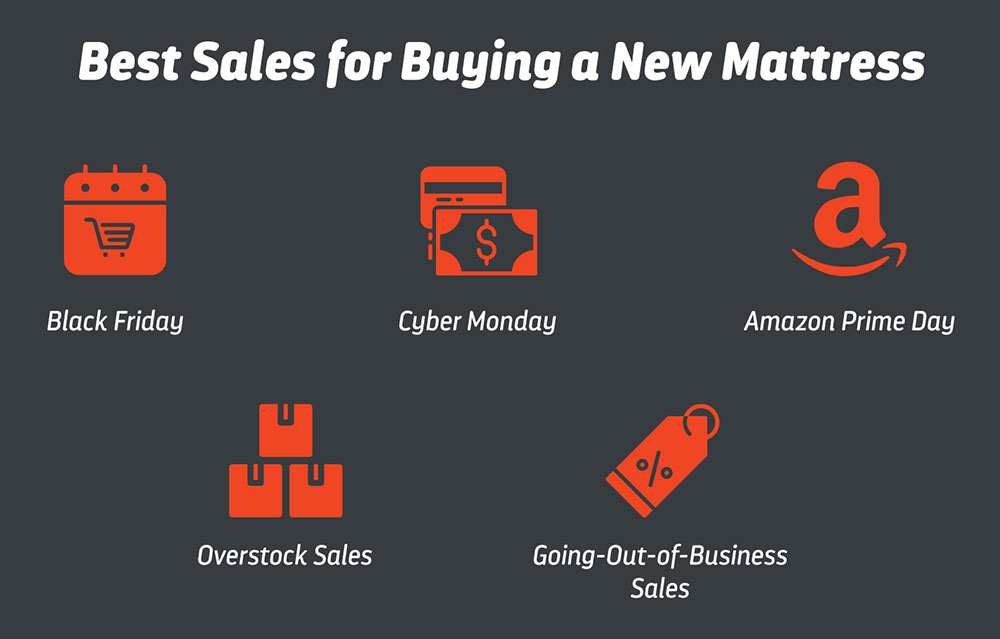 Best Sales for Buying a New Mattress
Holidays aren't the only days to score a new mattress with a lower sticker price throughout the year. There are numerous sales throughout the year you can take advantage of when buying a new mattress:
Black Friday: Yes, we know, we already mentioned Black Friday as one of the best times to buy a mattress. But it's one of the largest shopping holidays in the world, so it deserves to land on this list as well. While you may have other shopping plans for this day, such as buying a new flat screen TV or the newest smartphone, make sure to take care of yourself if you notice your mattress is looking a little worse for wear.
Cyber Monday: If waking up at 3 am to stand in line with hundreds of people to get doorbusters doesn't sound like your cup of tea, wait a few days for Cyber Monday. There are plenty of great online mattress retailers that offer exciting mattress sales that you can take advantage of from the comfort of your own home. Plus, you won't have to worry about getting the mattress on the roof of your car—it can be delivered straight to your front door.
Amazon Prime Day: Are you a member of one of the world's largest companies? Once a year, Amazon Prime members can get access to exclusive money-saving deals on Amazon Prime Day. While this sale changes from year-to-year, you will certainly hear about it through the news or social media. While this major sale has previously been held in July to celebrate the company's birthday, rumors claim Amazon Prime Day will fall sometime in October 2020, but exact dates haven't been released yet.
Overstock Sales: It's unrealistic for a company to sell every single item in their inventory, especially for larger-priced items like mattresses. That's why many mattress companies hold overstock sales throughout the year to sell outdated models. To find an overstock sale, check both online and brick-and-mortar mattress stores to see if they have any high-end mattresses on sale.
Going-Out-of-Business Sales: Unfortunately, not every mattress store can make it big, but this doesn't mean you can't. A quick Google search of "going out of business mattress stores" can pull up results in your area of mattress stores that have to shut their doors. Often, they will mark down a bulk of their inventory to get rid of unsold items.
Mark your calendars—these are some of the best sales to buy a mattress. And these sales merely scratch the surface. You never know when a local mattress retailer will throw a random event or sale on their inventory, so make sure to do your research if you're in dire need of a new mattress.
Buying a Mattress Online
For many consumers, the idea of buying a mattress online can be intimidating. Often, you expect to be able to see a mattress in person, get a feel for it, and decide if it's the right choice for you. However, with the eCommerce industry booming, more and more mattress retailers are beginning to operate solely online. What does this mean for customers? It often means you can get a mattress at a lower cost. This is because these mattress stores don't have to run and operate brick-and-mortar stores that can cost a fortune to operate. With rent, utilities, and staff to budget for, they can pass those savings on to you.
Before you proceed to checkout, it's important you understand the benefits and drawbacks of buying a mattress online. With the pros and cons of mattress shopping online below, you'll be able to find the best mattress in a box that suits your needs.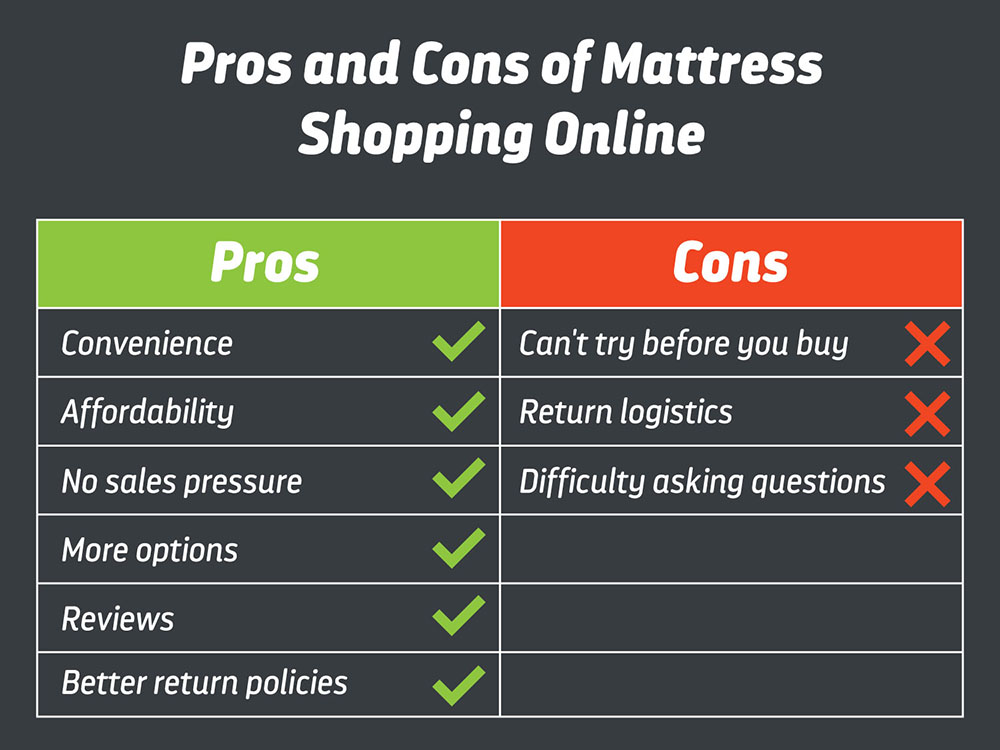 Pros and Cons of Mattress Shopping Online
Pros of Mattress Shopping Online
Convenience: Finding time in your busy schedule to mattress shop isn't always at the top of someone's list. Mattress stores can be few and far between, and if you strike out, it can be a waste of precious time. Online mattress shopping is extremely convenient. Simply open up your laptop or cellphone, and type in the type of mattress you're looking for. You'll be able to browse multiple retailers, compare product descriptions, and find the best price.
Affordability: Shopping for a mattress online is typically cheaper than going to a brick-and-mortar store. Not only do a majority of online mattress retailers offer lower prices, but you can avoid sales tax if you buy out of state, and you may even get lucky with free delivery.
No sales pressure: Let's be real, mattress shopping is almost as bad as car shopping. Dealing with salespeople trying to get you to commit can be draining. When you're behind the screen, you can shop at your own pace and leisure without someone breathing down your neck, telling you, "yes, this is the right mattress for you." By shopping for a mattress online, you won't feel the guilt of saying, "no."
More options: When you go to a mattress store in person, you're typically limited to whatever they have in stock. Depending on the size of the store, your options may be limited. Shopping online gives you infinite mattresses to choose from, meaning you'll have a better chance of finding a mattress you love.
Reviews: Shopping for a mattress in-person means you only hear advice from the manager or store employee, which can be biased. Online, you can read reviews and testimonials from shoppers who already made the purchase. Reviews can be helpful because they can provide useful information and real-world experiences that can sway your decision. If a mattress has 1 out of 5 stars, you'll know it's time to look elsewhere.
Better return policies: Many online mattress retailers know it can be a gamble buying a product like theirs without trying it in person. To ensure you're happy with your order, even if the mattress isn't right for you, they may offer free returns and even a trial period.
Cons of Mattress Shopping Online
Can't try before you buy: The major downfall of buying a mattress online is that you can't test it out in person. Mattresses are an expensive investment, and the last thing you want is to go through the trouble of finding a mattress, only to realize it doesn't meet your needs. At Layla Sleep, we offer a free 120-night trial with a free return if you're not satisfied. This way, you can break any of our beds in to see if it's a match made in heaven.
Return logistics: Not every online retailer makes its return process easy. In some cases, you may have to repackage your mattress and ship it yourself. At Layla Sleep, if you've slept on your Layla mattress for at least two weeks and realized it's not right for you, we'll pick your mattress up as is. We even partner with local nonprofits and charitable organizations to repurpose your old mattress, so you can have peace of mind knowing it's not going to waste.
Difficulty asking questions: When you shop in-store, you get to work with an expert in the mattress industry. However, when you shop online, you don't have the luxury of working with the manager or salesperson to ask questions. However, at Layla Sleep, we have a live chat box where you can speak with any of our agents.
Tips for Getting the Best Deal on Your New Mattress
Waiting for holidays and sales to roll around is one way to get the best deal on a new mattress. However, there are plenty of other ways you can strike gold when looking for a new bed. Keep these tips in mind the next time you're on your mattress-buying journey:
Do Your Research
The first step you should take when looking for a new mattress is doing your research. No longer are the days where innerspring mattresses dominate the market. Today, you can find memory foam, hybrid, adjustable, and latex mattresses. Researching the pros and cons of each type of mattress can help you narrow down your search. Some questions to ask yourself include:
Look for Bundle & Save Deals
In many cases, mattress companies will provide a bundle-and-save deal where you can save money when buying additional products. By pairing your new mattress with accessories can get you more bang for your buck. At Layla Sleep we offer bundle and save deals on your mattress when you add any of the following items:
Protect Your Investment
Once you make your purchase, it's important to protect your mattress to ensure it lasts for years to come. When searching for a mattress, make sure it comes with a good warranty. This way, should anything unfortunate happen, your mattress will be protected, and you'll be able to get a replacement. At Layla Sleep, we offer a free 10-year warranty on our hybrid mattresses and a lifetime warranty on our memory foam mattresses. We even offer free returns in case you were unsatisfied with your Layla sleeping experience.
On top of warranties, you can protect your mattress with a mattress protector. Mattress protectors create a liquid-proof layer that prevents fluids from entering your mattress. At Layla Sleep, our mattress protectors are hypoallergenic, silent, stain-resistant, and create a dust mite barrier, so you can sleep comfortably every night.
Compare Financing Options
Even landing a good deal on a high-quality mattress can be expensive. As you look for the best deal on a mattress, look at financing options that allow you to expand your budget. At Layla, we offer mattress financing with zero down, zero interest, and no late fees for qualified applicants. In minutes, you can get approved to finance a mattress, pillows, sheets, bases, or whatever your heart desires, so you can sleep peacefully night after night.
Layla Sleep Mattresses
When is the best time to buy a mattress? Any time is the best time when it comes to buying a Layla Sleep mattress. At Layla Sleep, we set out to create a mattress that improves your overall sleeping experience. On your Layla mattress, you'll be able to rest, rejuvenate, and recharge your body and mind, so you can start every morning on the right side of the bed and be your best self. We offer two innovative sleeping solutions:
Memory foam mattress: The Layla memory foam mattress is a cooling mattress with copper-infused memory foam that cradles and supports you while you sleep. Boasting flippable firmness™, you can flip your Layla memory foam mattress to a soft or firm side, depending on your preferences. With copper gel infused into the foam, body heat is redirected to keep you nice and cool while you sleep. To wrap it up, the copper particles are antimicrobial, which means you sleep cleaner without odor-causing bacteria keeping you awake.
Hybrid mattress: The Layla hybrid mattress blends the best of both worlds: innerspring mattresses and memory foam mattresses. Inside our hybrid mattress, you'll find pocketed coils for maximum motion control, a 6-inch memory foam layer, and a double coil perimeter for superior edge support. It also boasts flippable firmness™, so that you can find the right fit for you. Plus, with copper-infused foam, heat will be transferred from your body faster, creating a much cooler sleeping experience.
To further your sleeping experience and save more money, you can pair your Layla mattress with a mattress protector, cooling bamboo sheets, our signature Kapok pillow, and our sturdy foundation. If you're ready for endless nights of blissful sleep, look no further than Layla Sleep.