What Are the Different Blanket Types for Winter?
Winter blankets come in all shapes, sizes, colors, and materials. While there is no best type of material for winter, you can find one made from materials that you prefer and can keep your body warm even on the coldest nights. Here are the best types of blankets for winter.

Down
Down blankets are made from goose feathers and come in several weights to ensure the right temperature based on the weather. But what is a down comforter?
Down isn't actually what the entire blanket is made out of; instead, down is the filling inside of the blanket. For example, a winter down blanket is going to be heavier than a spring down blanket. Many people enjoy down blankets because they look and feel poofy, making them one of the most comfortable and popular types of comforters for beds. Beware of any allergies you have, as many people are allergic to goose feathers.
Down Alternative
Down blankets aren't ideal for everyone. When it comes to choosing down vs. down alternative comforters, it's really a matter of preference. Some people are allergic to down, while others want their bedding to be cruelty-free. If you want the benefits of a down blanket with none of the disadvantages, then opt for a down alternative blanket instead. You'll still get the same comfort, warmth, and puffiness as a down blanket, but they're cruelty-free and hypoallergenic.
Wool
You're probably familiar with wool because you put on thick wool socks in the winter. However, it also makes a great blanket material because it's warm and thick while offering thermal regulation. Not only that, but wool is a natural material, so it also breathes well while still providing warmth.
Unfortunately, unless you opt for a quality wool blanket, cheap wool blankets can be scratchy and uncomfortable, just like your wool socks.
Fleece
Fleece is another material that's popular in the winter. While fleece is warm, it also wicks moisture, which can be beneficial for those who are hot sleepers.
Cotton
Cotton is an all-season blanket material that's just as comfortable in January as it is in July. However, cotton blankets might not be the warmest option available, especially if you're someone who's always cold in the winter. In this case, consider layering your bedding with sheets and a quilt for additional warmth.
Electric Blankets
Electric blankets contain heating elements that allow you to adjust the temperature. These blankets provide the fastest way to heat yourself up in the winter. However, they come with safety concerns that traditional blankets do not.
Because they contain heating elements, you should ensure that the blanket you use won't burn you. You should also invest in a blanket with an automatic timer that will turn the blanket off when you fall asleep so that it doesn't become a fire hazard.
Polyester
Polyester is a material similar to microfiber, but it's much thicker. As a synthetic fabric, polyester is warm. However, it can attract static and not be as breathable as some more natural alternatives. It's typically one of the cheaper materials because it's synthetic, so if you aren't worried about static or breathability, a polyester blanket can suit your needs just fine. However, if you're able to spend a little bit more money on natural materials or a blanket that can fit your needs better, opt for a quality down alternative blanket.
How to Choose the Best Winter Blanket for Bed
Choosing the best winter blanket for your bed depends on a number of factors. It's recommended to look around your home at the blankets you like the most and read the labels. Doing so will help you understand which materials you prefer over others. Here are factors to consider when choosing the best warm blanket for winter.

Material
Materials will impact how you feel about your blanket. You may find some materials more comfortable than others. Similarly, you might want to choose a blanket based on how warm it can help you feel. For example, a wool blanket can help you get warm and stay warm, but you may also choose a cotton blanket for days when you don't need something as heavy as wool or down.
Size
You should always choose a winter blanket based on the size of your bed. While you should do this for aesthetic reasons, you should also do it to make your bed more comfortable in the winter. Sleeping with a blanket that's too small can leave some parts of your body feeling cold. However, sleeping with a blanket that's too large can mean that it's dragging on the floor and picking up dirt and dust.
Price
When it comes to blankets, you should never spend more than you have budgeted. Remember, blankets are meant to be layered, so you don't have to depend on a single blanket for warmth all winter long. Instead, choose a blanket that's in your price range, warm, and comfortable. If you find that you're still cold, you can always grab a second blanket and put it on top.
Warmth
Most of us will do anything for warmth in the winter. While you may find a luxurious blanket that you want to buy, consider the reason you're buying a winter blanket before you overspend. Opt for blankets that are warm. However, make sure that your blanket won't cause you to get overheated while you sleep.
Instead, search for a blanket that's labeled as thermal-regulating. For example, you can find anything from the best down comforter for hot sleepers to thick blankets made for those who are always cold. If you're not sure whether or not a blanket you find is right for you, you can always reach out to the business and ask if they recommend that blanket for cold weather.
You should also determine the different types of blankets available and how much warmth they'll give you. For example, when it comes to quilts vs. comforters, you'll find that comforters are often warmer than quilts.
Brand
If you don't know the name of many blanket brands, that's okay. However, do your research to learn about the different brands that offer winter blankets. Some brands have higher-quality blankets than others. When researching brands, make sure to read reviews, especially if you've never purchased anything from the brand before. Reviews will give you a good idea about the quality of products and how well customer service issues are handled.
Hypoallergenic
Some winter blankets, such as down comforters, can cause allergies, making sleep more difficult to come by. If you're allergic to down or if you're not sure if you're allergic to down, opt for a blanket that can't cause allergies, such as a down alternative comforter or another material.
Still not sure which winter blanket is best for you? Check out our comforter buying guide.
The Layla Down Alternative Comforter
Finding the best winter blanket for winter doesn't have to be difficult. The Layla Down Alternative Comforter is ideal for cold weather and makes a beautiful addition to any bedroom. The down alternative comforter is wrapped in 100% all-cotton fabric and filled with a down alternative that makes you feel like you're wrapped in a down blanket without worrying about allergies or harming any animals.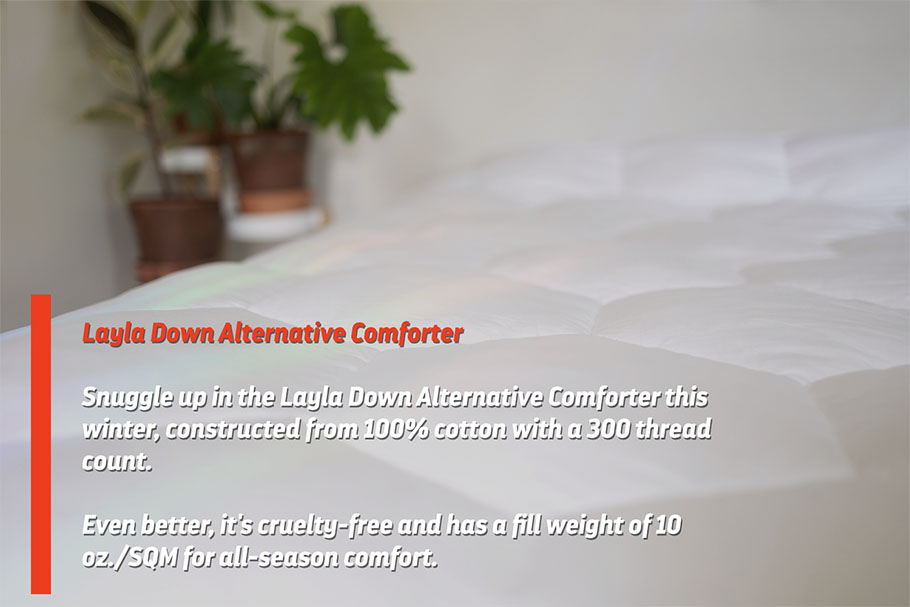 The cotton exterior is soft and lightweight, making the blanket breathable while the filling is warm so that you won't get too hot or too cold throughout the night. Not only that, but it's made with a 300 thread count to feel soft to the touch.
The Layla Weighted Blanket
Weighted blankets for sleep can improve sleep quality and keep you warm during the coldest winter months. Weighted blankets provide Deep Touch Pressure (DTP) that's similar to receiving a hug. This light pressure soothes anxiety while the blanket keeps you warm.