Weighted Blanket
Weighted blankets are a great quality gift for those who need to get more sleep. Not only do they provide someone with a soft blanket, but the weight may also reduce anxiety, which can be one major problem that's keeping your friend up at night. Weighted blankets for sleep relieve anxiety through Deep Touch Press (DTP) that applies gentle pressure throughout the entire body. This gentle pressure is often described as similar to a hug, which is why it relieves anxiety.
The Layla Weighted Blanket provides soothing comfort to help combat feelings of anxiety and restlessness, allowing users to relax and fall asleep easier. With DTP, the weighted blanket can help release serotonin and calm your body and mind. The additional weight on top of your body can also help prevent tossing and turning at night, promoting better quality sleep.
Houseplants
A unique and thoughtful gift this holiday season is houseplants. Not only do houseplants elevate any space they're placed, but they can actually help people sleep better at night, too. Houseplants detoxify the air while producing a calming effect to improve sleep. Below are some ways that plants can help you sleep better, including:
Calming Colors: According to Healthline, color may be partly responsible for the calming effect that plants have on us. Green color plants, in particular, promote calmness, which can help you fall asleep faster.
Calming Smells: As you may already know, scent can impact our moods. Plants are available in various scents that can help promote calmness, including lavender, which is one of the most popular scents for those who need better sleep.
Promote Productivity: Plants may promote productivity by detoxifying the air and letting fresher air into our bodies. When people feel healthy, they are often more productive, and when they're more productive, they tend to feel less stressed after a long day of work.
If you're not sure which type of houseplant to get your loved one who could use a little more rest, consider the following:

Lavender
Aloe Vera
Snake Plants
Peace Lily
Spider Plants
Pothos
Bamboo
Memory Foam Pillows
Memory foam pillows are the ultimate comfort gift for better sleep that will allow anyone to get more comfortable at night so that they can fall asleep faster and stay asleep longer. In addition, as some of the best pillows for sleeping, memory foam pillows allow you to better support the neck and head in a way that's comfortable for you and healthy for your muscles.
If you want to give someone on your list one of the most comfortable pillows, check out the Layla Memory Foam Pillow. It's fully adjustable for proper spine alignment that promotes comfort for a full night's rest. In addition, this pillow's blend of open-cell memory foam and poly fiber fill allows the pillow to be more adjustable and molded to fit anyone's preference.
The Layla Kapok Pillow is also adjustable. It comes overstuffed, but the filling can be removed depending on a person's preference for the proper height. What makes the Kapok Pillow so special is that it's woven with a copper-infused yarn that can help improve hygiene and reduce odor. These fibers also help to regulate your temperature by pulling your body heat away from you for a comforting, cooling effect that prevents overheating.
Essential Oil Diffuser
According to studies, aromatherapy is often used to help patients fall asleep and reduce stress, ultimately promoting relaxation. Essential oils can be used to increase the quality of sleep while reducing anxiety. However, you should never put essential oils directly on the skin. Instead, if you want to get the aromatherapy benefits of essential oils, it's best to use an essential oil diffuser.
There are a variety of essential oils available on the market that can be used to promote sleep, including:
Lavender: One of the most popular essential oils for its floral smell, lavender is used to freshen the air and promote relaxation.
Chamomile: You may have had chamomile in the past to help promote relaxation and better sleep. However, it's also an essential oil that can have the same effects when diffused.
Clary Sage: Clary sage has a stronger scent than chamomile and lavender and is often used to add flavor to food. However, it can also be used to promote sleep by reducing cortisol levels and anxiety.
To help someone in your life destress and get a good night's sleep, consider an essential oil diffuser.
New Mattress
If you truly want your loved one to get the best night's sleep that they can, it might be time to splurge on a new mattress for them. A good mattress is key to getting better sleep. If your family or friend's mattress is droopy or has lost some of its firmness over time, then they should consider something new. Before buying, get an idea of their sleeping preferences, such as whether they prefer a firm mattress or one with a softer side. Also take note of the size of their current bed, as there are several types of king beds, queen beds, and full beds. Your friend may also have a preference for what type of mattress they want, including memory foam vs. hybrid mattresses.
If you want to gift someone a mattress, consider getting a mattress that gives them options. The Layla Hybrid Mattress is a great option that offers the choice between a soft or firm mattress. This mattress has one side that's firm and another that's soft so that it can be flipped depending on a person's preference.
The Layla Memory Foam Mattress is also another great option that can be flipped depending on firmness preference. What makes this mattress stand out is that it's made from copper foam that reacts to a person's body, including their sleep position, for ultimate comfort.
Copper also offers other benefits, including thermo-regulating properties to help sleepers sleep cooler by pulling heat away from their body to prevent overheating, which can keep them up at night. Copper is also antimicrobial, allowing you to sleep on a cleaner mattress that also fights odor.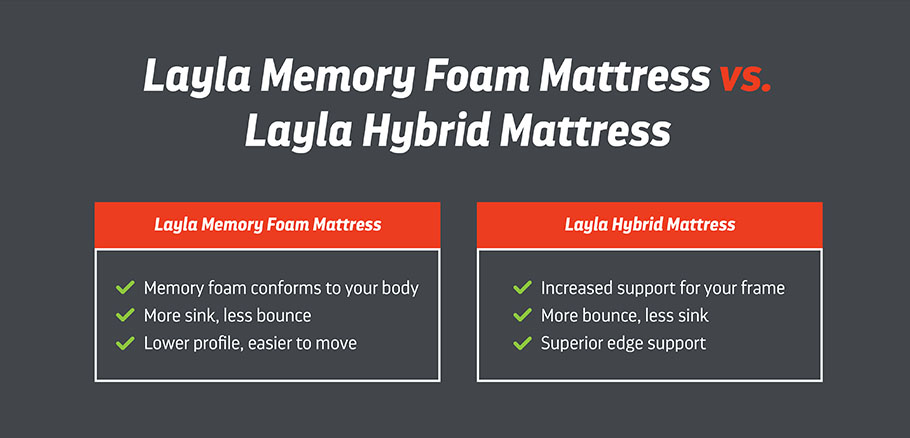 Did you know? You can even purchase a bed for your pet that can offer them the same great benefits. So if your friend loves their pet more than anything else, consider getting their furry friend a gift, too.
Cooling Sheets
Cooling sheets are a great option for individuals who always wake up to a puddle of sweat, even in the winter. Layla's Bamboo Sheets are an affordable gift idea that can give your friend or loved one the gift of cooler, better sleep. Made from bamboo, this bedding is soft and light while also cool and breathable.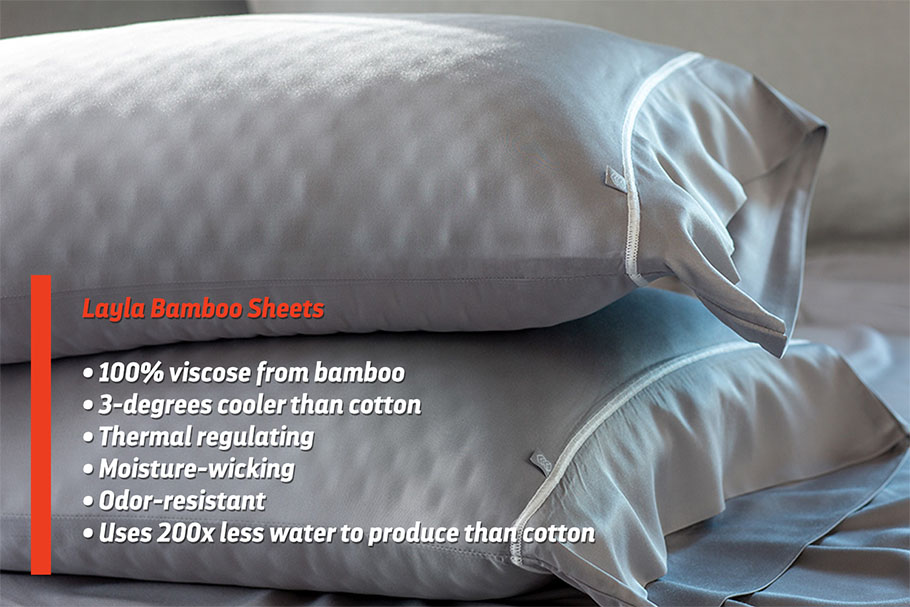 Comforter
Like cooling sheets, comforters can also be another affordable sleep gift idea for a friend who needs sleep. Comforters play a significant role in how well a person sleeps at night. For example, using the wrong comforter can make you either too hot or too cold to fall asleep and stay asleep.
If you're unsure which type of comforter your friend will prefer, consider the best down comforter for hot sleepers: the Layla Down Alternative Comforter. This comforter is extremely breathable and cruelty-free. Even though it's lightweight due to the all-cotton fabric, it's still warm for any season. However, you can rest assured that it won't be too hot or too cold no matter what time of year it is.
This comforter's hexagonal quilted baffle boxes help balance the fill to ensure consistent filling in every part of the comforter.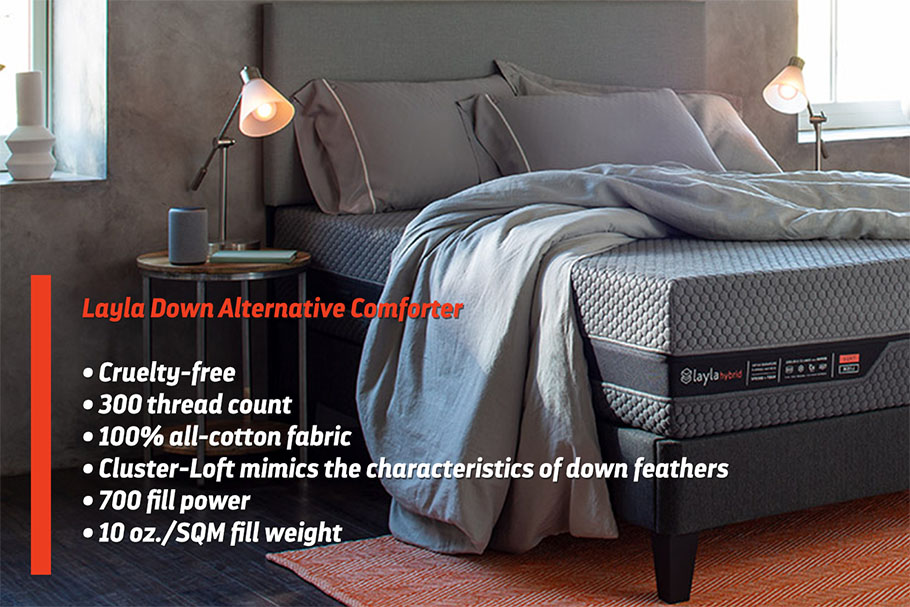 Eye Mask
No one likes sleeping with light shining in their eyes. However, if you have a friend who lives in a place that's very bright or the city lights always seem to find their way into their bedroom, then a sleep mask, or eye mask, might be the perfect solution to help your friend fall asleep at night.
Eye masks are the most affordable gift on this list and can drastically change your friend's sleep routine.
Layla Sleep: Your Home for the Best Sleep Gifts
Shopping for the perfect gift for someone who needs sleep doesn't have to be difficult. All of the gifts on this list can make someone who feels a little tired smile. Still not sure what gift for people who can't sleep to purchase? Browse Layla Sleep's selection of products for any type of sleeper.