If you're considering a down comforter, it's important to know what they're like to ensure you're going home with a comforter that will help you get the sleep you deserve. Throughout this post, we'll answer important questions, such as "What is a down comforter?" "What is a down comforter made of?" "What are the benefits of a down comforter?" and more. Read from start to finish to learn why a down comforter might be right for you or use the links below to jump to a section of your choice.
What Is a Down Comforter Made Of?
A down comforter is made from the feathers of waterfowl like ducks and geese. The feathers and plumules come from the waterfowl's undercoat, which is beneath the tougher exterior feathers. Down feathers are lightweight and fluffy and are known for being warm, durable, and breathable. A down comforter is filled with down feathers, while the outer casing is typically made from materials like cotton, polyester, or silk.
As you search for a down comforter, it's important to be aware of the comforter's fill power. The fill power of a comforter, including a down comforter, measures the amount of material per ounce. For example, a cotton comforter's fill power will measure how much cotton per ounce, while a down comforter's fill power measures the amount of down per ounce. The higher the fill power, the warmer, fluffier, and more insulated the comforter will be. In most cases, a down comforter with a fill power of at least 600 will be suitable for most sleepers.
Because a down comforter is made from feathers of a bird's undercoat, knowing how to wash a comforter made of down is important to ensure it stays adequately maintained. In most cases, down comforters, such as those made from geese down, will need to be professionally cleaned at a dry cleaner. However, depending on the comforter brand, you may be able to wash your comforter at home with a front-loading washer and a high-capacity dryer. To ensure you're caring for your down comforter correctly, make sure to read your comforter's care label.
Why Should I Get a Down Comforter?
If the question, "Should I get a down comforter?" is keeping you up at night, knowing the benefits and drawbacks can help you narrow down your decision. Down comforters are one of the most popular types of comforters on the market and for good reason. Take a look at the pros and cons of a down comforter below, so you can see what aspects might be a deal maker or a deal-breaker.
Benefits of a Down Comforter
There are several reasons why a down comforter might be the right choice for you. Explore some of the benefits of a down comforter below:

Softness: One of the top qualities of a down comforter is its softness, which is hard for most standard cotton comforters to match. However, as with any bedding item, the softness depends on the quality of down used in the comforter you pick.
Breathability: While down comforters are extremely soft and cozy, they're also very breathable. When paired with a latex or memory foam mattress, you can sleep cool and comfortable all night long.
Compressible: Another redeeming quality of down is its ability to be compressed into a much smaller size, allowing you to fold up and pack into confined spaces. Its space-saving capabilities are beneficial when moving, packing, or storing your down comforter.
Longevity: With the proper care, you can make your down comforter last several years. However, unlike most types of bedding, down can be difficult to care for, which leads us to some of its drawbacks.
Drawbacks of a Down Comforter
Like every bedding accessory, down comforters have their own set of disadvantages that might not make them a good pair for you and your sleep. Take a look at some of the drawbacks of down comforters below:

Unethical:Down is sourced from animals, such as geese and ducks, which can be a deal-breaker if you're looking for an ethical comforter that doesn't harm animals. And because animal products are used in down products, some sleepers might find themselves awake at night due to allergies, which is why you may want to consider hypoallergenic bedding.
Care difficulty: Compared to other comforter materials, such as cotton and down alternative, down is much harder to care for. In most cases, manufacturers recommend using a professional cleaning service to clean their down comforter, which can be time-consuming and expensive.
Cost: Down comforters are also more expensive than most other types of comforters, such as down alternative and cotton comforters, which means a higher initial investment.
Moisture-sensitive: It's important to ensure your down comforter stays dry at all times because down can lose its shape and insulation when it gets wet.
Now that you know the pros and cons of down comforters, weighing your decision will be easier.
How to Choose a Down Comforter
Not all down comforters are one and the same. Similar to when you buy a mattress, there are several factors that can distinguish a good down comforter and a poor one, such as quality, materials, price, brand, and more. As you question whether you should get a down comforter, keep these considerations in mind:

Price: Your budget is one of the first considerations to keep in mind when searching for a down comforter, as it'll allow you to narrow down your choices to a selection of comforters that fit within that price range. With a budget in place, you'll be able to nix comforters that are too expensive or those below your budget that might not meet your quality standards.
Materials: While down is a general term for feathers from waterfowl, the type of bird the down comes from differs. As you look for a down comforter, look to find out where the down was sourced, such as from ducks or geese. In general, geese down is often regarded as more luxurious and higher-quality compared to duck down.
Brand: The brand that creates the down comforter is also another factor to consider. When choosing a down comforter, make sure to do your research and read reviews and testimonials on a brand's page to see what other customers thought of their products.
Quality: Quality is also important to consider, as higher-quality down comforters are often more insulated, have a longer lifespan, and are more comfortable. However, higher quality typically means a higher price tag, so you have to keep your budget in mind.
Mattress size: This goes without saying, but you should choose a down comforter that matches your mattress size. For example, if you have a queen-size mattress, you should search for a queen-size down comforter to ensure it covers your bed completely without being too short or too long.
Temperature: If you're a hot sleeper, the temperature of your down comforter is going to be important. The temperature of a down comforter depends on its weight and fill. Typically, the higher the fill power, the more insulated the comforter will be. While down is breathable and lightweight, a high fill power might not be ideal for sleepers who tend to sleep hot or live in warmer or tropical climates. Pairing your down comforter with cooling sheets is also important, so read our guide on the best sheet materials for hot sleepers for more information.
Comforter cover: While the inside of your comforter will be made from down, the outside cover can be made from a wide range of materials but are typically cotton, polyester, or a blend of both. As you look for a down comforter, consider the thread count for not only softness but for its ability to keep the down feathers in place. Down comforters with a lower thread count can be prone to leaking down feathers, which can affect weight distribution, insulation, and comfortability.
Choosing the perfect down comforter isn't always easy. For those wondering how to choose a down comforter, keep these factors in mind. As you search online or in-store, take note of the down comforter's quality, price, temperature, and other factors and compare them to one another to find the down comforter of your dreams.
Do You Need a Duvet for a Down Comforter?
Duvet or no duvet — that is the question. One of the most frequently asked questions is whether you need a duvet for your down comforter, and the answer is, it depends. If your down comforter already comes with a cover, you won't need a duvet, as your comforter already has a protective casing. However, because down comforters are typically more difficult to clean because they're made from the feathers of waterfowl, it's recommended to get a down comforter with a duvet.
Having a down comforter with a duvet can make cleaning your down comforter easier. This is because your duvet will act as a protective casing over your down comforter, preventing dust, dirt, and other particles from tarnishing your comforter. With a duvet, you can simply take it off and pop it in the washer and dryer without having to clean your entire comforter, which will only need to then be cleaned a few times a year by a professional dry cleaner.
What is the Difference Between a Down Comforter and a Regular Comforter?
Comforters can be made from a wide range of materials, including down. But what are most standard comforters made of? Most comforters on the market are usually made from cotton, as it's the most widely used fiber on the planet. With that said, cotton comforters can be extremely different from one another, as thread count, brand, and quality all play important roles. With cotton comforters and down comforters being some of the most popular comforter types to choose from, you may be wondering what their differences are. If you're on the fence between the two, compare the difference below to determine which option is best for you: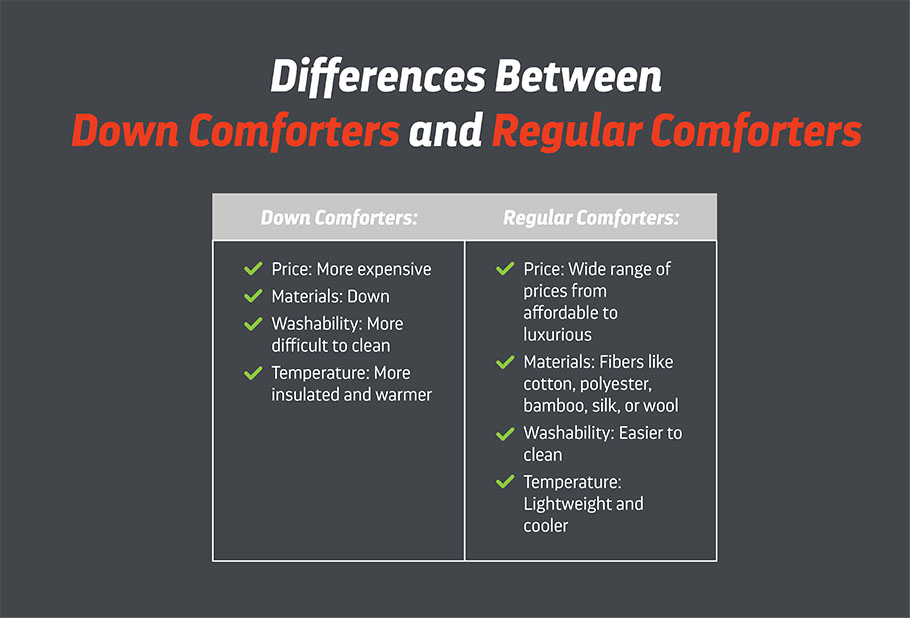 Price: Regular comforters can match almost any budget, with extremely affordable comforters to more high-end and luxurious comforters. On the other hand, down comforters are often more expensive than regular comforters because of the materials used to construct the comforter.
Materials: The most obvious difference between down comforters and regular comforters are the materials used. As we now know, down comforters are made from a waterfowl's undercoat feathers, which are typically sourced from geese and ducks. Regular comforters are typically constructed from cotton or polyester but can also be made from other materials like bamboo, wool, and silk.
Washability: Most regular comforters are easy to wash at home, as they're lightweight and made from cotton, which can be placed in your home's washer and dryer. Down comforters can be more challenging to wash and typically require help from a professional dry cleaner.
Temperature: The undercoat found on waterfowl are meant to keep them insulated from cold elements like water and snow, so naturally, down comforters tend to run warm. Regular comforters made from cotton are lightweight and are great options for hot sleepers or summer months.
With these differences in mind, you'll be able to determine what qualities work for you and your sleeping needs.
What is the Difference Between a Down Comforter and a Down Alternative Comforter?
While down comforters are extremely popular for their insulation, comfort, and quality, some sleepers prefer to wrap themselves up in more ethical comforters that don't harm animals. If you fall into this category but wish you could experience the redeeming qualities of a down comforter, you're in luck. Down alternative comforters are similar to down comforters but are missing one crucial element: the feathers from waterfowl. Down alternative is typically made from a synthetic polyester material or cotton that mimics the softness and comfort of real down. Aside from the materials used to create each type of comforter, below are a few more differences between down and down alternative: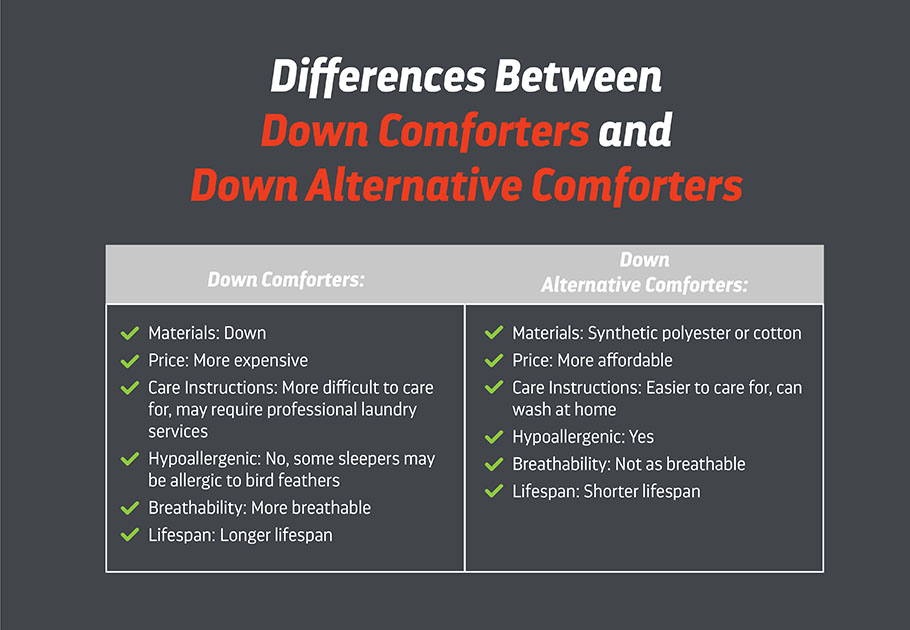 Price: Down alternative comforters are often more affordable than down comforters because they don't require sourcing feathers from waterfowl.
Care instructions: Down alternative comforters are also much easier to care for and can be cleaned in your home's washer and dryer, while down comforters typically require professional cleaning.
Hypoallergenic: Because down alternative comforters are made from synthetic polyester filling or cotton and not bird feathers, they're hypoallergenic, meaning you don't need to worry about sneezes or coughs keeping you up at night.
Breathability: Overall, down comforters tend to be more breathable than down alternative comforters. However, finding down alternative comforters made from quality materials can get close to a down comforter's breathability.
Lifespan: Down comforters also tend to have longer lifespans than down alternative comforters because down is more durable than synthetic polyester and cotton.
If you're debating between a down and down alternative comforter, knowing these main differences can help. You can also review our comforter buying guide to gain more information about the differences between various types of comforters and materials, including down and down alternatives.
The Layla Sleep Down Alternative Comforter
At Layla Sleep, our Down Alternative Comforter is bird-friendly without compromising comfort or quality. Made from 100% cotton, our breathable, lightweight, and soft down alternative comforter makes the perfect companion for any bed and sleeper. When wrapped in the Layla Down Alternative Comforter, you'll notice our Cluster-Loft design that mimics the characteristics of down to keep you comfortable without harming any of our flying friends. Even better, our patent-bending Layla hexagon baffle boxes keep the down alternative evenly distributed throughout the comforter, so no cold spots or unevenness wake you up or prevent you from falling asleep.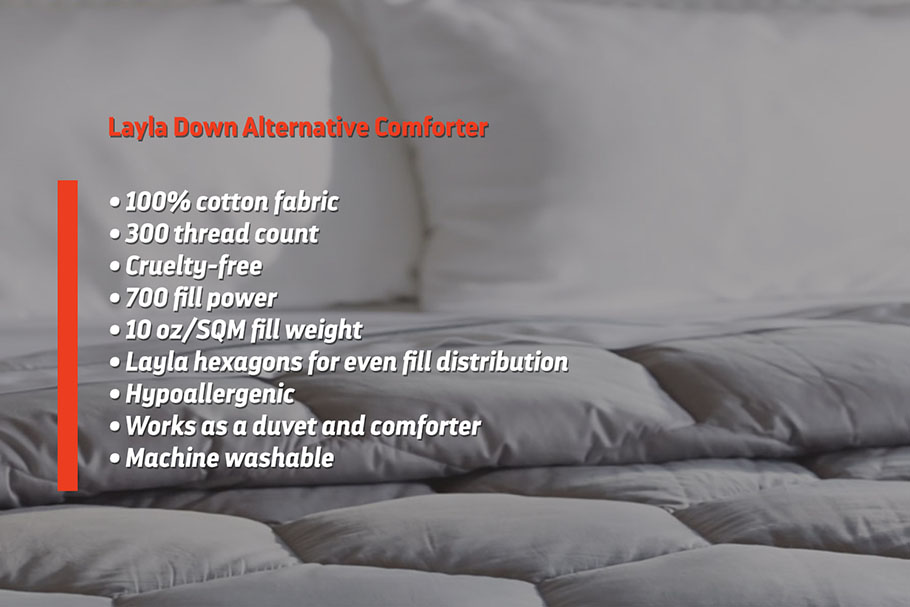 In addition to our down alternative comforter, you'll find our signature weighted blanket that's designed to ease your worries and keep you in a deep slumber throughout the night. Whether you're looking for a weighted blanket for couples or are wondering how to choose a weighted blanket, the Layla Blog is your go-to resource for all things sleep-related.