The strong chemical odor of a new mattress can be off putting, but it's easy to get rid of and only requires patience. In this article, we'll discuss the new mattress smell and how you can get rid of it quickly.
Why Do New Mattresses Smell?
New mattress smell is something we're all familiar with, especially if you recently purchased your mattress online. Most new mattresses have a chemical odor that you'll notice as soon as you unwrap your mattress from its box and/or vacuum-sealed plastic. Because your bed has been wrapped up tightly and sealed, there has been a lack of airflow that traps the smell of the new mattress, making it strong as soon as you unseal it.
The odor that you're smelling comes from the foam and is released by off-gassing. Off-gassing is a process that releases gas, and there are different times when you'll notice it, such as when you apply new paint to a room. Because the mattress has been sitting in a vacuum-sealed package, the chemicals, also known as volatile organic compounds (VOCs) used during manufacturing, are trapped within it and then released as soon as you open the packaging.

The odor that you smell during off-gassing comes from the foam and adhesive of the mattress, which can vary from mattress to mattress.
Is the New Mattress Smell Harmful?
Volatile organic compounds (VOCs) can be found in regular household products, such as cleaning supplies and even furniture. However, prolonged exposure to VOCs can cause headaches, eye, nose, and throat irritation, and nausea due to the strong odor. These effects typically dissipate a few hours later, after the mattress has been aired out.
New mattress smell is not typically harmful, but it can be irritating for those who have a sensitivity to strong odors. If you don't like the smell of cleaning products, then it's best to keep your mattress in a separate room or outside on a sunny day so that it can air out without bothering you.
It's important to note that although VOCs are not harmful, some mattresses may contain carcinogens like formaldehyde. If you're uncomfortable with the idea of sleeping on a mattress that contains formaldehyde, do your research to ensure that any mattress you purchase in-person or online is free of potentially harmful VOCs and other chemicals.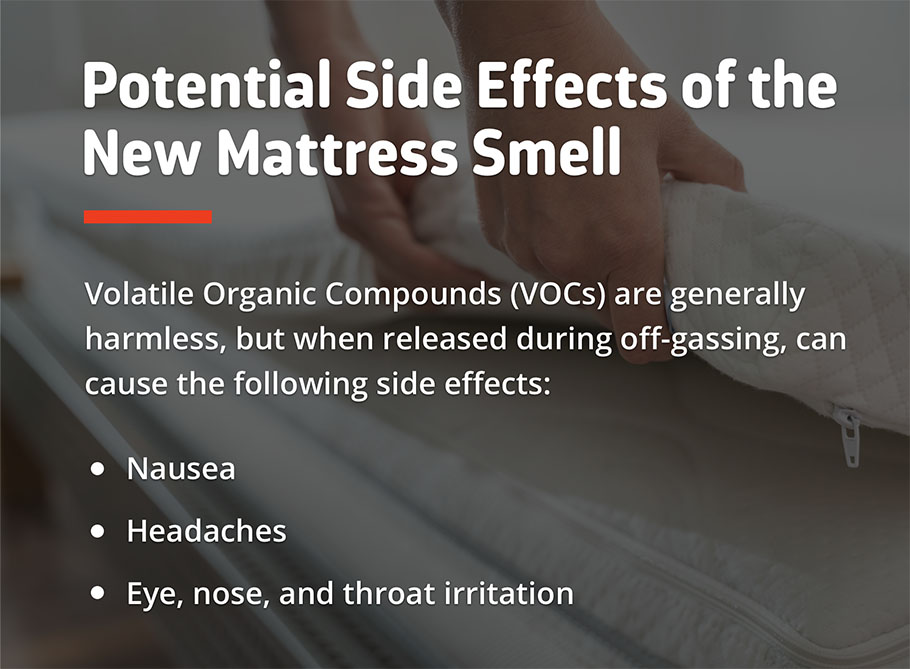 Luckily, although irritating and smelly, that new mattress smell isn't harmful to humans who have just received their mattresses. Most of the off-gassing process takes place before the package has reached your home, so you only have to worry about the smell that may cause headaches for those sensitive to odors.
How Long Does a New Mattress Smell Last?
All new beds have a mattress adjustment period. The new mattress smell can last anywhere from a few hours to a few days, and depends on the VOCs within the mattress and how effectively you air out the mattress. If the new mattress smell is so strong that the mattress is still unusable after just a few days, check your mattress's warranty or terms of conditions to see if you can return it for a new mattress.
How to Get Rid of the New Mattress Smell
Many manufacturers take special care to ensure that off-gassing happens before your mattress is packaged and shipped, so you might not experience a long-lasting new mattress smell. The severity of the smell of a new mattress depends mainly on the chemicals used in the manufacturing process, but it may also depend on the different types of mattresses and the thickness of the mattress.
No matter how long your new mattress smell lasts, it's unpleasant, especially if you plan to sleep in your bed within just a few hours of receiving it. Here's what you can do to get rid of the new mattress smell.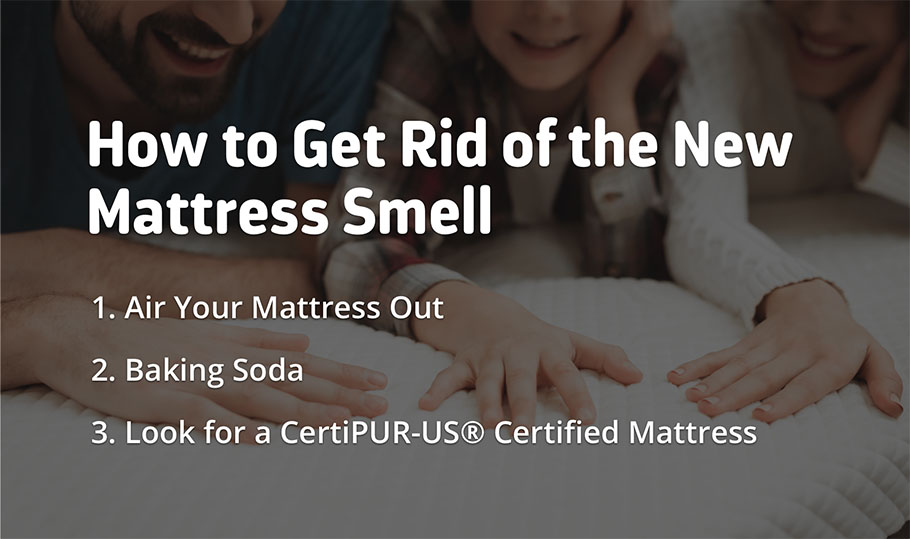 1. Air Your Mattress Out
Before you begin airing out your mattress in your home, open your windows and begin ventilating your home. Your new mattress should be aired out as soon as you receive it. Once your mattress is delivered, remove it from the box and plastic seal so that you can begin airing it out. It's recommended that you give your mattress some time to breathe, so that it can have time to grow to its full capacity. Most VOCs are emitted within the first few hours of airing out your mattress, but they can continue for at least a few days.
If it's nice out, you can air your mattress out outside to speed up the process, or you can open a window in your home so you're not stuck with the new mattress smell for too long. You can also keep it in a different room than the one you'll be in most of the day so that you don't have to deal with the smell at all.
If you can't open your windows or let your mattress air out outside, consider turning on a fan to help the air around the mattress circulate.
If you truly want to ensure that the new mattress smell is gone before you sleep on it, let the mattress air out for a few days or up to a week.
2. Baking Soda
Baking soda is a natural odor-reducer, which is why many people put baking soda in their shoes or winter boots. Baking soda is used on new and old mattresses to get rid of smells and odors. We also have a blog on how to clean a memory foam mattress that provides useful tips to create a clean mattress.
If your mattress still has a bit of a smell after airing out, sprinkle baking soda on it straight from the box and allow it to sit overnight. Once you wake up in the morning, use your regular vacuum to vacuum up the powder, then flip the mattress and do the same to the other side.
If the mattress still smells after this, consider repeating the process while still allowing the mattress to air out.
Make sure that you vacuum up the baking soda completely so that you don't have to worry about a white powder ruining your sheets.
3. Look for a CertiPUR-US® Certified Mattress
After you know how much you should spend on a mattress, it's time to choose the right mattress based on your needs. If it's time to replace your mattress, consider getting one that comes with little to no smell. CertiPUR-US mattresses are made from polyurethane foam and don't contain the stinkiest or most harmful VOCs, which means that they meet both environmental and health standards.
Unfortunately, they're not completely free of chemicals, but they are made without formaldehyde, which can be one of the more dangerous (and smelliest) VOCs plaguing a mattress. They are also made without phthalates and contain low VOC emissions, which means that you won't have to deal with as much off-gassing as you would from a non-CertiPUR-US mattress.
It's important to do your research, as not all mattresses are CertiPUR-US Certified.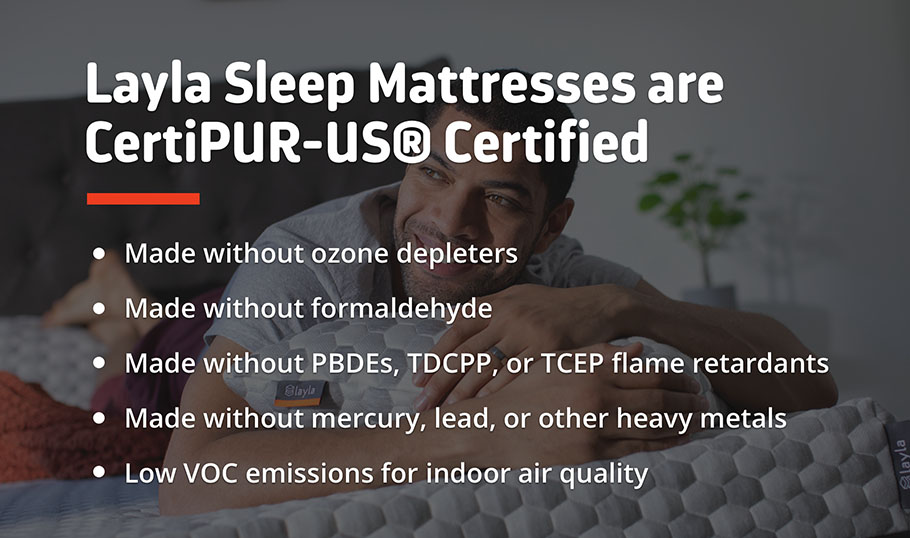 If you want to ensure that your mattress won't have dangerous or smelly chemicals that keep you from getting a quality night's rest, consider getting a Layla mattress. Layla Sleep foam mattresses are made without ozone depleters, flame retardants, heavy metals, and formaldehyde, which means there's little to no off-gassing odor. It's still recommended that you air out your mattress to allow it to reach its full density and thickness.
Key Takeaways: New Mattress Smell
New mattress smell is sometimes unavoidable because of the manufacturing process, but that doesn't mean that you have to deal with it or sleep on chemicals that can be unsafe. Layla Sleep products are safe to use and don't contain dangerous chemicals that can give you a headache or cause any health concerns.
Getting a quality night's sleep means being able to air out your mattress so that you don't have to deal with any unpleasant odors. Make sure that as soon as your mattress comes, you're prepared to begin the off-gassing process.
Luckily, there are ways to get rid of the new mattress smell by airing out the mattress outside or with a window open. This process can take anywhere from a few hours to a few days depending on its location and the mattress itself. You can also choose a mattress with little to no new mattress smell to ensure a safe mattress and better indoor air quality for you and your family.