This article will discuss the dimensions of a queen bed, the different types of queen beds available, how to determine your ideal mattress size, and the benefits of a queen bed. Let's get started.
How Wide Is a Queen Size Bed?
A standard queen-size bed is 60 inches by 80 inches. Queens are a great option if you have a full and want to upgrade to something with more space. Compared to a full, a queen is a few inches longer and wider, so you can have extra leg space and space for a partner or pet.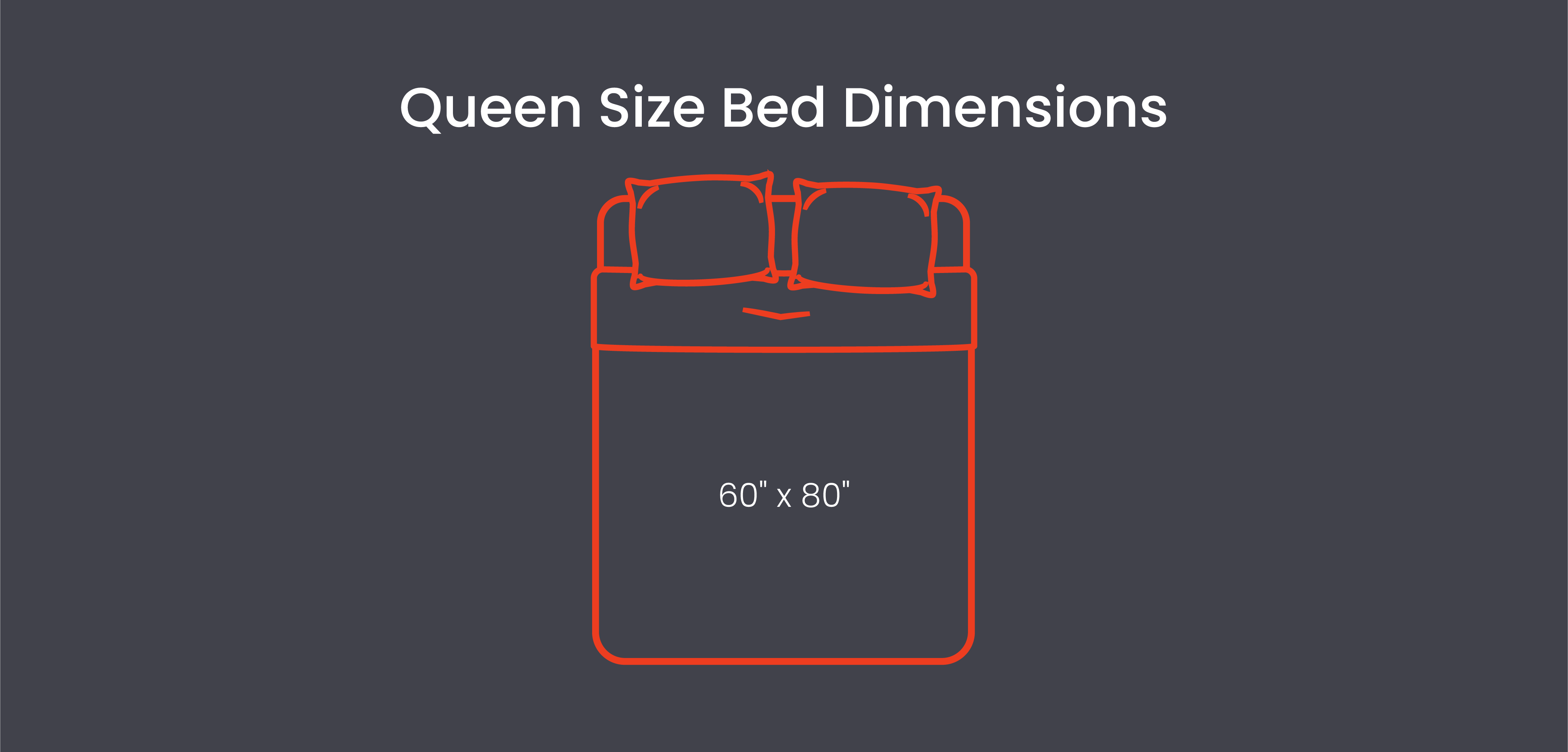 Are There Other Queen Bed Sizes?
We just talked about a standard queen bed. However, there are other types of queen beds available that vary in either length or width. You've likely heard of the many different types of king beds available, but queens also come in a few different sizes, although they can be quite difficult to find.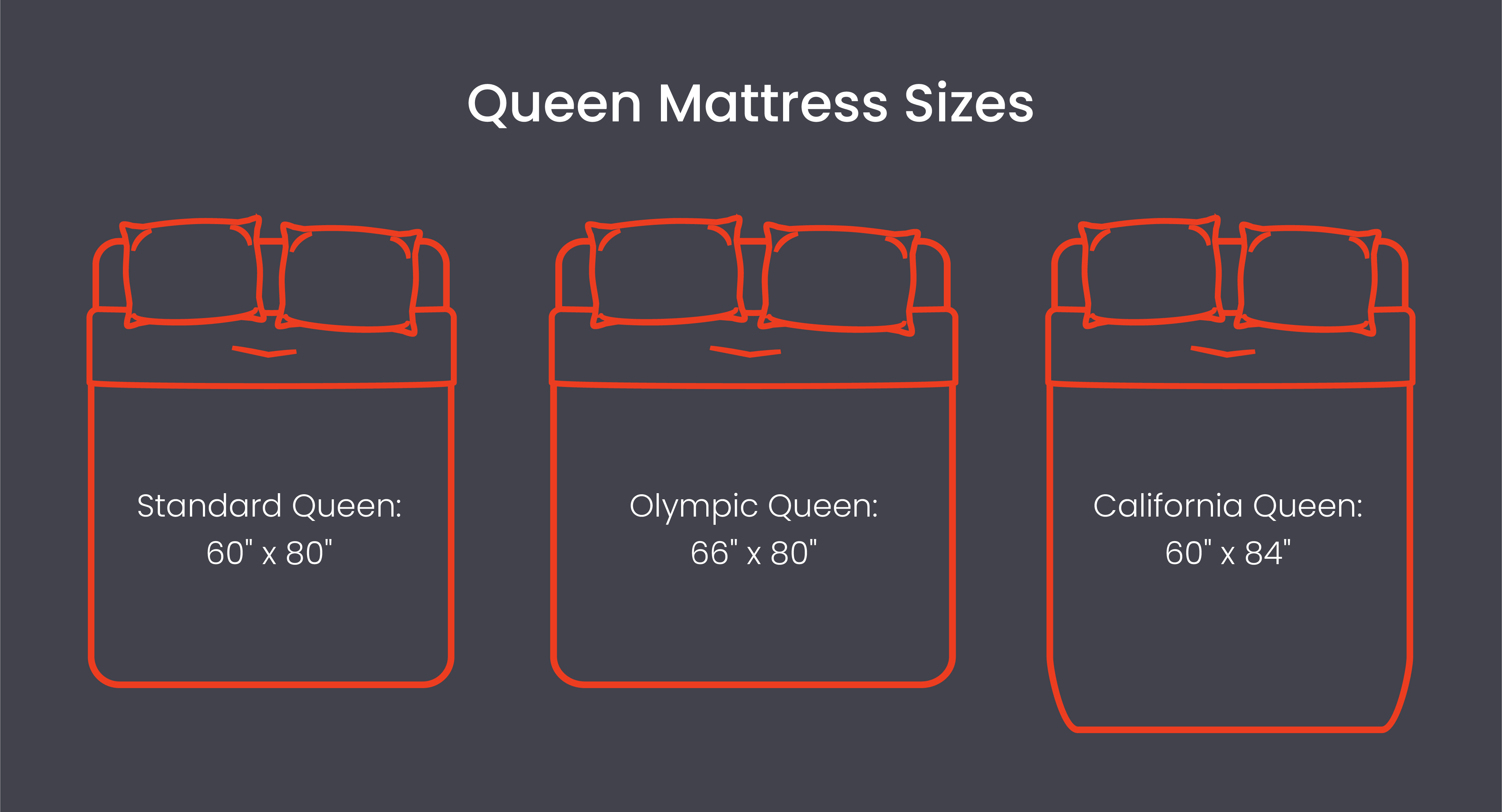 California Queen
The California queen mattress measures 60 inches by 84 inches, so it's the same width as a standard queen but offers four additional inches of room in length, making it ideal for those who need extra space due to their height. California queens are also a great option for pet owners whose dogs or cats like to sleep at the bottom of the bed by their feet.
Olympic Queen
An Olympic queen is 66 inches by 80 inches, so it's the same length as a standard queen mattress. However, the Olympic queen is six inches wider than the average queen mattress, making it ideal for those who prefer more room to sprawl out or want to share their mattresses with a partner. Of course, if your pet likes to sleep next to you, the Olympic queen ensures you won't end up falling out of bed in the middle of the night.
How Big Should a Room Be for a Queen Size Bed?
Most queen beds can be comfortable in a room that's 10 feet by 10 feet. However, they should not be in a room smaller than that because they'll leave very little room for anything else, such as nightstands or dressers. Queen beds are a great option for rooms that are bigger than 10 feet by 10 feet because you'll still have a large mattress and plenty of floor space to walk around or use for additional furniture.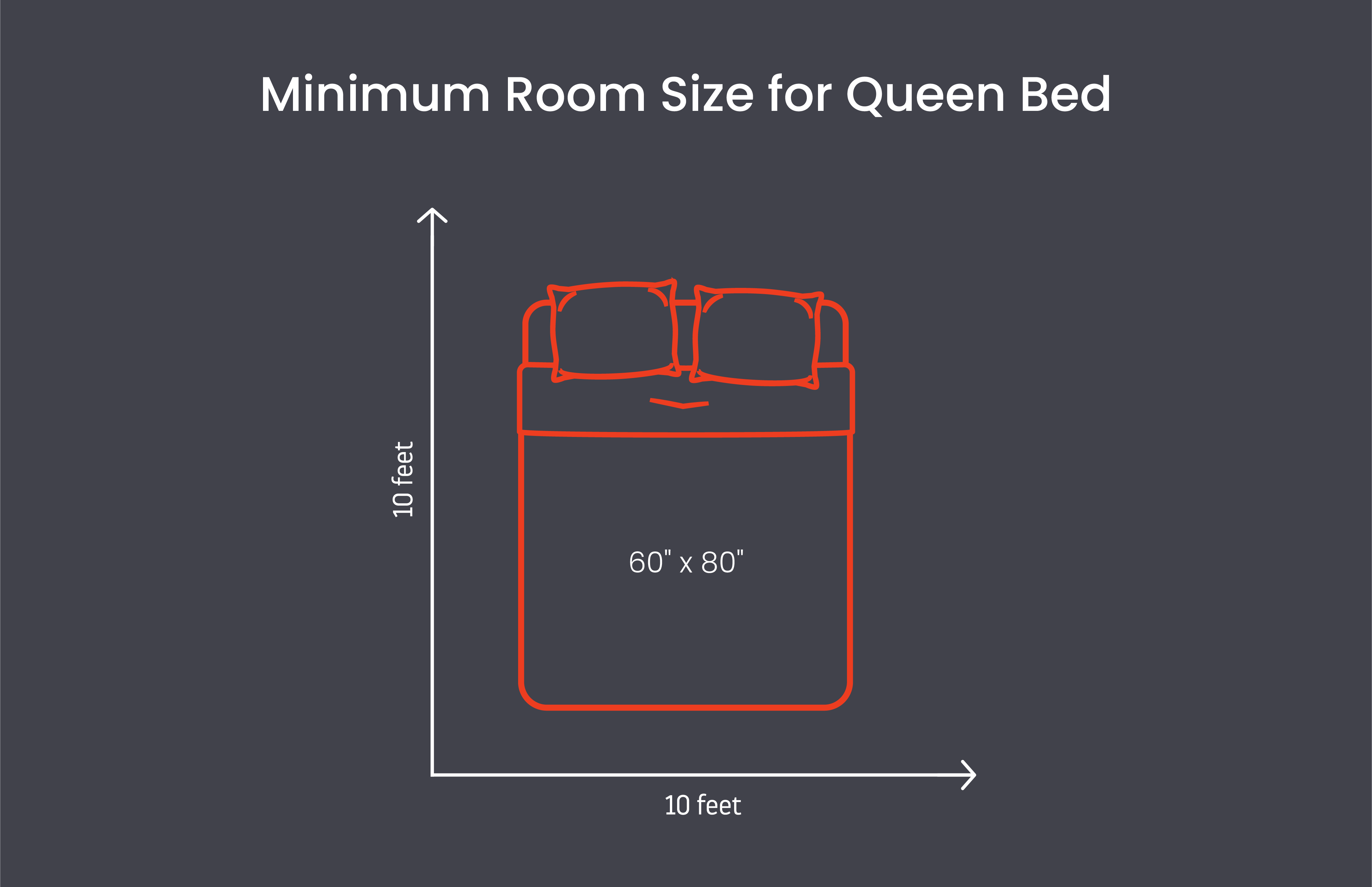 What Are Other Mattress Sizes?
Queen mattresses aren't your only option when it comes to beds. You can find a bed to fit any bedroom and provide you with enough comfort to get the quality sleep you deserve. While many people find bigger beds more comfortable because they allow them to sprawl out and roll around, many people are just as happy in smaller beds as long as they are comfortable. Other mattress sizes include:
Twin
Twin mattresses are the smallest beds for adults available and are 38 inches by 75 inches. Twins are typically best for people who sleep alone, and they don't offer much room for pets. Most kids have twin beds because it's all they need. If you have a small bedroom, a twin might be a perfect option for you because they don't require too much space. Like other types of mattresses, twins also come in different versions. You can find a twin XL for tall people to ensure their feet won't hang off the mattress at night.
Full
A full mattress is the next largest mattress after a twin. It measures 54 inches by 75 inches and is great for young adults or smaller adults. A full is typically not recommended for couples, especially if they want to share their bed with pets. However, it's a great option for guest bedrooms or singles. If you do have a pet, you and your pet could fit comfortably on a full mattress, depending on their size.
King
A king mattress is the largest mattress available, measuring 76 inches wide by 80 inches long. King beds are best for couples and those who share their beds with children and pets. A king bed is best in a spacious bedroom to allow for ample floor space.
There are also many a few different types of king beds, including a California king that measures 72 inches by 84 inches, making it ideal for tall individuals who need more leg space.
What Size Mattress Do I Need?
Learning how to choose a mattress can help you get the quality sleep you deserve and ensure there's enough room for your partner and pets who you share a bed with. Here are the factors to consider when choosing a mattress size:

Size of room: Bedrooms should be used for sleeping. However, you should also have enough room to walk around or place furniture to make your bedroom a relaxing place to spend your time when you're not sleeping. Most people have at least one dresser in their bedroom, so you should never get a mattress that's so large it doesn't allow you to spend time in your room for anything other than sleep.
Number of sleepers: If you want to share your bed, you're going to need more space. Consider the number of sleepers and their preferred sleep positions to ensure everyone can get a good night's rest. A queen is ideal for couples and a small pet, while a king is ideal for families who might have children or pets sleeping in their beds.
Pets: As we've already mentioned numerous times, you should always consider your pet when shopping for a mattress. If you're a pet parent that loves sleeping with their animal companion, consider your dog or cat's preferred sleeping position to ensure there will be enough room for both of you to sleep comfortably.
Physical height: Tall individuals shouldn't have to deal with their feet hanging off the mattress at night. When shopping for a mattress, consider the length of the mattress compared to your height to ensure you will have enough space to stay comfortable in your preferred sleeping position.
Personal preference: It's okay to choose a mattress based on your preferences. Many people prefer to have larger mattresses than they need because they feel more comfortable and can allow you to sprawl out or toss throughout the night without worrying about falling out of bed.
Benefits of Queen Size Mattresses
A queen-size mattress can ensure you, your partner, and even your pet get a good night's rest. Here are just some benefits of investing in a queen mattress:
More space for couples: If you share your bed, you need tons of space because your partner might have a sleeping position that requires them to take up more than half the mattress. Queens offer ample space for couples and even a pet.
More legroom: Queens are longer than full mattresses and can help tall individuals get quality sleep whether they sleep on their backs, sides, or stomachs.
Wider selection of accessories: Queen bed sizes are the most common mattress size, so there are more accessories, including sheets and comforters, designed for them.
Lifespan: On average, queen mattresses last from seven to ten years. However, the lifespan of the mattress will depend on the quality of the materials used in its construction.
More affordable than king beds: Queen mattresses aren't as big as king beds, so they are more affordable. While a king bed might have more room for sleeping, they aren't always necessary for couples or singles, so you can save money by getting a queen instead.
Under-bed storage: Depending on the type of bed base you use with your queen mattress, you can get tons of under-bed storage that allows you to save space in the rest of your room and open up the floor space for more bedroom furniture.
What Sheets Should Be Used With Queen Beds?
Most bed sheets designed for queens will fit standard queen beds. However, if you have a thicker mattress, look for queen sheets with deep pockets to ensure the sheets will fit correctly and not roll off the edges while you sleep. Luckily, most queen sheets are designed for mattresses up to 15 inches thick, but if your mattress depth is deeper than that, including any mattress toppers, you should always ensure you're getting something that will fit your bed by checking the product details before making a purchase.
Additionally, if you buy a non-standard queen mattress, such as an Olympic or California queen, you cannot use standard queen sheets. Instead, you'll need to look for something that can fit those specific measurements.
Layla Sleep Mattresses
With Layla, buying a memory foam mattress is easy. Now that you know the benefits of a queen mattress, it's time to decide on the type of mattress you want. Layla Sleep offers two queen mattresses ideal for any type of sleeper. The Layla Memory Foam Mattress and Layla Hybrid Mattress are designed using high-quality memory foam to help cradle your body while providing the optimal amount of support. The only difference between the two mattresses is that the Layla Hybrid is a combination of memory foam and spring mattresses designed for those who prefer more traditional mattresses.
Both mattresses offer cooler, healthier sleep by using copper-infused foam to help keep you cool at night while reducing odors. Not sure how firm you want your mattress to be? We've got you covered. Layla's mattresses are made with flippable firmness, allowing you to choose which side offers the firmness you need to help you get your best sleep ever.
Wrapping Up: How Wide Is a Queen Bed?
A queen bed is typically sixty inches wide. However, there are a few different variations on the queen, including California and Olympic queen mattresses that offer different widths or lengths depending on your unique needs. Queen mattresses are an ideal mattress choice for couples, those with pets, and those who just want a little more room when they sleep at night. Not sure what size is right for you? Check out our mattress size guide.